The Book of The Two Maurices
Archie Mac |
Published: 1930
Pages: 251
Author: Turnbull, Maurice and Allom, Maurice
Publisher: E. Allom & Co; LTD
Rating: 2.5 stars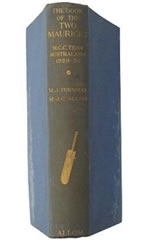 This book reminds me of one of the very first tour books written way back in 1871 Wickets in The West by R.A. Fitzgerald. Written in a very chatty style but with so many in jokes the meaning of which have been lost in time, or were only ever appreciated by those who were actually on the tour in question.
An example of this humour can be found in the recurring direction to the reader of referring to the note at the foot of page 65. Which reads:
By special appointment, and for a small fee, Big Maurice will explain this reference. Save in certain cases, male readers only need apply.
I have to admit that I became lost quite a few time during the reading of this book, the habit of referring to each touring member by their nickname being just one of the reasons, but overall it is quite entertaining, and you really feel apart of a great adventure, with good fellows, good food and not a little drinking.
The tour of 1929-30 was a tour by the MCC to Australasia, but the first part the Australian leg is only short they play no Test in Australia you have the feeling that the authors were not as impressed with the people of Australia, as they were with their New Zealand cousins. This was a period in cricket history where England was very strong, so strong in fact they found themselves being able to undertake two tours both of four Tests each at the same time! This double tour involving twin Test series was never repeated.
This one, and another to the West Indies where they (the MCC) also played a four Test series. The West Indies tourists seems to be the stronger combination featuring the veterans George Gunn and Wilfred Rhodes, and some current and future Test stars in Bob Wyatt, Les Ames, Bill Voce and 'Patsy' Hendren.
The New Zealand touring team was much weaker with the best known players being the veteran Frank Woolley and the graceful K.S. Duleepsinhji (nephew of the famous 'Ranji'). That West Indies cricket was also much stronger then its New Zealand counterparts can be seen in their drawing their series 1-1. while the Kiwis went down 1-0.
The two Maurices were:
'Big' Maurice= M.J.C. Allom, who had the great distinction of claiming a hat-trick in his debut Test on this tour, in fact he claimed four wickets in five deliveries, lived to the ripe old age of 89, and during his lifetime he was president of Surrey.
'Little' Maurice= M.J. Turnbull, was a very talented sportsman who also represented Wales at Rugby and Hockey, and unfortunately he was killed during WW2 he was only 38.
The two Maurice's wrote another book on their tour of South Africa entitled The Two Maurices Again. Both books were published by E. Allom, but I have been unable to ascertain if there is any link between the Allom name.
This book is a very enjoyable read, although it always make me feel a little melancholy has I had the chance to purchase a copy when a younger man with a Dust Jacket for the very nice price of $100, but at the time I could not afford it. Oh well the lot of a cricket book collector.