The Rawalpindi Express reaches the end of the line
Martin Chandler |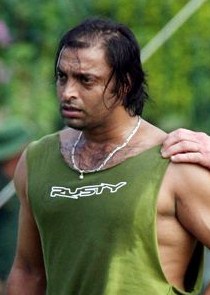 Shoaib Akhtar visited England as a 21 year old with a young and inexperienced Pakistan A side in 1997. Nine First Class matches were played of which the tourists won just one. Shoaib took 25 wickets at fractionally under 30 runs apiece – he was well behind Azhar Mahmood in the tour averages and Shoaib Malik, then just 15 years old, also sneaked in front of him with his off breaks. It was still enough for Wisden to comment that he impressed observers with his "lively pace", although the length of his run up came in for some criticism. It was a low key tour and one which I have to confess passed me by completely.
By the time the 1999 World Cup began in England Shoaib was a seasoned veteran with 10 Test matches behind him and a reasonable, if unspectacular record, of 28 wickets at 34. The English press decided they liked his soubriquet, and the back pages were suddenly full of talk of the "Rawalpindi Express" and he had the complete attention of the cricketing public. I remember my first sight of Shoaib very well indeed. It was indeed a long run up, but it was one of those that builds up slowly before reaching a crescendo in the delivery stride as he let the ball go – and he was very very fast. He wasn't particularly economical, but he took wickets, and was a glorious sight at full tilt.
After his World Cup performances here Nottinghamshire were the county who secured his signature for 2000. Shoaib came over for the season but after one game as twelfth man he sustained a rib injury and that was that – he never so much as started a game for the first of five English counties he has represented.
We saw Shoaib next in 2001. It was an unsatisfactory two match Test series played in advance of the Ashes. Shoaib had been caught up in controversy over his action and had been out of the game for a year before it was accepted that the problem was hyperextension of his elbow. Personally I have never had any doubts over the fairness of his action, but as is always the case when such mutterings start, they never completely went away. Clearly lacking full fitness Shoaib played in only the first Test at Lord's where his 1-64 was a laboured effort as England recorded an innings victory. Pakistan squared the series in the second Test. Shoaib had already made his contribution to that victory in the Lord's match – England captain Nasser Hussain didn't play in the second after a Shoaib delivery had broken his thumb. Six weeks after the Pakistanis tour ended Shoaib turned out, with teammate Aamer Sohail, as a guest for Somerset in their game against the Australians. He did little in the Australian first innings, but did take a couple of quick wickets in the second, and was doubtless the major factor in more than 4,000 spectators turning up on the first day. It was his only game for Somerset.
Shoaib's third county were Durham. He joined them in June 2003 and played seven Championship matches. Durham were not then the power in the land that they now are and the county finished sixth in the Second Division with Shoaib's help. He took 34 wickets at 17, a decent performance by any standards, though some Durham supporters were disappointed by his reluctance to really let himself go – one wag dubbed him the "Rawalpindi Rickshaw" – harsh in view of his figures, but indicative of his lack of pace.
Not surprisingly Shoaib was invited back the following year but it was an unsatisfactory season for him, and Durham were doubtless pleased to see his summer end early when he was called up by his country for the Asia Cup. The season had begun amidst controversy as Pakistan were unhappy at Shoaib claiming to be unfit whilst planning to play for Durham, and he was late as a result, but the fact that he only played two Championship matches was ample evidence of his lack of fitness. He did however take 8 wickets, and his batting contributed to a, in those days rare victory, so the effort was there when he did get out on to the pitch.
Tom Moody persuaded Shoaib to sign for Worcestershire in 2005. Unfortunately in June Moody left New Road to take up the post of Sri Lankan coach. Shoaib and Moody's successor, Steven Rhodes, did not gel and there were constant complaints about a lack of committment from Shoaib and suggestions that team spirit was adversely affected. He only played four Championship matches, although two five wicket hauls demonstrated he could play when he wanted to. In one limited overs contest, which he had originally been dropped for, he was so angry on being called up at the last minute that local rivals Gloucestershire suffered to the tune of 6-16. Restored to the team for the last two games in the same competition there was just one wicket – perhaps Rhodes had at last, sadly without realising it, stumbled on the best way of handling him.
In 2006, the series of the Darrell Hair show at the Oval, Shoaib missed the Test series with an ankle injury. He was fit for the ODI series at the end of the summer, and Pakistan immediately looked a better team – he wasn't quite as quick as in his pomp, but he was still a magnificent sight when firing on all cylinders, and was deservedly man of the match in one game.
We saw Shoaib's last outing in county cricket in 2008. He was signed by Surrey in a move that reeked of desperation as the dominant county side of just a few years previously tried to avoid relegation. Wisden, rather unnecessarily I felt, described him as "more Thomas the Tank Engine than Rawalpindi Express". He was economical enough but there was no great speed, and he took just one wicket in the two Championship matches he appeared in, Surrey's last of the seaon, both lost by an innings, as the Brown Caps slid ignominiously into the Second Division.
For English cricket fans 2010 was much like 2006. No Shoaib in the four Tests, but he was back for the ODI's from which, as in 2006, he emerged with credit. He has deserved his last run out at this years World Cup, and may yet prove himself a matchwinner again, but overall his career has been a frustrating one. That he has only ever played one Test in England, and that even then he wasn't match fit, is hugely disappointing given his blistering place, and his undoubted ability to entertain – perhaps his retirement will be more tranquil than his career – although somehow I doubt it.