Supreme Bowling – Part Two
Dave Wilson |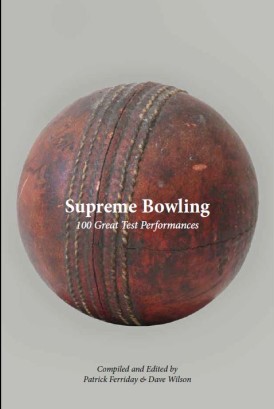 In 2012, Patrick Ferriday's first book When the Lights Went Out, covering the 1912 triangular tournament, was voted CricketWeb's Book of the Year. Patrick's next book, Masterly Batting – 100 Great Test Innings, was co-edited by CW's Dave Wilson and featured several CW staff writers. A new companion volume, Supreme Bowling – 100 Great Test Performances, is now available. As with Masterly Batting, performances were assessed on a number of major categories on both a subjective and an objective basis, including strength of batting attack and quality of victims, conditions (and how they affected bowling and batting), match and series impact and a new measure, performance value (or worth), as well as such intangibles as captaincy, trying circumstances including illness or injury, other major contributions in the match and fulsome praise in contemporary reports.
All eras of Test cricket are represented, from the 19th century to 2015 and as might be expected many great names are featured, some on more than one occasion. Most high-profile names who might be expected to feature featured, such as Sydney Barnes and Curtly Ambrose, while others who would never get near a discussion of the greatest bowling legends enjoy an entry (take a bow, Dean Headley and Jerome Taylor) – that's what can happen when individual performances rather than bowlers are considered. The book is composed of 500-word essays on the performances ranked from 100 down to 51, 1000 words on those ranked 49 to 25 and finally 3000 words on the top 25. The cream of current cricket writing is represented, including Stephen Chalke, David Frith, David Tossell, Ken Piesse, Rob Smyth and Wisden India's Dileep Premachandran.
CricketWeb is delighted that contributions have also been made by no fewer than five of our feature writers old and new – Martin Chandler, Sean Ehlers, Sean Riley, Rodney Ulyate and Dave Wilson. A taster for the book's release can be found here, with features by Martin and Sean Riley. We now continue with further extracts from Rodney and author/co-editor Patrick Ferriday.
Allan Donald – 28-4-84-7
South Africa v India, Port Elizabeth 26-29 December 1992
by Rodney Ulyate
More than any other cricketer, Allan Donald led and symbolised the South African
renaissance of the 1990s. In 26 Test victories in which he played in that decade, he took at
least five wickets on no fewer than 17 occasions. The first was in 1992, when India made
the inaugural post-apartheid tour. The conditions were hardly foreign to them: the wicket
was flat, almost subcontinental, and with the Indian line-up vibrating with spin, the toss
seemed crucial. But Kepler Wessels dumbfounded pundits and opponents alike by opting
to field: "I was determined to land an early punch, and the obvious way of doing that was
by letting our fast bowlers get at them."
Donald measured out his run. With speeds exceeding 90mph, he could flourish on any
surface. In full bloom he was 'a thing of beauty, the Lamborghini of pace, whose action
was a natural flowering.' But rhythm was of the essence; 'losing it could result in a palpable miscue, like a golf shank', and he had been struggling for it lately. Mediocre at the WorldCup and jaded in the Caribbean, he had gone into this series eager to 'banish further
this idea that I only do well consistently for Warwickshire and come home shattered.' He
fancied himself, too, against the Indian batsmen, whom he publicly denounced as yellow.
But he laid claim to just one wicket in the first Test, and improved only marginally in the
sequel, before stumbling in the one-dayers and starting poorly here. The new ball went to
waste; his body language was discouraging. "Okay, Allan," sighed his captain. "Take a rest."
The Indians flew high, and Wessels weighed his options at lunch. There were none. He
reverted, despondently, to Plan A. This time thunder clapped and lightning struck, and the
tourists were blasted out for 212. Donald had his rhythm back. Wessels was vindicated. But his batsmen failed to capitalise, establishing a lead of just 63. With 90 minutes left of the evening, he urged his star man to get out there and win the Test in the third innings.
On a lifeless surface, against batsman bred on lifeless surfaces, Donald did just that.
Woorkeri Raman played a steepling delivery into his stumps, Sanjay Manjrekar was
trapped on the crease, and Mohammad Azharuddin, sparring loosely, nicked off to first
slip. Donald's length was fuller than one might expect of a fast bowler; a large quotient of
his Test victims were bowled, lbw or caught behind. But it was his line which had most
improved since the calamity of the opening morning. He kept them playing and kept them
guessing, and stimulated lapses at the other end, too. At 31-6, the match was effectively
decided, not that Kapil Dev agreed. South Africa had their first Test win in 22 years, at the
same ground as the last. Donald's maiden 10-wicket haul left little doubt that he was back
to his best, and that at his best, in rhythm and on song, he was irresistible.
Tim Southee – 24-6-64-7
India v New Zealand, Bangalore 31 August-3 September 2012
by Patrick Ferriday
Beating Australia at Hobart in one of the great Tests of the modern era had sent New
Zealand into 2012 in a positive frame of mind. Here was a team with a fine mixture of youth  and experience. Beating Zimbabwe and competing, but ultimately losing, at home to South  Africa were understandable but losing 2-0 in the Caribbean gave the horrid impression of  a false dawn. India were in a not dissimilar position having seen their new golden batting line up mauled by Australia in their previous series seven months earlier.
Arriving in India to be filleted by Ravi Ashwin indicated a side that had climbed a stumpy
ladder and were now slithering down the serpent's tail. Five Kiwi quick bowlers were vying
for selection – Tim Southee with 45 wickets at 44 each was at the back of the queue but got
the call for the second match.
Winning the toss, Ross Taylor put his team's blues behind them with a sparkling century in a solid total of 365, Praghan Ojha taking five wickets and becoming the first Indian spinner to open the bowling in a Test – yes, really. Now, could the bowlers follow the batsmen's lead? The simple answer was 'yes'. On a wicket doing little, the old hats Tendulkar, Sehwag and Gambhir were gone at 80-4 only for the young guard of Kohli and Raina to stop the rot and, aided and abetted by Dhoni move the score onto 283-5 at the close on day two. The rewards came through hard work but once the shine had gone there was no reverse swing or anything else to excite the quicks – Southee's bowling had been by some margin the best and his three wickets were scant reward. But with the new ball only two overs away Southee's overnight verdict was spot on: "The wicket is pretty good…so I guess now it's a pretty important time for us with the second new ball to see if we can pick up the rest of the wickets."
His bowling next morning was spot on too. In his second over with the new ball he
deceived Kohli with an inswinger before repeating the dose on Dhoni in the following over.
With new men at the crease it was once again wide open. Another over and it was advantage New Zealand as Southee struck twice more. Another over and it should have been India all out for 329, Tim Southee 8-45, but Martin Guptill spilt the chance. The subsequent addition of an extra 24 runs was frustrating and demoralising in equal measure. Aakash Chopra's incisive analysis of Southee's methods led him to conclude that here was New Zealand's new spearhead. This was the day Southee became a respected Test opening bowler, effective on any surface. The second half of the match belonged to India and their five-wicket victory wrapped up the series. Southee's post-Bangalore record up to the end of 2015 was 110 wickets at 27.43. An indication of what he had learnt.