Graeme Hick – A Very English Enigma
Martin Chandler |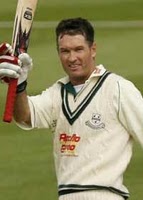 On 6 June 1991 the now defunct "Today" newspaper said of Graeme Hick, who later that day was to make his long awaited Test debut, "He is now in a position to dominate cricket well into the next century and is carrying the same torch that Bradman and Richards held before him". The Test match in question did prove to be a turning point in the modern history of the game as Graham Gooch's magnificent second innings effort, carrying his bat for 154 not out in a total of 252, paved the way for England's seam attack to carry them to their first victory over the West Indies on home soil since 1969. For Hick however the match was a disappointment, as he was dismissed for just six in each innings, and by the fifth and final Test of the summer, which England also won to square the series, the much heralded saviour of English cricket had been dropped. The first four Tests of the series had been a dismal start to what proved to be a patchy and controversial international career.
Over the next decade Graeme Hick played 65 Test matches for England. He scored 3,383 runs at an average of just 31, with six centuries to show for his efforts. He was rather more effective in ODI's, where 120 matches brought him almost 4,000 runs at more than 37 per innings and five centuries. Those figures have to be looked at in the context of a First Class career that brought Hick in excess of 41,000 runs at an average of more than 52 with as many as 136 centuries along the way.
Why then was so much expected of Graeme Hick? He had been born in Zimbabwe on 23 May 1966 and, as a 17 year old, had been included in his country's squad for the 1983 World Cup in England. The Zimbabwean selectors chose not to include Hick in any of the World Cup matches themselves but he created a good enough impression to come back on a cricketing scholarship with Worcestershire the following summer. He quickly developed a rapport with the Worcestershire coach Basil D'Oliveira, as well as the rest of the playing staff, in the nets at New Road. County captain Phil Neale wrote of Hick's first net session "Soon my attention was drawn to his net, because the balls kept disappearing into the Kings School playing field, and that was off first team bowlers. He looked simply outstanding – standing up straight, with a glorious, straight follow through. We packed up in our net and stood and watched".
His successful net over Hick scored prodigiously in the Birmingham League and for the Worcestershire second XI before, at just 18, finding himself making his first team debut in the final match of the season at The Oval against Surrey. Nothing turned on the game and there was no pressure on Hick when, after not getting to the crease in his team's first innings, he came in at number nine in the second innings and, in an unbroken partnership of 133 with Neale, scored an undefeated 82. It is true that Surrey had only three fit bowlers to pit against Hick but two of them were internationals. The first was England off spinner Pat Pocock and the second, more significantly given criticisms subsequently levelled at Hick, was the West Indian Sylvester Clarke. "Sylvers" was not, consistently, the fastest bowler the game has seen but for a few seasons he terrorised county batsmen and, to quote Phil Neale again, "as soon as I saw how he handled Sylvester Clarke I was certain he had the temperament to go with his huge ability".
Hick did not play against the all conquering 1984 West Indians but he did cross swords with their successors in 1988 when he was on the trail of a famous record. As soon as he had scored 405 not out for his county at Taunton (in a match in which no other batsman scored more than 56) the English cricket watching public had been waiting to see whether Hick could join the elite group of players who had scored 1,000 First Class runs before the end of May. He ran out of steam towards the end of the month, and in his four innings prior to the start of Worcestershire's match against the tourists on 28 May, had scored 8, 11, 6 and 7. Hick therefore needed 153 more runs to become only the second man to achieve the feat since the war. For the tourists this was their last match before the first Test and of the four man pace attack that they fielded against Worcester only Ambrose and Walsh could have been regarded as certainties for the Test side. Patrick Patterson therefore had to make sure that he kept ahead of the young Ian Bishop in the selectors' minds. Worcestershire won the toss and batted and Hick, at the wicket in the second over after Ambrose disturbed Gordon Lord's stumps, was still there at the close on 172. No one has achieved the feat since and of the select band of eight who have only Grace and Bradman did so in fewer than the eleven innings that Hick needed.
In county cricket Hick was simply a phenomenon. He was the youngest player ever to score 2,000 runs in a season and his fiftieth First Class century came before he was 25. In the final game of that 1988 season an innings of 197 brought Worcestershire victory over Glamorgan and with it the County Championship. In the very next season an innings of 136 not out from Hick made a mockery of what had appeared a stiff target, as Worcestershire clinched the title against Somerset by scoring 302 in 56 overs. Express bowling and pressure, so it seemed, had no effect on the young Zimbabwean.
English cricket spent a decade trying to work out why Hick could not translate his county form into the Test arena. The first issue must be whether there was some technical failing in his batting. Keith Fletcher, England Coach in the early 1990's, certainly thought that there was. His view was that Hick could not lift his hands high enough back past his body in his pickup, which resulted in his having difficulty against fast short pitched bowling on a middle or middle and leg line. Fletcher felt that it was that weakness that the great West Indian and Pakistani pace men exploited in Hick's early Test matches in 1991 and 1992. Hick clearly took this advice seriously. Alec Stewart, in his autobiography, makes the comment that Hick had asked him for help in showing him how to play the superb shot off his hip with which Stewart regularly sent the ball racing to the mid wicket boundary, and which was so much a trademark of his batting. Stewart conceded that he could not help Hick as the only explanation he could give was that the shot came naturally to him and couldn't therefore help Hick to replicate it. So it wasn't that Hick was frightened of fast bowling, as already demonstrated he clearly wasn't, but for an introspective man he worried constantly about the short pitched deliveries that he could do very little with. The result seems to have been that he became preoccupied with trying to solve that problem and often therefore remained on the back foot in Tests waiting for the short ball when he should have been on the front foot playing the domineering brand of cricket that served him so well at county level.
Having picked up on what Hick's problem was Fletcher seems to have conceded defeat at a fairly early stage in trying to resolve it. In his 2008 autobiography he simply says that it was too late to change him, which seems a disappointingly negative attitude to come from the man who was England coach. As to why the fault had persisted for so long the always perceptive, if somewhat abrasive, Geoffrey Boycott had firm views. He felt that Hick was, essentially, a victim of his own early successes in that very quickly in to his career captains were content to set defensive fields to him, and were happy to give him singles in order to keep him off strike and bowl at the inevitably weaker batsman at the other end. Boycott's related comment underlined the paucity of English bowling resources in Hick's time. He draws an interesting parallel with his own career making the point that as a young batsman in the early 1960's he had to face the likes of Jack Flavell and Len Coldwell from Worcestershire, Cliff Gladwin and Les Jackson from Derbyshire as well as Derek Shackleton of Hampshire, none of whom ever became established Test players, but who were top class bowlers nonetheless, giving nothing away and always trying to get him out. For Graeme Hick there was no one at county level who could get a ball to arrive steeply at him from the back of a length and he therefore had little opportunity to try and fully learn his craft until he got to the highest level.
Hick was hampered as well by his Zimbabwean background. It seems unlikely that the fact that he was not born in England made any difference at all to the way in which his teammates treated him but one important consequence of it was that he was ineligible to play for England until 1991. He missed the opportunity to develop through the usual route of England's "Under 19" and "A" sides which had the additional disadvantage of not exposing him to more technical coaches than Basil D'Oliveira, who for the most part was happy to let him continue with his own methods. Equally importantly Hick missed out on developing the relationships with other emerging players with whom he would eventually come together in the England side. In that first Test against the West Indies in 1991 there were many people in the England dressing room that he simply did not know which, for a shy man such as Hick, made it extremely difficult for him to bond and feel at ease.
A further factor is the whole approach to international cricket that players went through in those days. Without for one moment seeking to suggest that team spirit was poor or that individuals were selfish it was undoubtedly the case that before the introduction of central contracts all but the most established players had to have one eye glancing over their shoulders in case they were about to lose their place. Hick, making his Test debut with 57 First Class centuries to his name, had already made more three figure scores than a number of the senior England batsmen were to make in their entire careers. This factor, coupled with the readiness of the Dexter regime to drop players as rapidly as they were selected, did little for anybody's security. Interestingly, in his autobiography published in 2009, Mark Ramprakash, a man who suffered from the whims of the selectors as much as Hick, and had a very similar test career including a debut on that June day in 1991, wrote that the two of them never spoke about the issues that they had in common. Had central contracts been around in those days and the two young batsmen had felt more able to help one another then perhaps both their futures, as well as that of English cricket, would have been different.
Fletcher's successor as England Coach, David Lloyd, also, in his 2000 autobiography, made reference to Hick's flawed technique although it is unclear whether he is referring to the same flaw as Fletcher or not. Lloyd's main criticism of Hick lies with his reserved personality and the fact that he could not show the ruthlessness in the international arena that he felt was needed. It is difficult to understand quite what Lloyd means given the dominance with which Hick marauded through the counties throughout his career and it must surely have been the way that he was treated, or made to feel, rather than his innate personality which caused this problem at international level. Lloyd also talks of Hick being a poor starter against high pace, appearing on occasion to be "leaden footed and uneasy at the crease", but again seems to overlook the fact that that is what high class pace bowlers are there for. It is the ability of a batsman to get over any initial difficulties which makes him the player that he is and Lloyd, I would have thought, should have been able to disregard that particular criteria as a means of judging a batsman's ability, given that he himself had played for so many years with his own namesake, West Indian Clive Lloyd, whose uncertainty at the beginning of an innings was arguably the most striking of any top class batsmen in the history of the game.
The England Coach who, on the face of matters, might have been most likely to bring out the best in Hick was his fellow Zimbabwean Duncan Fletcher. Fletcher had been Hick's captain all those years before in the 1983 World Cup campaign. Sadly Hick was already well into his thirties when Fletcher began his tenure and although he gave his fellow Zimbabwean every opportunity Fletcher realised in Sri Lanka in 2000/01 that he had reached the end of the road. In his autobiography he makes the comment "I had always had faith in him (Hick) and wanted him to do well, but even I now had to come to terms with the fact that he did not have a Test future. Technically he was fine – I never agreed with those who said that fast bowling was his downfall – but mentally he was not there. He never played another test for England". On this occasion Hick's downfall was to present his wicket to the competent, but hardly imposing, left arm spin of Sanath Jayasuriya, in attempting an ugly slog over extra cover.
So much for the coaches but what of those who captained England during Hick's tenure? Graham Gooch was England captain in 1991 and, as a man who himself got off to the worst possible start in Test cricket, a pair, he could undoubtedly have done more to help Hick and has subsequently acknowledged that. The next captain under whom Hick played was Mike Atherton. Hick, in relative terms, blossomed under Atherton and between 1993 and 1996 averaged well over 40. There must, therefore, have been a mutual respect between the two although Atherton always felt that Hick was some way short of the highest class. In his autobiography, published in 2002, Atherton said "I always thought he (Hick) was good, but not in the Lara or Tendulkar class. At the start of his Test career, I felt he was too stiff legged and, with his upright stance and high back lift, he looked too mechanical and rigid. There seemed to be little give in his hands and no touch in his shots". Atherton felt that the worst of those faults had been cured by the mid 1990's but he himself was to set Hick back when, in the third Test of the 1994/95 Ashes series, he declared England's second innings with Hick just two runs short of what would have been his first Ashes century. He was destined never to make one. Atherton has always stood by his decision on purely cricketing grounds but has accepted that his decision was wrong because of the effect it had on the team's morale. Hick took the decision very badly but, as always, largely kept his frustrations to himself.
When Atherton gave up the captaincy the job passed to Alec Stewart, a great friend of Hick and a man who always supported him but, as with Nasser Hussain who followed, the dye had been cast. Again it is interesting to speculate how Hick's career might have developed had Michael Vaughan been England captain back in 1991, given his widely acknowledged talent for easing the path of young players into their international careers.
There is another factor, often forgotten now, which, if there is any mental weakness in Hick's makeup, must have been of some relevance. In Hick's day in order to qualify to play internationally for England the rules were that he could not have played a First Class match in his native country for a period of seven years. In addition there was a requirement that through each of those seven years he spend a fixed number of days each year in the UK. In the spring of 1991 an article appeared in The Times questioning his eligibility, and that was followed up by a hard hitting piece by Simon Wilde in Wisden Cricket Monthly. These must have hit home because the TCCB, as it then was, felt obliged to set out their interpretation of the position in a lengthy letter that was published in WCM prior to the first Test. Nobody now can gainsay the position put forward in relation to the number of days each year Hick spent in the UK. The merits and demerits of the conflicting arguments put forward as to why the seven year rule did or alternatively did not apply to certain matches that Hick had played matter little, but it cannot have assisted his frame of mind that such a controversy was going on around him.
The establishment were, of course, thinking along the lines of the writer employed by "Today" who I quote in my opening paragraph. After the disastrous 1984 and 1988 series against West Indies it was felt that Hick's presence was essential. It might well have been fairer to him had the seven year rule been strictly enforced and that as a consequence he had missed those horrendous series in his first two years as an England qualified player, which saw him score just over 300 runs in 17 completed innings. Strict adherence to the rule would have meant Hick's Test career starting with the 1992/93 trip to India and Sri Lanka which, while it was disastrous for England in that all four Test matches were lost, Hick's own contributions were substantial as he averaged more than 50 with the bat, made what was to remain his highest Test score of 178, and also took more wickets than any other England bowler in India with eight at a cost of 25 runs each. Had that been the start of his international career then perhaps the rest of it would have been different.
Graeme Hick has produced only one volume of autobiography and that, in 1990, appeared before his Test career started and when he, seemingly, had the world at his feet. I am a little surprised, his career having ended 18 months ago, that a further instalment is yet to appear setting out his own perception of his flawed career. I do hope that this intensely private man has not decided, as might be understandable, that he would prefer to leave the past in the past, and that his story will emerge in the coming months. What Hick's own view is of the reasons for his disappointing international career may be very different from mine, but having read the comments about him by all those I have quoted in this feature, and many others as well, I do not believe for one moment that "mental weakness", "flawed technique" or "poor temperament" have anything to do with it. In my opinion Graeme Hick was the victim of some appalling man management of which, ultimately, he was not the only victim, as the cases of Mark Ramprakash and John Crawley confirm. I doubt it is of very much consolation to him now his career is finished but, in fairness to the ECB, lessons do seem to have been learned. I have little doubt that Ravi Bopara, for example, will be treated in a much more enlightened manner, as Ian Bell has been already.