Bradman to Sehwag : Redefining Great Batsmanship by Defying Tradition (Part 2)
Swaranjeet Singh |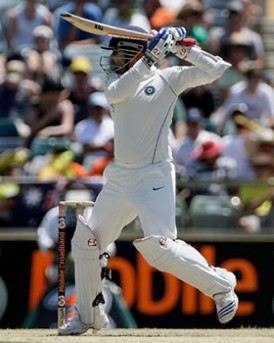 "The great thing in hitting is not to be half-hearted about it. But when you make your mind to hit, to do it as if the whole match depended upon that particular stroke." – WG Grace
" Innovations invariably are suspect and in no quarter more so than the cricket world." – Gilbert Jessop
"There is nothing I detest more than the way in which elder men have said their young days had the best. Cricket is constantly in flux " – Sir Home Gordon (1939)
And then came Sehwag . . .
Virender Sehwag wasn't always the psychotic murderous batsman that we know him to be today. This fact is often forgotten but is important to understand how he has evolved and grown as a Test batsman. Have a look at his strike rate as he achieved each milestone in his aggregate Test runs.
– First 1000 runs at 62/100 balls
– First 2000 runs at 73/100 balls
– Next 2000 runs at 87/100 balls
– Last 2000 runs at 97/100 balls
Those last two figures are mind boggling and one is not even sure he is done yet.
This isnt all. His hundreds are getting bigger and he is compiling them faster. The man has continued to improve both his aggressive stroke play and his staying power and that's a scary thought for bowlers for the future.
– First four centuries at 62/100 balls and an average of 122 per innings
– Next six at 73/100 and 200/innings
– Next seven at 97/100 and 255/innings
Now what do these figures tell us? First of all, it completely negates the suggestion that this kind of batting cant be sustained. Second, we still do not know whether this man has peaked or is their another level to reach. Third, we need to immediately stop talking of incredible luck, bashing of minnows and batting tracks to explain his phenomenal success. Lucky streaks do not last for ten years and 77 Tests (or multiple triple hundreds for that matter), the minnows theory isn't borne out by facts and the batting tracks are common to all batsmen. If we are going to justify our dislike for Virender Sehwag lets at least be smart with our 'logic'.
Sehwag started off as the poor man's Tendulkar. The height and built were the same and the strokes appeared to be styled after his senior. Since then, he has developed a style distinctly his own and one hardly ever confuses the two together at the crease. Sehwag's journey from potentially good to probably great has coincided with the development of his unique style. This style and his attitude to batting is a combination that irks the traditionalists. When he was copying Sachin one did not hear much talk of his technical deficiencies. The murmurs started and became screams as his style evolved, the hundreds became bigger and the batting more belligerent
So why didn't the traditionalists like Virender Sehwag's batting?
To start with Sehwag appears to follow none of cricket's grammar although I suspect his greater transgression was the flouting of established cricketing norms as Bradman had done. Half the cricketing world seemed to believe that Sehwag had no technique and the other half that any technique he had was flawed. Everyone waited for him to fail and fall at the next hurdle – in the longer version of the game, on wickets away from home, on Australian tracks, on English and South African conditions, against the world's wiliest spinners and then against the fastest bowlers. It never happened. He just kept on going from strength to strength.
Bowlers, who from smiling wryly had turned to gaping in unbridled admiration as stroke followed devastating stroke, continued to think they were going to get him since this couldn't possibly last. His captains, team mates and countrymen fluctuated endlessly between sheer ecstasy and absolute horror as he played with the arrogant confidence of a Richards one day and the unthinking mindlessness of an Afridi the next. We were amazed at his unbelievable luck as drive after uppish drive went just out of reach of diving fields men with Sehwag standing unmoving at the crease as the ball crashed into the hoarding.
Hundreds of millions of India's doting fans and the arm chair critics of from its burgeoning electronic media refused to deify him as they had done Sachin before and Dhoni after. He was never considered infallible enough to be treated like another of their cricketing God.
"Luck favours the brave", they condescendingly told themselves when he kept hitting the ball uppishly through the off side cordon. "He must be disciplined?", they screamed when he threw away his wicket in a mindless slog. "He must be allowed to play his natural game. That's what's best for his team" they opined as he demolished the attack in the very next game.
We continued to judge his failures with our fixed notions of what constitutes good batting and his success with a condescension that follows from the same set of beliefs. We were too conditioned by the so-called conventional wisdom. It never ever struck us that maybe we need to look anew at our criteria. Maybe we are wrong. The near triple century at Mumbai made me sit up and wonder.
I decided to give Sehwag and his batting technique another hard and long look. This is what I saw.
He comes into bat, stands in a comfortable near orthodox stance that would satisfy the most traditional coaches. The grip is almost orthodox unlike Sachin's or Bradman's and his backlift is between first and second slip – so far so good.
The bowler comes in and bowls a good length ball, outside the off stump. Sehwag, barely moves his left foot and drives the ball like a tracer bullet to the fence. But guess what? The ball has not sliced off the face of the bat and gone towards point or behind it. It has gone like an arrow to covers. This is not what you expected when the batsman plays so far away from his body without moving his feet thereby opening the face of the bat. But is his body, and more importantly his head, really in such a terrible position? Watch the replay again. Its true the feet haven't moved but it does not look as if he is playing that far from his body.
Sehwag, even when he does not move his feet, often tends to move/bend his torso towards the ball, his head, almost never in the air, is low, rock steady and actually not that far from being over the point of contact. He leans well forward from the waist so that his head is far beyond the line of his left foot and although not exactly over the ball he isn't too far. The transfer of his body weight even on almost unmoving feet makes it easier for him to hit the ball cleanly, and more importantly, in the direction he wanted. His balance is always impeccable.
Of course he will not always hit the middle of the bat but that's true even of the most orthodox. Its not as if he is happily edging away tempting fate. Far from it. He will hit the ball cleanly to cover and extra cover or turn the face of the bat quite deliberately to hit past point or behind it. Sehwag must be one of the most prolific hitter of boundaries in the cover region in contemporary cricket. This flies thick in the face of the common belief that deviation from the orthodox, and lack of movement of that leading foot, first and foremost affects your ability to drive cleanly and consistently to covers.
He does hit in the air at times but that's because he repeatedly drives, on the rise, balls that are nowhere close to being half volleys. He drives even slightly short of length deliveries off the front foot. These are bound to travel in the air for some distance. The fact remains that he isn't caught too often in that region. He must be doing something right. His method is effective.
Now the bowler comes in to bowl the second ball. Having been driven off the front foot to covers, he compensates and bowls short outside the off stump again. Sehwag transfers the weight on to the back foot and hits another tracer past point. If this ball had been rising above waist high he would have coolly hit it exactly in the same direction but over the head of the deep field high into the stands.
The bowler pitches the third ball on the middle and off stump coming slightly in and he stays on the front foot his body leaning slightly forward, head over the left foot and flicks it from the meat of the bat past mid wicket. The fourth ball, an attempted bouncer on the middle stump, rises only chest high. Sehwag moves his weight to the back foot and pulls it almost straight back past mid on with complete nonchalance.
This is a hypothetical reconstruction but we all know that it is very much within the realms of possibility.
So what did we see besides his belligerence? We saw a batsman who got four deliveries, completely different in line and length, and managed, without elaborate footwork, to hit them to four different parts of the ground with perfectly legitimate strokes executed in a manner that we know he can replicate again and again.
What's the issue then? What is it about his batting that bothers you so much? I ask the traditionalist lurking within me.
Oh, I tell myself, he hits too frequently in the air, he slashes wildly sending the ball in a wide arc rather than aiming for a precise area as great test batsmen do, he hits across the line far too often, his stroke play is premeditated and does not play the ball on merit, has virtually no footwork and is too damn aggressive to survive in bowler friendly conditions.
Wow. What a litany of complaints. The first thing even a person who did not know anything about cricket would have asked is how come someone who does so many things wrong can be successful over such a prolonged period? How come in ten years your world class bowlers haven't found him out? Good questions but lets address each complaint against Sehwag's batting in earnest.
1. He plays far too much in the air : Yes he does.
Bradman was asked for one piece of advise by young Harvey on the boat going to England for that famous 1948 tour and the great man said, "If you do not hit in the air, you will never be caught and that's the most common way of getting out." Or words that effect.
Solid advise. Batsmen over the years have followed it to different degrees. But the game has changed, particularly since the limited overs game has gained importance. With just fifty overs to last and ten wickets to lose, the risk assessment of batsmen changed considerably. Batsmen started treating good length balls with considerably less deference. Driving on the up became a very profitable stroke. The ball does travel in the air for some time but batsmen became increasingly adept at playing it. In ODI's opening batsmen found that even with more close catching fielders in the early overs, the chance of a boundary in the relatively unmanned deep fields made it a risk well worth taking. Soon it became a habit. Batsmen tended to employ it in the longer version also, some compulsively out of habit picked up in the shorter game and others, like Sehwag, by design. No his driving in the air is quite deliberate and is a risk well worth taking.
2. Slashes aimlessly : Not true for test matches
Not many realise that Sehwag gets 57 percent of his Test runs in boundaries and that's not including the sixes! This is an incredible figure. I can not think of anyone who averages in the fifties and gets such a large proportion of his runs with fours in the history of the game. Richards and Lara at 52 were pretty high but 57 is something else. Just to put it in context remember that Gilchrist and Hayden, those spectacular stroke players, both clock under 49 and Pietersen just over 46 percent till the time of going to press. In the modern game Gayle has a high 60 percent but then his batting average is much lower at forty.
A large proportion of these boundaries are in the cover and extra cover region. That surely indicates a command over the stroke both in execution and, more importantly, in placement; otherwise defensive captains, in Test matches, would have managed to block this, his most prolific area.
People do not tend to associate placement with the brutal driving of players like Sehwag as they so readily do with the delicate stroke play of those like Dravid. The ferocity of the stroke play seems to discount careful and precise placement. This is unjustified because Virender Sehwag is amongst the finest in the business of hitting the ball exactly where he wants. This is the reason for his high proportion of boundaries as well as the relatively few catches taken by close in off-side fielders off his driving.
He bats differently, however, in the ODI's which also partly explains his relative lack of success in that format. Sehwag, like every other batsman, comes to the crease in an ODI looking to bat in a more aggressive manner than he does in Tests. With other batsmen this means trying to bat as Sehwag does in Test matches, viz. more strokes, looking to hit even the good length ball and so on. But Sehwag already does all this in the longer version so he ends up throwing caution to the winds. In Test matches he does not really go berserk. He plays the ball on merit (the Sehwag definition of merit mind you) and plays it accordingly, hits it between fielders and so on. In ODI's, however, in an effort to do more he loses it completely. One doesn't see him making as many stupid strokes to get out in Test matches as one does in ODI's. Sehwag's aimless slashing and wild hoicks seems reserved especially for the shorter version.
3. Hits across the line : Yes but . . .
Most of Sehwag's drives are played with a straight bat and that includes hitting balls sometimes from the off stump to straight field and from the leg stump to covers. When he wants to hit from the off stump to an area squarer than mid on he tends to employ the flick. He does not have Laxman's, or Richards', felicity to drive a ball from outside the off stump to mid wicket with a straight bat. When he does try to emulate this, he will sometimes end up playing a cross batted heave. The fact that it comes off more often than not does not mitigate the fact that it is an ungainly stroke. When it does not come off it makes him look very silly. Thankfully this isn't too often. Off side being his major strength he does not have to resort to this stroke frequently but when he does and it ends in disaster, he ends up looking ugly, irresponsible and worse. On top of that it tends to remain in public memory and the Sehwag image of indiscipline keeps getting reinforced.
4. Premeditated: Its merely an illusion
In our hypothetical scenario above, faced with four completely different deliveries, Sehwag played four completely different shots. Did he hesitate? Did you find him floundering? It is the same in real life. He plays a wide variety of shots one after the other and does it effectively and without hesitation. How can he be premeditated? With such an aggressive style of batting, premeditated stroke play would stand out like a sore thumb due to the large number of miscues this would result in. The fact that he hits such a large number of balls so powerfully even when the ball deserved better makes us feel it must be premeditated. The successful execution of shot after shot shows that this feeling is merely an illusion.
5. Negligible footwork: Only partly true
This is the most common flaw people talk of in the context of Sehwag's batting and not without with some justification. His use of body and head positioning and weight transfer to one foot or the other is discussed before. We need to just mention that he is not as devoid of footwork as some people seem to believe.
His feet do not move much early in his innings but they do as the innings progresses. Watch any of his long innings and you will find him going back and across to cut or fend off a rising ball and also moving his left foot close to the pitch of the ball to drive on the off side. One of his favourite shots is to shuffle backwards to outside the leg stump and then from there move his left leg right forward and drive a ball pitched on and even outside the leg stump, cleanly through covers. There can be few examples of better footwork than that. His footwork against spinners is also second to none. He will come right down the track to the best of them.
Still there is some justification in the observation regarding not moving his feet early in his innings against the quicker bowers. Even mid innings, he will suddenly lapse into this "stand-and-deliver" mode. He has evolved his batting to give full freedom to his attacking instincts. Getting his left leg out of the way to allow for a full and free flow of his bat for those booming cover drives is what he finds works well for him on the wickets we play most of our Test cricket on. Yes it can leave him vulnerable to the sharply in coming delivery but let the bowlers around the world exploit it often enough to hurt him and then lets see how he responds to a new and real threat. Till then lets the critics hold their peace.
6. Too aggressive – wont survive in bowler friendly conditions : Really?
With over six thousand runs, eight scores above two hundred, two above three hundreds, an average in the fifties and a strike rate in the eighties and climbing it is difficult to take the he-is-too-aggressive bit seriously except as a compliment?
That he won't survive in bowler friendly conditions begs two counters.
Firstly, is he alone in that category? Time and again we have seen the finest of the modern day floundering when conditions are bowler friendly and then complaining about bad pitches and errant groundsmen. The fact is that the batsmen today are spoilt by perfect batting tracks and this phenomenon needs to be tackled for the good of the game and not to show Sehwag his place. Yes a more defensive batsman may last longer in more bowler friendly conditions but that's the Hobbs versus Bradman argument all over again. Unless bowler friendly wickets become the norm there does not seem any reason for Sehwag to temper his aggression. That's all there is to the argument.
My feeling is the traditionalists, at heart, dislike Sehwag for his attitude to batting; his unbridled aggression and his utter contempt for line and lineage and they point to his feet to express their displeasure. His continued success makes them even more irritable. I exaggerate somewhat but it is probably closer to truth than we (I include myself without hesitation) have been willing to admit.
The traditionalists might have welcomed a modern day Jessop if he had batted lower down the order, played destructive cameos and on the rare occasions reached the three figure mark. But for an opening batsman to bat like that in a Test match, do it day in and day out, scoring double and triple hundreds, is completely unpalatable for them. They are grievously offended. I was too.
How could this man bat like that and achieve what Tendulkar, Dravid and Gavaskar had not been able to do, viz. score a Test treble. Then he goes on to do it again. Finally when I went to bed after that second day's play in that last test against the Sri Lankans with the thought that he might get a third one the next day, I was wondering whether I was being fair. Why did I refuse to consider this man even an equal of these towering Indian masters. I needed to answer that question fairly and objectively
Lets face it. He is not a technical cipher or anything remotely like it. He just does a few things differently. He does not move his feet all the time but does plenty of other things right. He is pre-meditated only in his aggressive intent not in his stroke play. My hypothesis is that Sehwag does not assess the length early (particularly off the faster bowlers) when he first comes in to bat. With this constraint an early foot movement would end up second guessing the bowler and being pre-meditated in the choice of stroke. He, therefore, employs another method. Without moving his feet he waits that extra fraction of a second till he has assessed where he needs to make contact with the ball and then, with no time left for elaborate foot movement, uses his transfer of body weight, still head, fabulous hand eye co-ordination and free flowing bat plays the shot best suited to the delivery. Unable to see the ball early like Tendulkar does, he still manages to give expression to his aggressive intent. Why should he be denounced for that?
By the way, there are the rare moments when Sehwag defends, mostly off the back foot. Watch him closely on these occasions. He is completely transformed. His feet move almost as well as anyone else and better than most. When Sehwag goes back in defense he goes well back and across and the bat comes up straight and perpendicular. It never fails to amaze me but it also reinforces my belief that what we are seeing in Sehwag is not a lack of technique but a harnessing of his skills to suit what he wants to do which is hit as many balls as hard and as far as he can. Whether he has done so consciously or not is not for me to say but Sehwag is clearly a thinking cricketer. I do not put it beyond him.
No, Sehwag is not a man deficient in technique. He has adjusted his technique to suit the aggressive intent that is the essence of his game and that is what all great sportsmen must endeavour to do. He does not care what we think and say about his footwork. He cares about what he does to the ball and in that his philosophy is simple and uncluttered. History will judge him from what the scorebook records and, from all indications, that record will vindicate Sehwag's methods long after he and his critics are gone just as it happened with Bradman.
Instead of being so critical of Sehwag we could actually use his phenomenal success and his fantastic strike rate to understand what is happening to our game.
Not only are wickets far more batsmen friendly, the bats are better and the boundaries are getting smaller. The risks associated with unorthodox batting are much reduced. The definition of percentage cricket has changed. Modern day conditions in general and those underfoot in particular are perfect for more aggressive methods. They are also, unfortunately, the graveyards of bowlers. This is what Sehwag and his phenomenal success has shown us.
I too do not like the fact that bowlers are slaughtered the way they are but that's not Sehwag's doing. Its also not going to change any day soon unless ICC decides to restore the balance between bat and ball. Why should a smart batsman not take full advantage of the situation – be he is name Donald Bradman or Virender Sehwag.