A False Dawn
Martin Chandler |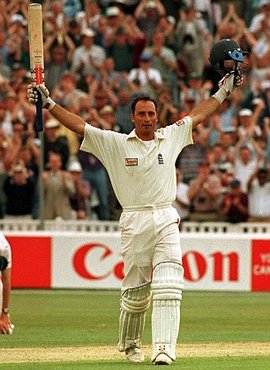 The mid 1990s was not a particularly happy time to be an England follower. The team had been so far behind Australia for so long that it seemed that the existence of such a gulf between the game's two founding powers might become permanent, and despite the once mighty West Indies having been held on their last visit, the sense of dismay at the failure that Ray Illingworth's much vaunted reign in charge of the team had brought was palpable.
Yet cricket fans, especially the English variety, are nothing if not resilient and there was real optimism as the oldest enemy's 1997 visit approached that the next new broom was indeed the one to finally sweep the cobwebs from the nation's summer game. The man who had turned Tesco into the nation's biggest supermarket, Ian McLaurin, had become Chairman of the ECB, with the expectation that he would sort out the domestic game, and at Test level the new Chairman of Selectors was David Graveney, just 44 and a full time professional only three years previously, and he had the toughest gig known to English cricket on his CV, having skippered Durham as they became the first new First Class county to appear for well over half a century.
So the new men at the top were not from ivory towers nor, at the opposite extreme, did they come from a background of cobblestones, austerity and a deep-rooted suspicion of a public school accent. We all dared to hope that perhaps this time the elusive solution had been found. Graveney's appointment was not just a token nod towards radical change either as the identity of his two fellow selectors amply demonstrated. They were both still playing the game, Graham Gooch who was about to begin his last season, and Mike Gatting who had two more summers with Middlesex to come.
The role of coach had changed as well. The new incumbent, David Lloyd, might have been 50, but he was never a man to show his age, and one who always wore his heart on his sleeve. The coach losing his selection responsibilities seemed to many, and certainly to me, to be one of the most obvious reforms that needed to be made. In fact the only face in the England hierarchy that remained from the dark days was that of skipper Michael Atherton. There were calls for his head as well of course, but most who knew the game realised that staleness and disenchantment, the existence of which only the man himself could judge were, realistically, the only potential reasons for getting rid of a man whose knowledge of the game and fighting spirit were perfectly suited to that most difficult of employments.
The legacy of the old regime had been a wretched series in Zimbabwe in December 1996. The ODI series was lost 3-0, and Lloyd's outburst after the hosts managed to cling on to a draw in the first Test brought him much criticism, which was not tempered by England's failure to win the second and final Test either. That much conceded there were however plenty of supporters who were happy that he had at least showed some passion, albeit not in the most diplomatic of ways. After Zimbabwe it was off to New Zealand for a three match Test series, which to the relief of all concerned was won comfortably. A much sterner test was to await Graveney and Co however, with the Australian juggernaut due for a six Test series the following summer.
Of course all Australian sides of this era were immensely strong, but this one was perhaps the one that might be described as transitional. Steve Waugh and twin brother Michael were at the peak of their powers. Skipper Mark Taylor was a fine player as well but not in great form with the bat as the side arrived. His opening partner in 1997 was Matt Elliott, not the best remembered of the side by any means, but he kept Michael Slater out of the series and went on to average more than 55 that summer. Often forgotten too is Greg Blewett, but at the time he was just two years on from his spectacular debut in his first Ashes series, and he came to England having re-established himself the previous winter.
The sixth batsman was Michael Bevan, who lost his way that summer, and was replaced half way through the series by a young man named Ricky Ponting. Ian Healy was still playing as well as ever and Shane Warne held the cricket world in thrall. Glen McGrath was not, at the start of the series, quite the bowler he would become, but he had all but completed that journey by the end of the sixth Test. His fellow seamers in the first Test were Jason Gillespie and Michael Kasprowicz, who were both to go a long a way towards establishing themselves in the coming weeks.
Were the Australians over-confident? If the players weren't then those who organised the itinerary certainly were. There were just a dozen days of cricket and two First Class matches scheduled before the first Test, and three of those days were taken up with the ODI series. Alan Border's side in 1993 had had 22 days including five First Class matches. The two First Class games in 1997 were against Gloucestershire and Derbyshire. Both counties produced a superb batting pitch, and Derbyshire decided to rest, or I should perhaps say agreed to hide, Dominic Cork and Devon Malcolm.
The basic proposition that the ODI series would be dominated by a pair of relatively unknown Australians was uncontroversial, and that is what proved to be the case. What was totally unexpected was that those Australians would be playing for England, but Adam Hollioake, he of just two previous undistinguished ODI appearances, and his uncapped 19 year old brother, the late Ben, were to dominate proceedings to such an extent that some thought that not just one, but two new Bothams had been found. England won the series 3-0, easily, and all of a sudden the cricket world appeared, quite literally, to be upside down.
The weather was onside as well, and Edgbaston groundsman Steve Rouse too. The pitch for the first Test looked bone dry but, having been under water a couple of weeks before, was deceptive. There was also some uneven bounce to keep the fast men interested, which was just as well as otherwise it was, in an effort to neutralise Warne's threat, prepared to be distinctly docile.
If the new selectors felt a temptation to radically overhaul the England side it was one they managed to resist. Phil Tufnell was sent home as soon as the nature of the pitch became obvious. Dominic Cork was injured, and Nick Knight's technique was of concern, but those three changes apart the selectors retained the same team as had won the final Test in New Zealand. Mark Butcher came in for Knight. Free from the spectre of Illingworth Devon Malcolm replaced Tufnell at number eleven and, in an inspired move, Mark Ealham was preferred, much to the temporary disappointment of the public, to either Hollioake.
England had a bit more luck on the first morning as, Atherton having decided to bat first if he got the chance, they lost the toss. Taylor chose to bat. What followed was without doubt the most memorable single session of cricket I have ever watched, Headingley '81 notwithstanding. I had spent the morning wandering up and down a stretch of dual carriageway that Thames Valley Police had closed down especially for me, so that my appointed expert could carry out some braking tests on an old car that was the subject of a particularly tragic case of causing death by dangerous driving. I wandered up and down the 400 yards or so, earnestly jabbering away into my hand-held dictating machine as the experiments took place.
The road tests were finished by 11am. Initially I was inclined to just go back to the office, but was persuaded to walk another quarter of a mile to the Rifle Volunteer in Emmbrook. I had never been inside the place before but found my bearings just in time to look up at the television to see Darren Gough, everything pumping in his inevitable fashion, manage to beat Elliott for pace despite the pitch. The four gentlemen with me apart, who it rapidly became clear had no interest in cricket at all, there were just two customers in the bar. One of them looked at me and muttered words to the effect of "There's something going to happen up there today", and he called the landlord over and, not without a few tricky moments, negotiated the release of the remote control and permission to turn the commentary on "….. until any of the other customers say they don't like it". I think my expert might have been about to complain, and I am sure that my new found friend sensed that also, but the Professor took the hint in the way we looked at him, and thought better of whatever it was he was about to say.
That little rebellion quashed the talk of stopping distances was then interrupted by the roar that greeted the Aussie skipper edging Malcolm to the debutant Butcher at second slip. I believe the conversation then moved on to the respective merits of disc and drum brakes, but by then I had moved to another table to sit with the man who had had the premonition. Gough and Malcolm bowled fast and straight. This was the early days of the dressing up so beloved of the Edgbaston crowd, and their consequent good humour and generally vociferous behaviour was well and truly stoked by the early successes and the infectious enthusiasm that Gough brought to his work. There was a suppressed excitement about the commentary team, and apparent in the way the England fielders went about their business, that was echoed by a nervousness that could be seen on the faces of the Australian batsmen. It was no surprise when, at 26-2, The Dazzler's off-cutter went through Mark Waugh's defence, nor a few deliveries later when he castled Blewett with a beauty.
Ordinarily the realisation that the delivery that did for Blewett was a no-ball would have made heads drop, but there was never any doubt that this time it was merely delaying the inevitable, and from the very next delivery Blewett edged Gough to Nasser Hussain at third slip. By now the commentary was secure as a few other locals gathered near the television, and even the landlord's grumpiness evaporated, albeit in time with the ringing of his till rather than Gough's impassioned appeals.
Steve Waugh and Bevan then hung around for a while and scored a few runs, but no-one sensed that a recovery was under way, and it was not long before the score slumped from 48-4 to 48-7 in just over five minutes. The volume of the commentary in the bar had to be ratcheted up to match the excitement of the customers. First in this passage of play was Waugh falling victim to the uneven bounce as he feathered an Andrew Caddick lifter to Alec Stewart, and the very next delivery the same combination, this time wth a classical away swinger, accounted for Healy. There was to be no hat trick for the Somerset man but Malcolm found some lift in the very next over and, surprised by the bounce, Bevan popped up a chance to Ealham in the gully. It was 54-8 when Caddick got Gillespie lbw but, in that annoying way that it sometimes does, the atmosphere began to die after that and I had a horrible feeling that Warne was going to get some runs and, ably supported by Kasprowicz, he started to take liberties. It is a measure of how difficult to please cricket fans can be that when I left the bar on the stroke of lunch, with Australia eight wickets down and under the cosh, I was actually disappointed!
There was of course always the fear that Warne might do something miraculous, but, listening to the radio commentary I was relieved that good sense prevailed and within six overs of the restart Caddick had taken the last two wickets for a personal "five-for", and Australia had totalled a paltry 118.
We all knew that a great team would not lie down meekly and a decisive passage of play took place an hour into the England innings by which time, strangely enough, I had succeeded in returning to the office only for fear of a possible migraine to drive me to take an early tea of my own. England were 50-2 by the time I got the television on and into my armchair at home and then, for the second time that day, the first delivery I saw brought a wicket as The Gaffer, Stewart, made a hash of an attempted pull from Gillespie to be caught at the gully. The key moment of the match then occurred. Taylor had had four slips throughout but decided to play to a perceived weakness of Graham Thorpe, that being a tendency to jab to leg at a straight "rib-tickler" early on, so fourth slip was moved to leg gully. Gillespie almost got it right first up, but was just a little too straight. His delivery caught the edge alright, but then proceeded to fly at a comfortable height through the now vacant fourth slip position. And that, for Australia, was that. I obviously wasn't going to take my eyes of the match again, for fear of taking another wicket on my return, and Hussain and Thorpe batted on to the close. The Surrey man was dropped again, Bevan putting down a tough one just behind square leg, but England were well on the way to a lead of 112 at that point and, perhaps as significantly, a hamstring injury meant that Gillespie would not be bowling again in the match.
Australia were convinced that Hussain was lbw to the first ball of the second day, but fortunately for England Steve Bucknor disagreed, and he and Thorpe both scored centuries and took their partnership to 288 before Thorpe finally left. The visitors kept chipping away after that, but Hussain went on to 207 and, at 449-6, by the time rain brought an early finish England seemed as a minimum to be safe from defeat.
Ealham vindicated the selectors decision to include him as he smacked the ball around to add a further 29 before, following Caddick's dismissal, Atherton decided it was unnecessary to ask Malcom to bat, and declared on 478-9. It was a huge first innings lead, although more than a day later, when Australia were 327-1, they were just 33 behind. With slightly over five sessions left, even the unthinkable could not be completely ruled out. Elliott had departed to an arm ball from Robert Croft in the final session on Saturday, but that apart England had not looked like stopping Taylor end his personal run of poor form, nor Blewett from collecting his third Ashes century in just his third outing. But Croft kept plugging away and removed both centurions before a rejuvenated Gough nipped out Mark Waugh and Bevan to leave Australia on 399-5.
Healy and Steve Waugh then dug in again until, his concentration seemingly broken by a break for rain, the senior Waugh played across a straight one from Gough and was lbw. There were a few more lusty blows from Warne, who added 34 with Healy, but Ealham nipped in with three quick wickets and Gillespie was run out. Australia were 477 all out and England only needed to match Australia's first innings effort of 118 for victory.
Now that sort of target isn't always easy to get, as Australia had demonstrated so vividly back in 1981 when in successive matches they fell short of 130 and 151. But England gave Australia an object lesson in how to get over the finishing line. It is true that Butcher was out pretty early in the piece, but Stewart and Atherton took just over 21 overs to rattle up the 119-1 that took England to victory, Stewart scoring the winning runs with a magnificent cover drive to the boundary from the magician Warne, whose match figures of 1-137, sat uncomfortably alongside McGrath's 2-149, and more than anything told the story of the match. It had been a magnificent summer of cricket for England, with four comfortable victories against the old enemy across all formats.
Some books of cricket history will tell you the story of the rest of that summer, but I won't, because that is X-rated stuff, and I don't like the horror genre. So my advice is to stick to the good wholesome family entertainment, even if it did prove to be a false dawn.