Trescothick picks Mongoose as new opening partner
James Nixon |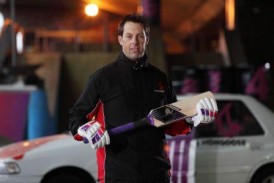 Mongoose Cricket today announced the signing of one of the country's most prolific opening batsmen, Marcus Trescothick. The former England international and Somerset captain demonstrated his enhanced destruction with the award winning short blade Mongoose MMi3 bat, at a unique launch event at Bay Sixty6 Skate Park in West London.
Having effortlessly laid waste to the obstacles set before him, Trescothick enthused about his new armoury: 'It definitely stays hit with a Mongoose! I followed the story of the launch closely last season and I've been netting with both the CoR3 and the MMi3 for a while now. I'm excited by what they can both do and am looking forward to using them both out in the middle.'
At 34, Trescothick's list of cricketing accomplishments is extensive, including over 18,000 first class runs, two PCA MVP Awards, 76 Test caps and 123 One Day International appearances. He also holds the record for the fastest 50 in English T20 competition, a 13-ball half century comprising five sixes and five fours.
Now preparing for an 18th successive season for Somerset, Trescothick's sights are set on silverware in 2011 having secured a hat-trick of domestic runners-up honours this year in the County Championship, T20 Cup and CB40 competitions. The three year-deal with Mongoose, will see him use the short blade MMi3 bat in at least 50% of One Day matches.
As well as team silverware, Trescothick will be looking to give his personal bank balance a boost with his new blade, having been offered a unique ?1m incentive if he is able to clear the Pavilion at Lord's – a feat that has only been achieved once before in 1899, by Australian batsman, Albert Trott.
Inventor of the Mongoose, Marcus Codrington Fernandez said: "We're absolutely delighted to welcome Marcus to the Mongoose family. He is one of the most naturally gifted batsmen of his generation, whose aggressive, hard-hitting style represents a perfect fit with the Mongoose brand. We look forward to watching him perform with a Mongoose and actively helping us to develop the range.'
Trescothick, a former Ashes winner with England is keeping a close eye on the action in Australia. Reacting to the team's first Test performance in Brisbane he said: "What a fantastic fight back from the boys. Things are looking good – the team has prepared well and I don't think we will ever have a better chance of winning a series Down Under. I'm sticking to my pre-start prediction – England to bring back the urn with a 2-1 victory."
He will also be hoping to add to the 'Goose's' growing list of memorable TV cameos, which in 2010 included Matthew Hayden bludgeoning 93 for the Chennai Super Kings on the bat's IPL debut and Gareth Andrew's cultured 58-ball century for Worcestershire at the Oval in the CB40.
Mongoose launched its revolutionary short blade MMi3 cricket bat in May last year, designed specifically to meet the fast-paced batting requirements of the Twenty20 generation. Winner of the 2010 Sports Industry Award for 'Best Technological Innovation in Sport' the unique design, which conforms to MCC Laws, offers batsmen 20% more power and 15% faster bat speed than a conventional bat.*
Mongoose bats are made from top grade English Willow (English and Kashmir willow for junior bats) and range from light (size 4, junior bats) to heavy (3 lb). They cost from £50.00 (RRP) for junior bats and from £150-£329 (RRP) for senior bats. To see the new range and for a full list of retailers, please visit: www.mongoosecricket.com or phone 01244 644466.
Click to view hi-res copy