M and M's too hard to swallow
Mathew Sinclair |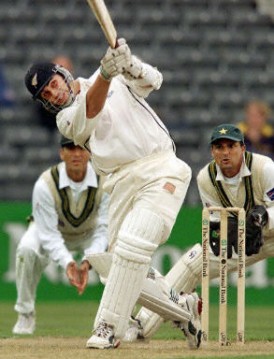 Muttiah Muralitharan and Ajantha Mendis have once again caused a massive headache for the Black Caps as they look to turn around their disappointing result in Galle.
As if having a stomach bug which rampantly spread through the team wasn't enough, they were totally outclassed by a Sri Lankan team proving that a Test victory in Sri Lanka is as hard as they come. Speaking from experience of traveling in that part of the world there is nothing worse than having such a bug. There is no real way to try and rid it off without making it worse and passing it on to your fellow team mates. The oppressive heat and humidity really make it hard and even though you have single rooms it takes only one person to get it and then everyone else follows.
Things aren't going to get any easier as well now that they have moved back to the mainland where the heat can be just the same if not worse.
Once again we showed our frailty in having confidence in playing spin or a batting plan that is effective. Having had a few opportunities to face Murali myself and getting out on more than one occasion this task is not easy, especially if you can not pick his doosra. For me all deliveries seemed to come out looking the same and when I actually thought that I had picked it, it went the other way and hence nicked it to slip. I feel the pain that the Kiwi batsmen are going through with the quality attack that Sri Lanka possess it is relentless pressure, and rightly so as it is a Test match, testing all your powers of concentration and skill.
Tilakaratne Dilshan really set up the Sri Lankans with a fantastic 100 mixing aggression with patience being the key to his score. They were in trouble early on in their innings but by creating big batting partnerships it made the job that much harder to get them out. Big partnerships with the bat on flat wickets are so demoralising for the bowling team and help set up big scores. What the Kiwis have to try and do is create these partnerships with the bat to at least put some kind of pressure on the Sri Lankan bowling unit. Turning the strike over and getting the bowler to bowl at someone else puts doubt in the bowler?s mind. Bowlers love to sustain pressure with one batter down the other end facing them, forcing the batter to make a mistake through consistent maidens and scoreboard pressure. This was a big feature in both NZ's batting innings.
Although the batting line up is lacking experience, what this team makes up for is talent with a no-fear attitude. This attitude especially in the sub continent is tested all the time with a lot of things out of your control. The old saying of controlling the controllable is a true test of that individual, especially when you have in my regards the best bowler ever in the modern game bowling it down at you. Players that I have seen succeed over in Sri Lanka have been those who are prepared to bat it out for the long haul, with that I mean batting sessions. Stephen Fleming was a master of this as I remember one very long double century innings from him over there. So compact was his defence as he had a big self belief in his batting strategy against the bowlers, more so that of Murali. This by no means is an easy task made even harder when it is not in your own country. Fleming's experience took him a long time to perfect and was made even sweeter as he valued scoring big outside of New Zealand.
Our record over there is very poor in Test match wins and we need individuals in the Kiwi team to get really selfish about the way they go out there and bat which in turn contributes to the team cause. Cricket at the best of times is a very selfish game; I mean it's the bowler against the batter half the time, neither of them willing to give an inch. Sure there is that aspect of playing for the team but individually if a batter isn't doing his job how is that helping the team cause? Pro cricket now is very cut-throat and if an individual isn't performing he is likely to be replaced by somebody else. But that is why we play the game, each individual pushing themselves to get better and most of all win matches.
I can't see the Sri Lankan team making any changes and I imagine the NZ team will remain the same. Would like to see Dan Vettori win the toss and bat first this time so that the Kiwis aren't facing such a turning ball batting last. This will allow the NZ batting line up to take full advantage of the batter-friendly wicket early on and post a big first innings score. Expect a lot more sweep shots and hopefully an attitude of being a lot more positive with feet movement and strong in defence. The ball spinning on these wickets is always going to be around, it's just how we can find ways to turn it into our advantage. We are considered a far better one-day team than Test team, so my question is why don't we try and bat in a similar fashion but with situational awareness. What I mean by this is batting to the conditions but in a positive fashion, getting the close in fielders out from under the helmet. All these release the pressure that I talked about in regards to staying down at one end and hopefully open up other areas of the park from which to score from.
I look forward to the Black Caps response in this coming Test match, and am sure they have gone away and put their thinking caps on. Now that the players have got over the loss and have had a good look at the Sri Lankan bowlers and batters, expect a good improvement from the first Test.
Finally, a big thank you to Cricket Web readers in regards to my son Liam, he is growing very quickly and I can't wait to put a cricket bat in his hand, hopefully with the idea of being a better cricketer than his father.
Until next time.