Cricket: Anything Can Happen
Mathew Sinclair |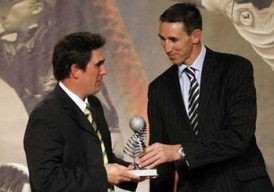 The old saying "cricket, anything can happen", poked its head up over the last few weeks. The Black Caps coach resigned and the team heading over to the United Arab Emirates has a point to prove. We also can't forget about so many injuries leaving players back here in New Zealand who made a real difference over in South Africa.
What it has done though is give other guys an opportunity to play at the top level and put their hands up for further selection throughout the year. This domestic year even more so than any other is a busy schedule with 10 four-day cricket matches along with the whole of January dedicated to Twenty20, and one-dayers spread over the whole year. A huge emphasis has been placed on our poor Test match performances over the last year and hence the added four-day games give potential Black Cap players plenty of time in the middle to work on their batting and bowling.
Twenty20 cricket will again be the major event that all domestic associations will be targeting. With the introduction of overseas players and the lucrative chance of going over to India for the Champions League, there is an even greater reason for the players to do well. Central Districts has gained the services of Graham Napier this year for our one-day and Twenty20 campaigns and his wealth of experience in batting and bowling will give the Stags a great chance to take out this competition. What we lacked last year was a player that could bowl at the death and provide us another batting option.
Graham gives us great depth in all areas and our strength in our batting will complement what he can offer us. Unforeseen retirements and injuries to our squad make us light on that side of things which means that the likes of Mike Mason and Ewen Thompson will bolster our pace attack. Jamie How will take over the captaincy this year and our coach Dermot Reeve has put a challenge on us to win all three competitions, a feat that I don't think any first class team has done before, but with the players that we have this year it can be achieved. Jake Oram having announced his early retirement from the Test match arena will see him not play in the four-day campaign but he will be available for the other formats in-between NZ commitments. On paper we look very strong this year and with all our Black Caps available to us in January for the Twenty20 competition there should be no reason why we can't take it out.
Twenty20 cricket rightly or wrongly has really got the cricketing public around the world in a spin. There is a place for this format of the game and now players can make a very good living from it. What worries me slightly is that players are now picking and choosing what they would like to play and forgetting about the true origins of the game that we were all brought up on and admired. We need to be encouraging young cricketers that the ultimate is still playing for your country and dreaming of going out there and scoring a big 100 or getting five wickets against the Australians in a Test match. There is nothing better than representing your country and I hope that this has not been missed by players who choose to go their own way just to chase the dollar. The dollar will always be made if you work hard on doing the basic cricketing skills well in an environment that tests you both mentally and physically, and that I believe is the longer format of the game. There are so many options for players now and we as players and coaches need to be encouraging this form of the game at all costs. I do think the international format of how Test matches are being played could be addressed a bit better by encouraging some sort of incentive and competition point system to create some general interest from the public. Hence making teams play positive cricket with far more results based opportunities.
I get asked quite a lot by genuine cricket followers as to "why do we need coaches at international level" and funnily enough the Black Caps are in that same boat. For me a coach is really important, the background work in thinking tactically and strategically is crucial to how an international team performs. Also taking the pressure off the captain as he has so many other things to worry about is critical and that relationship needs to be very tight and accommodating. The best teams that I have come across have been those teams that have been really well coached and work towards a team cause and not individually going out there and doing it for their own good. There is much more to coaching though, the coach needs to be the person that is developing the young players and providing a good mix between the senior players and the new players as well as having good team management. When this starts to break down everything off the field is then brought onto the field and team morale drops and trust goes out the window. A coach is pivotal to any team's success and his role is vital in creating that harmony at the top level and in making his players the best that they can be.
I was lucky enough to have been awarded the Domestic Player of the Year Award, an achievement that I was really stoked with, and a reward for all the hard yards out in the middle batting and putting together a performance that would help out my team in winning. This year will be another challenge for me with a busy schedule coupled with my benefit year and a book launch in the new year. It will be like all the other years before me and the prospect of playing against some very strong teams and a likely chance of representing my country still sits high on my agenda. Consistency has always been every player's goal and that reality for me was evident last year and even more of a challenge is to back it up this year.
Look forward to some more insights from my writing this year as this year is shaping up to be a great one.
Yours in Cricket
M S Sinclair