Trumper Triumphant
Martin Chandler |
Published: 2002
Pages: 86
Author: Wolstenholme, Gerry
Publisher: Red Rose Books
Rating: 4 stars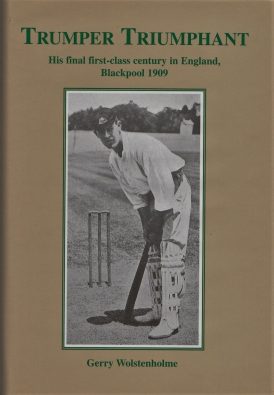 It's been a while since anything new was published on the subject of Victor Trumper so, a few withdrawal symptoms starting to affect me, I noticed this one on the shelves. I couldn't immediately recall whether or not I actually got round to reading it back in the early noughties when it formed part of the first order I ever placed with Red Rose Books. That being a time before the legendary Australian batsman became a source of fascination for me I may well have put the book to one side and never actually opened it. In any event two decades on I have now read it, and can report that the half hour or so I spent with this slim small format book was most certainly time well spent.
In Trumper Triumphant Gerry Wolstenholme spends a little under half of his time giving an extended pen portrait of Trumper. There is nothing revelatory in that, but it is a decent and entirely readable account of the life of the man whose reputation, unusually for a cricketer of his vintage, seems to become all the greater as time passes.
The Trumper story extends from his birth in 1877, the year of the inaugural Test, to his all too early passing in 1915 at the age of just 38. The 'other' half of Wolstenholme's book, placed chronologically within the rest of the narrative, concerns events in August 1909, during Trumper's final tour of England. This is the part of his story that is unfamiliar, that required detailed research, and which makes Trumper Triumphant such a pleasure to read.
The nub of the account is a match that was played in the Lancashire seaside town of Blackpool following the Test series being concluded in the Australians' favour. The opponents were styled as 'An England XI'. The team was essentially comprised of men from the only two counties not engaged in Championship fixtures, Essex and Leicestershire. One of their number was the Leicestershire batsman Vivian Crawford, who also brought along kid brother Jack. Less than four years earlier Crawford Jnr had been capped by England at 19 and appeared to have a huge future in the game until, just six weeks before this match, he had left Surrey in controversial circumstances.
As far as the game itself is concerned that was played out in excellent conditions and the scratch side played with such purpose that their opening batsmen, Johnny Douglas and Albert Knight, put together what at that time was the highest opening partnership (285) ever recorded against an Australian side in England. The Australians were forced to follow on and were, briefly, in danger of defeat until, following a contribution of 49 to their disappointing first innings total, Trumper scored 150 in the follow on to ensure the game was comfortably saved.
Accounts of cricket matches played long ago can, by virtue of relying extensively on quotes from contemporary reports, lack colour but that is not a criticism that can be made here. Wolstenholme has clearly read every report on the match that he could find, but he seeks to tell the story of the match afresh and does so very well indeed.
As interesting as the match itself is the story of how it came to be played at all. Then as now the relationship between Blackpool and the Lancashire club was not all sweetness and light, and the staging of the match at all was quite a gamble for the town. How the arrangements were made and how successful the off field aspects were are as interesting as the cricket itself.
When Trumper Triumphant was published it appeared in a signed and numbered limited edition of 150 copies, the first 25 of which were bound in leather and presented in a slip case. Copies of the 25 very rarely appear, most doubtless reposing in the collections of the not inconsiderable number of Trumper's disciples who voraciously collect anything to do with their hero, but the other 125 copies do appear on the market from time to time and are not particularly costly and indeed anyone wanting to source a copy could do worse than email publisher Martin Tebay at sales_redrosecricketbooks@live.co.uk and, if pressed, I dare say he may be lay able to lay his hands on a copy or two.