Victor Richardson
Archie Mac |
Published: 2021
Pages: 575
Author: Lysikatos, John
Publisher: Private
Rating: 3.5 stars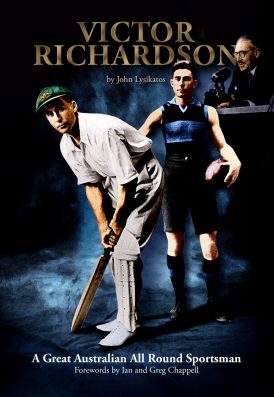 It must have been ten years ago when I spoke with John Lysikatos. At that stage he indicated that he had finished his book on Victor Richardson and was just lining up Richardson's grandson, Ian Chappell to write the foreword.
Judging by the research and sheer size of this book, I must have misunderstood and the author was starting out on his project. In the end he managed to obtain forewords by both Ian and Greg Chappell.
There have been some huge size biographies of recent cricketers with Steve Waugh and Ricky Ponting coming to mind. This book on Richardson may have them both covered. At 575 pages it is lengthy, however when you add in the physical size of the book at 280mm x 360mm, and a relatively small font it must be pushing 350,000 words.
Lysikatos has not only covered every one of his subject's first class matches, he has also seemingly mentioned every one of Richardson's first grade games. This is certainly an exhaustive list that I must admit on occasions I found a little tedious. 
At the start of his book Lysikatos informs that Richardson was his hero and while certainly not a hagiography, Lysikatos has a habit of finding positives and using superlatives even when Richardson has only contributed a moderate score.
To be fair to the author, Richardson conducted his life with class and was almost beyond reproach when it comes to censorious comment. On the one occasion when Richardson was less than gracious in his comments, Lysikatos chose not to offer an admonishment. This one occasion, not surprisingly given their antipathy, was aimed at Don Bradman. It occurred after Bradman paid a 'mate' of Richardson's a compliment, Richardson chose to describe The Don as a c…
The author chooses the traditional format for Victor Richardson, as in he rarely strays from the chronological. It generally works well and is easy to follow. The one subject that Lysikatos may have assisted his readers by having a different section about was that involving Richardson's exploits on the football (Aussie Rules) field. He played to a high standard at club level and also represented his state of South Australia against arch rivals Victoria.
Lysikatos does not assist the reader with understanding the football that Richardson played and this may be an issue for those not versed in the game. There is a lot of coverage of football and even with someone who grew up with the game, I am not overly familiar with the teams and colours of the Adelaide district game. I certainly struggled when we moved onto Richardson's exploits in baseball, in which he again represented his state.
One area that Lysikatos excelled himself was in the coverage of Richardson the commentator. It seems he was certainly the most famous radio personality in Adelaide and the most eminent cricketing commentator throughout Australia.
The other thing Lysikatos makes an argument for his subject was as a superb fielder. I would certainly say that I now believe Richardson to be the greatest fielder that Australia has ever produced. Bradman for one stated he never saw Richardson drop a catch.
The subtitle for this book is "A Great Australian All Round Sportsman" and after you read it you'll be amazed at the zest for life and love of sport that Richardson displayed. This is possibly the most thorough biography of any Australian cricketer yet produced. I can certainly recommend Victor Richardson not only for the coverage of Richardson's life but all the Australian cricketers and matches played in his lifetime.