The West Indies at Lords
Dave Wilson |
Published: 1963
Pages: 104
Author: Ross, Alan
Publisher: Eyre & Spottiswoode
Rating: 4 stars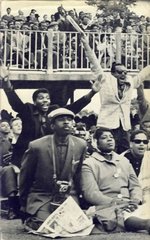 Alan Ross is one of my favorite cricket writers, so it was with some surprise that reading through the extensive list of our previous subjects I realized that none of his books had so far been featured in one of our reviews. I'd like to take the opportunity to address that with a review of one his books.
Ross, who was born in India and served with the Royal Navy in World War II, joined the Observer and became cricket correspondent in 1953. Ross was to become as noted for his writings on travel as cricket and it was in his tour books where those two loves were best matched. The first book of his which I read was Australia 55, which I enjoyed as much for the vivid descriptions of his travels around Australia as for his evocative pieces on the cricket. His metaphors rival Oscar Wilde's; for example, he describes how he came across an emu, "looking stiff and surprised, as though caught reading someone else's letters".
The subject of this particular review is his 1963 book, West Indies at Lord's. In the introduction, Ross bemoans the fact that the previous year he had published a book on the 30 greatest ever Test matches, in which the Lord's Test would no doubt have featured, necessitating this second book covering just this one Test. Can an interesting book be made of just one Test, rather than a full series? Well, Grahame Lloyd made a reasonable job of it in covering a single over, so the answer must be yes.
In actual fact, though the bulk of the cricket coverage concerns the Lords's Test, all Tests in the series are covered to some degree. The Lord's Test is described in much more detail, of course, and the writing is wonderful. Consider these gems, all taken from a single page, as Wes Hall wagged the West Indies tail: "Hall, conceiving it his duty to show Trueman the rope's end, swatted him disparagingly to the off….Between whiles he cavorted up the wicket like a pantomime horse suddenly stabbed in the buttocks….Solomon had batted with the bland repleteness of an alderman at a luncheon, all waistcoat and half-hunter…..Hall, 25 not out, left the field as if done out of dessert." Wonderful stuff – the mental picture formed by his description of the three short legs to Cowdrey "crouched as if ready to push him over from behind" *is exact, and the description of Dexter's 70 in even time is as evocative as any cricket writing I have read.
He reminds us that "the great finishes of Test cricket history, for the most part unpredictable, have rarely been fought out before great crowds", and so it was here as bad weather meant that a much under-populated Lord's witnessed Cowdrey, arm in plaster, venture out to enable England to see out the last two balls and seal a memorable draw.
This book is very much of the time and Ross brings the plight of the working-class West Indian in London during that period, as victims of the slumlord Peter Rachmann, into stark relief, and his comments on Leeds and the "grasping urban ugliness of commercial Yorkshire" is some way short of complimentary.
But the lasting impression is of a huge appreciation for the joy provided by the cricket of the West Indians – "Enriching the common idiom of the game, they restored to it not only spontaneity, but style. I urge anyone who has not yet enjoyed the pleasure of his writing to pick up any of his cricket or travel books – I promise you won't be disappointed.