The Sporting Solicitor
Martin Chandler |
Published: 2019
Pages: 48
Author: Battersby, David
Publisher: Battersby, David
Rating: 3 stars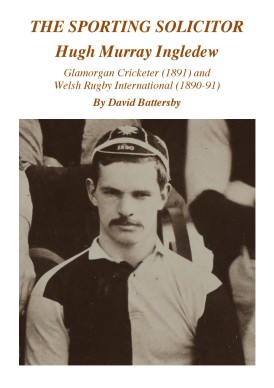 Back in 2016 I reviewed David Battersby's first book, In The Shadow of Packer. It is a thoroughly worthwhile read that shines a light on a forgotten but interesting winter in England's Test history. Since then we have reviewed two more books by Battersby, both self published, as well as ten booklets dealing with various aspects of the game in, primarily, Pakistan, Gloucestershire and Glamorgan. Clearly a man who enjoys research the subjects of the booklets have ranged from the obscure to the very obscure. All however have been rewarding in their way.
The Sporting Solicitor is possibly the most left field Battersby publication yet. Essentially a biography the subject matter is a man who played five times for Glamorgan in 1891. He had no particular success on the field, and at that time Glamorgan were still 30 years away from joining the County Championship. Accordingly Hugh Murray Ingledew never played in a First Class cricket match.
In addition to his cricket Ingledew was also a half back on the rugby field and, in the months prior to his appearances for Glamorgan, was capped three times for Wales playing in Ireland and in Scotland, and at home against England.
Outside of sport Ingledew was a solicitor. His specialism seems to have been in transport law, particularly railways, but he did act for the Cardiff Rugby Club on its acquisition of Cardiff Arms Park. Sadly whatever the project involved the law and practice of conveyancing does not make for an entertaining read and the ins and outs of that deal are something which Battersby has, probably wisely, not explored for the purposes the booklet.
Battersby chose Ingledew as a subject after acquiring some original correspondence from him to the secretary of the Glamorgan County club. The letters themselves contained nothing of great import but they clearly inspired Battersby to dig further. He has tackled that task with some zeal and found many references and reports concerning Ingledew in local newspapers. The archives of the Cardiff rugby club and Ingledew's school in Oxford have also shed light. Ingledew was to marry and in time had two children but neither carried on the line. Sadly therefore there are no descendants to provide the insights into the sort of man Ingledew was that only family members can.
Despite that practical handicap Battersby has done a fine job of reconstructing Ingledew's sporting career, and sufficient of his life outside cricket and rugby union to present a rounded account of the life of a man whose existence seems to have been very much 'of its time'. There are 48 pages to The Sporting Solicitor, making it rather bulkier than Battersby's previous booklets, but I will follow his lead in grouping it with those rather than with his books.
To accompany his narrative Battersby has managed to locate some interesting illustrations, all of which have been exceptionally well reproduced. There are a number of photographs of Ingledew alone, a few of team groups and some of interesting pieces of memorabilia, including the letters that inspired the search. There are 79 copies of The Sporting Solicitor, individually signed and numbered, and available in the UK at £6.50 per copy including postage. The author can be contacted by email at dave@talbot.force9.co.uk alternatively Roger Page has a few copies available.