In The Shadow Of Packer
Martin Chandler |
Published: 2016
Pages: 192
Author: Battersby, David
Publisher: Pitch Publishing
Rating: 3.5 stars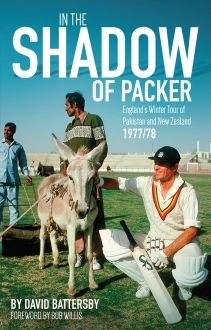 So far this year Pitch have produced five new cricket titles. To describe them as ground breaking would risk an accusation of hyperbole, but with the possible exception of Stuart Rayner's War of the White Roses they have all gone beyond what publishers would consider to be mainstream, and all are excellent. With The Shadow of Packer they go back to a rather more familiar genre, the old-fashioned tour book, but even then it is not quite what it seems.
When tour books do appear in this day and age they are either about a recent Ashes series or a trip from years gone by. As the title suggests this one falls into the latter category, and deals with England's trips to Pakistan and New Zealand in the northern hemisphere winter of 1977/78.
It is remarkable just what conditions England tourists had to put up with in those not so far off days. There had been a military coup in Pakistan a few months before England arrived, and the first Test was interrupted by riots, yet no serious consideration seems to have been given to abandoning the tour. All the participants seem to have taken the disturbances in their stride especially Mudassar Nazar who, in the first Test, scored what remains the slowest century in Test history. The match was drawn, as were both the other Tests in the series, and none ever looked like producing a result.
There were some interesting sidelights to the tour, the new faces on both sides who were brought in to replace those lost to World Series Cricket, and the lingering possibility of the 'Packerstanis' being selected being foremost amongst them. Battersby weaves an interesting story, and whilst the cricket itself was so dull that not even a Cardus could have turned it into a riveting tale, his narrative was much more interesting than I had expected.
From Pakistan it was straight on to New Zealand. Today there would doubtless have been a break and a few weeks at home. In those days however it was more than three months away from home. A generation or so previously it had been six months. The cricket in the Shaky Isles was more interesting, the Tests producing a win for each side, the New Zealanders' being their first ever against England. Again there is a good account of the tour, but one that might have been more thorough in its examination of the main controversies. This was the series of Geoffrey Boycott's only stint as England captain, the incident when the young Ian Botham ran him out deliberately in the second Test, and Ewen Chatfield controversially mankading Derek Randall.
The real help Battersby received came from Bob Willis, who contributes a foreword, as well as Mike Brearley, whose injury gave Boycott his long awaited opportunity, and Bob Taylor. With access to Boycott's vice captain as well as the erudite and eloquent Brearley a thorough analysis of Boycott's captaincy would have been an interesting digression, and was an opportunity that should have been taken.
Also of help to Battersby were New Zealand skipper Mark Burgess and Mudassar Nazar. Unusually, and indeed possibly uniquely, his discussions with them appear as interviews in appendices at the end of the book rather than being woven into the text. Similarly some questions and answers with Taylor, Brearley and Willis are appended. All are interesting, as indeed is the final additional section, a 'where are they now' of the England side – it is an excellent feature of the book, spoiled slightly by the absence of something similar in respect of the New Zealanders and Pakistanis.
The retrospective tour account is not a straightforward proposition, and there have been a few in recent years that have disappointed. The problem seems to arise when too much time has passed for anyone involved in the tour to be able to contribute. The Shadow of Packer shows how the job should be done. It helps that the tour wasn't the subject of a book at the time, and that it is a project that Battersby has been honing into shape for years. To those of us who were around at the time and have almost forgotten the two series involved it is particularly valuable, but it is recommended to all.