International Cricket – A History from 1905
Dave Wilson |
Published: 2010
Pages: 156
Author: Various
Publisher: Historic Newspapers
Rating: 4.5 stars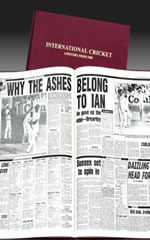 This book is a large-format, red leatherette-bound hardback edition, culled from the pages of the Daily Mirror over a period of 105 years frm 1905 to 2010. The cricket coverage begins with the 4th Test at Old Trafford in July 1905 (MacLaren, Fry, FS Jackson, Hirst and Rhodes triumphing over Trumper, Noble, Hill, Armstrong and Darling), when England won the Ashes with an innings victory, and culminates with England's 2010 T20 World Cup triumph.
The pages have been scanned form archive hard copies up to 2006, after which digital masters are available. The early scans are extremely interesting, not the least beause they contain other contemporary nuggets; for example, on the first page, as well as a report of the recently completed Ashes Test, we also learn of the proponents of "Sugar for Breakfast" and enjoy an extract from "Our Holiday Resorts", which describes an idyllic English seaside town, which is, rather puzzlingly, not identfied. Possibly the most surprising non-cricket extract to this reader, however, shared the page including the report on the England whitewash of India, a one and a half inch square advertisement for the post of Team Manager – "Leeds Utd AFC invite applications for the post of team manager in writing to the Chairman", the successful applicant being of course one Brian Clough, which appointment is now documented in the movie "The Damned United".
We are also reminded that back in the days before the Second World War, cricket was regularly front page news, with full-page photos of Fry and Hobbs in the process of winning the first Ashes test in 1909 and a celebration of Verity's 15-wicket haul at Lord's in 1934. The "Bodyline" series of 1932-33 is naturally dealt with in some detail, and in view of the furore which developed it is interesting to read the contemporary comments, such as CG McCartney writing for the Mirror – "I again wish to reiterate that England's victory is due vastly to a more intimate knowledge of the details of the game".
1935 brings us the headline "Mrs Hobbs disagrees with Jack Retiring", alongside the suggestion "For supper tonight try a tin of Batchelor's Peas!". That same year we see a photo of Chelsea's first team goalie and winger preparing the pitch for the forthcoming season – difficult to imagine Messrs Drogba, Lampard et al being so inclined to help out.
1956 was of course Laker's year, and the description of his 9-37 first innings haul at Old Trafford includes balls faced information for all individual innings. The tied Test of 1960 is reported in some detail, which (non-English readers take note) is quite rare here for a match not involving England, at least prior to World Cup cricket.
The 1950s and '60s are notable for how often the deeds of Fred Trueman are featured, and indeed he is one of the few whose obituaries have been reproduced (2006). The report of England's tour of West Indies in 1968 is printed alongside the previous night's football scores, including Cardiff's triumph over Torpedo Moscow and a note that the scorer in England's 1-0 Nations Cup defeat of Spain was one Charlton, R.
The ODI World Cup is covered in some detail each year, with England's failure in 1979 being dubbed "Collapso", as they lost eight wickets for eleven runs in 26 balls vs West Indies. Not surprisingly, several pages are given over to the 1981 Ashes series, with the Headingley victory being compared to Agincourt and Waterloo as an "epic feat of British arms", alongside an angry denial from Kim Hughes over Dennis Lillee and Rodney Marsh's off-the-field activities under the headling "Aussies in a Flutter".
As we head into the nineties there is much less non-sport text to enjoy, though for cricket fans the coverage is more extensive, for example there is a complete list of all of Gooch's scoring shots in his 333 vs India in 1991. And English fans will of course enjoy reliving the 2005 and 2009 Ashes (though not so much 2006-07, which is also covered in detail).
A surprising omisison, to me at least, was Boycott's return to the England side in 1977 from self-imposed exile and his dramatic impact on the outcome, considering that some lesser feats from the time are included. Such grumbles are few and far between however.
At around 50 quid it is not cheap, but you can have the book pesonalised on the front and it would make a memorable gift for a cricket-lover in the family.