Democracy's XI
Martin Chandler |
Published: 2017
Pages: 371
Author: Sardesai, Rajdeep
Publisher: Juggernaut
Rating: 3 stars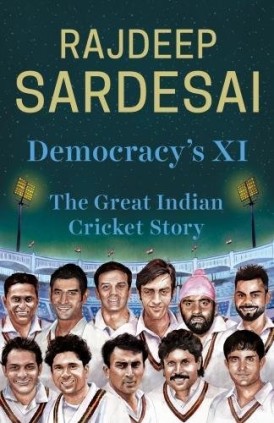 The core of Rajdeep Sardesai's first cricket book consists of eleven pen portraits of Indian cricketers. One of them is quite outstanding, and if the first chapter existed in the context of a 26 page monograph I would, after some justified hesitation given the slender nature of such a volume, give it a five star rating.
The auspicious start was not unexpected. Rajdeep himself made a few First Class appearances in 1987 whilst studying at Oxford University, and has gone on to become a well known and high profile television journalist in India. Politics and economics are his strength, to go with his not inconsiderable cricketing ability and the fact that his late father, Dilip, played 30 Tests for India between 1961 and 1972.
Dilip was not a superstar, but a batsman has to be very good indeed to score two double centuries in Test matches. He was also the first Test cricketer to appear from the island of Goa. His story has never, as far as this reviewer is aware, been told before and it was a real treat to learn more about the man who played such a pivotal role in India's unexpected series win in the Caribbean in 1971. The depth of knowledge that Rajdeep inevitably has of his father, coupled with an ability to apply his journalistic skills to that with just the right mix of objectivity and affection is the key to the quality of the first chapter.
From his father Rajdeep moves on to the contrasting personalities of the Nawab of Pataudi and Bishan Bedi. These are cricketing essays, but not exclusively so and they look at the lives of their subjects in a much more rounded way than a mere collection of pen portraits usually does. Some of what is written, those parts which illustrate the changes that have taken place in India and Indian society over the last half century, will be appreciated by and mean much more to the book's Indian readership, but that should not put off those readers whose interests do not extend too far into matters of Indian culture beyond the game of cricket.
I enjoyed reading about Bedi and Pataudi, perhaps because they are figures from my youth and have not been written about so extensively before, at least not in England. For different reasons I much enjoyed the chapter concerning Mohammad Azharuddin. The only biography of Azhar, by Harsha Bhogle, appeared long before the match fixing scandal that later engulfed him and which caused Jarrod Kimber to describe him as being like the best beer you've ever drank. Until you realised he'd pissed in it. The truth is that Azhar did and always has asserted his innocence of the charges levelled against him, and has never been tried. Rajdeep's fascinating look at the man who scored a century in each of his first three Tests makes no attempt to come to any conclusion at all or even to examine the allegations in any detail. What he does however do is set out enough of the background to hope that perhaps some day we will be able to read a detailed examination of Azhar's lives in cricket and politics.
After Azhar the remaining subjects are what I would describe as 'the usual suspects'. In order they are Sunny Gavaskar, Kapil Dev, Sachin Tendulkar, Sourav Ganguly, Rahul Dravid, MS Dhoni and Virat Kohli. Superstars all and each one the subject of several previous books and, in SRT's case, many of them. As essays about such players go all are well written and informative but unless any of them really interest you, or looking at them in a wider context does, they won't hold the reader's interest in the same way the earlier chapters do.
All in all I doubt that Democracy's XI is going to shift too many copies outside India, but it is certainly recommended. In India I hope and expect it to do very well, and perhaps in light of that success Rajdeep will take the view that, as seems to be the case, he is the man to tell the unabridged story of Mohammad Azharuddin.
Finally a word about the way the book is produced. In recent years the quality of books published in India has improved considerably from the very low base it had even a decade ago, so much so that it is now true to say that the finished product from an Indian printer now seems to be as good as from anywhere else. Something else I will mention, not for the first time in recent reviews, is the quality of the photographs. Is this something publishers have started paying more attention to? Whether by accident or design those here are an excellent selection, beautifully reproduced and skillfully captioned.