Nathan Astle
Archie Mac |
Published: 2007
Pages: 223
Author: Astle, Nathan with Gifford, Phil
Publisher: Hodder Moa
Rating: 1.5 stars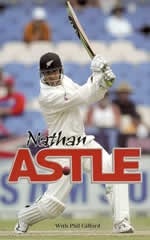 * Nathan Astle is a quiet man by nature
* Nathan Astle has very good hand-eye coordination
* Nathan Astle is a nice guy
* Nathan Astle is liked by just about everyone
* Nathan Astle was born with an extra thumb
* Nathan Astle comes from a loving family and is a family orientated person
* Nathan Astle rarely speaks at team meetings, but when he does everyone listens
* Nathan Astle is very good friends with Stephen Fleming, they once shared a flat together
* Nathan Astle likes to play golf to relax
* Nathan Astle and Craig McMillan married sisters
* Nathan Astle is a very neat and tidy person
All great stuff! I am just not sure that it should have taken me 222 pages to learn those few interesting facts. To be fair the book did pick up in the last couple of chapters, when Astle talks about his dropping from the Black Caps and his deteriorating relationship with Coach John Bracewell, but even this is handled rather tamely, with Astle constantly writing along the lines of; "another player which I am reluctant to name".
He hints on occasions that he was not always impressed with fellow players such as Adam Parore, and Chris Cairns, or some of the Black Caps coaches that he came into contact with during his long career.
But hints are all we have, as for his take on the 81 Test Matches and 223 ODIs he played in, the following sums that up "We play so much cricket now that to run through every tour, every test (sic) series, every one-day international series would be as exhausting for you as it would be for me".
Instead we are given highlights of just half a dozen Test Matches, and even these are mostly match reports lifted from Cricinfo.
Maybe someone should explain to the authors that this is supposed to be an autobiography of an international cricketer, and the reader (who I imagine is some sort of a cricket fan) wants to read about some international cricket and some of the behind the scenes workings and off field controversies that occurred during the career of the subject.
I came on a one week holiday with three cricket books to read (the others being Turn, Turn, Turn…Please & Gordon Greenidge) four days in and I have finished the lot, but it was only this one that I felt tempted to give up on, in fact I was almost tempted to steal my wife's book Ice Station by Matthew Reilly, but she refused to swap. I knew I should have brought four.
One other thing, test, as in Test cricket is always spelt with a capital 'T', although I do realise that fixing this would not make this book any more interesting (to be fair this is standard in New Zealand). It should be said that there are a minimum of typos in the book, in fact I can not remember any off hand except in the spelling of Shaun as Sean, as in Shaun Pollock.
Give this a miss; even fans of Nathan Astle (which I am one of) will be comatose.