Brad Hogg – The Wrong 'Un
Archie Mac |
Published: 2016
Pages: 340
Author: Hogg, Brad and Growden, Greg
Publisher: Nero
Rating: 4 stars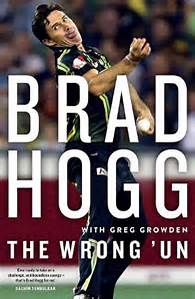 Every now and again comes along a cricketer who the pundits love. Sometimes there is no rhyme or reason as to why they are chosen as a crowd favourite, but in Brad Hogg's case it is obviously his contagious enthusiasm for cricket. That enthusiasm, when combined with his idiosyncrasies such as his uncontrollable tongue, gives the impression of a big kid who never quite grew up.
Why the above summarisation is partly true, The Wrong 'Un, shows there is a lot more to George Bradley Hogg. The book starts at the beginning and confirms that the young country Hogg was as hyperactive as the adult version. It seems the young Hogg would pester anyone and everyone to bowl at him and was simply 'cricket mad'.
Hogg's cricket addiction will make the reader tired just from perusing the amount of training Hogg engages in. Fulltime employment, study, relationships and time playing the game did not appear to interfere with Hogg's dedication to training. Initially as a batsman who could bowl some medium pace and then after a conversation more and more a convert to leg spin.
The conversation that converted Hogg to 'Chinaman' was with WA Team Manager and former Australian Test player Tony Mann. The fact Hogg came to the exacting art late in his cricketing life probably cost him any real chance of a long Test career. The vagaries of leftarm leg spin and the great Shane Warne as the incumbent spinner saw Hogg forced to establish himself as ODI specialist rather than a Test bowler.
Hogg explains all the uncertainties and fears he harboured as an Australian cricket representative. Regularly questioning if he belonged at the top level and also anxiety about what his fellow players thought of him. Matthew Hayden was one he mentions regularly as a player he could not connect with. His issues with Hayden are understandable; on an Australian boot camp, when players were asked to describe their team-mates, Hayden summed up Hogg as "you're a dumb @#$%".
The Wrong 'Un not only traces Hogg through his rollercoaster ride to the highest level of the game, it also doesn't shy away from his issues as a man who is fixated on cricket. Hogg discloses that he retired from cricket before he wanted to due to pressure from his wife, who couldn't handle his obsession. The marriage not surprisingly ends in a messy divorce. We follow Hogg through a period where he loses his way, turning to alcohol. It was again cricket that saved Hogg. After three years away from the game he agreed to play in country week and then in a short period he was given a call and asked to play in the BBL.
It sounds easy but again Hogg dedicated himself to the game and trained harder than most. His 20/20 revival and resultant opportunities outside cricket finally sees Hogg, with the help of his current partner and business manager, reach cricketing and life fulfilment.
One of the most open and compelling accounts of a cricketer's life The Wrong 'Un is a great read. It is helped by the clear input and eminent writing of Greg Growden, whose obvious historical knowledge of the game materially adds to the quality and enjoyment of The Wrong 'Un.