John Tommy Tyldesley
Martin Chandler |
Published: 2020
Pages: 16
Author: Tebay, K Martin
Publisher: Red Rose Books
Rating: 3.5 stars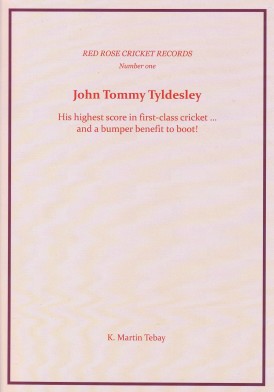 The latest monograph from Red Rose Books is the first item I have received with a 2020 publication date, the event in each New Year that, for me, finally consigns the old year to history. It is the case therefore that Martin Tebay has reminded me that I am not getting any younger, a cause of a slight bout of melancholia, mollified only slightly by the fact that he and I have in the past established that we are about the same age.
Tebay has written many short run publications on aspects of Lancashire cricket. Many do not purport to be anything other than one offs, but over the years he has started a number of specific series. In an idle moment I went through them and identified these five, with the number published so far in brackets; Victorian Vagaries (1), Against the Odds (4) Significant 19th Century Cricket Matches in Bolton (2), Lesser Known Lancashire County Cricket Club First Class Cricketers (1) and Monographs on Lancashire Cricket (10).
With this latest offering Tebay now begins a sixth series, Red Rose Cricket Records, and starts with that most famous of Lancashire cricketing names, Tyldesley, six of whom from two different families appeared for the county at around the same time. John Tommy (usually just referred to as 'JT') was the first and, despite his statistics being surpassed by younger brother Ernest, he is the most famous of the Tyldesleys and one of the mighty figures of the Golden Age of the late Victorian and Edwardian eras.
John Tommy's highest score in cricket was an unbeaten 295, scored in 1906 in a famous defeat of Kent, who went on to win the Championship that summer. It is an account of that innings, which was scored inside a day, that is the subject of this essay.
There is a brief introduction to set the scene, but this is no pen portrait of Tyldesley. It is, Tebay having gone to every contemporary report of the match he can find, simply a reconstruction of the first day of the match, in which Lancashire piled up 531 in 110 overs. Surprisingly by modern standards that still left enough time for Kent to get to 7-0. In the end Lancashire won by ten wickets, but only a couple of paragraphs deal with the rest of the match.
The description of the day's play is not quite the only business covered. There is a look at the stats of the innings, and then a brief digression on the subject of Tyldesley's benefit, which he took that summer and which raised the hugely impressive sum of, by twenty first century standards, £372,000. There are some good illustrations and in particular one of a benefit souvenir published to mark the event. There are just thirty copies of John Tommy Tyldesley at a modest £6.99 including postage and they can be purchased here or on Ebay.
Is the booklet worth buying? It certainly is for Lancashire supporters and, I would suggest, anyone with an interest in the Golden Age. The one slight frustration is that there is no suggestion as to what other plans Tebay has for this series*. Personally I would like to think that two possibles are Lancashire's game against Leicestershire at Old Trafford in 1956, and against Hampshire at the same venue in 1962.
*In fact since writing this review I have been told what the next two titles will cover. Suffice it to say that my two suggestions will, at the earliest, be numbers 4 and 5.