That Declaration
Martin Chandler |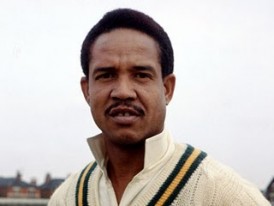 It must be frustrating for Garry Sobers that, despite all of his memorable achievements with bat and ball, to this day the declaration that he made in Port of Spain in 1968 remains in cricket's consciousness as one of the great captaincy blunders of all time. Although that verdict now seems to be set in stone the purpose of this feature is to examine, from a distance of more than 40 years, whether it is a fair one.
Before looking at the match itself a little historical context is called for. West Indies started playing Test cricket in 1928 and from then until the conclusion of the 1959/60 series against England their captain was, excepting the first Test in 1947/48 against England when George Headley took charge, always a white man from a privileged background. The last white West Indian captain was wicketkeeper batsman Gerry Alexander and in that home series against England in 1959/60, at the fifth attempt, England were finally able to win in the Caribbean. Alexander was a good enough player to hold his place for the 1960/61 series in Australia, during which he averaged more than 60 with the bat, but he played under Sir Frank Worrell then. Worrell is remembered, quite properly in view of his achievements, as one of the great captains in cricket history and the three series in which he led the side were characterised by vibrant and skilful cricket from the entire team and culminated in the 1963 series in England when, having been roundly drubbed by the home side on their last visit in 1957, the West Indians re-established their superiority with a 3-1 victory in a series that was full of exhilarating cricket.
West Indies' next series was to be played in 1964/65 at home against Australia whom they had never, up until then, beaten over a series. The victory in England and the narrow defeat in Australia in 1960/61 had greatly increased optimism and expectation in the islands but the talismanic Worrell, now 39, had decided that his playing days were over. The options moving forward were to appoint Worrell's vice-captain, opening batsman Conrad Hunte, or Sobers. What counted against Hunte was his deep religious conviction and his membership of the Moral Rearmament Movement and, more particularly, the fact that he chose to take his views into the dressing room. What West Indies were anxious to preserve was the huge strides that had been made under Worrell to leave behind the inter-island rivalries that had previously bedevilled the Test side and there were fears that those might re-emerge under Hunte. There were, of course, also concerns about Sobers, who had no real experience of captaincy and in particular whether the responsibility might adversely affect his contributions with bat and ball. Although Sobers was the eventual choice it is clear that the man himself shared at least some of the concerns that had been expressed, as he pondered his position for a month before accepting the Board's offer.
Those who might have had concerns, Sobers himself included, that the additional responsibility might have affected his personal contribution, would not have had their fears totally allayed by the Australian Series. The result, a 2-1 victory to the West Indies, meant that the season was one of celebration but Sobers' the all-rounder had been steady rather than spectacular. Those concerns would, however, have disappeared following the 3-1 victory in England in 1966 when the great all-rounder averaged more than 100 with the bat and made a full contribution with the ball. During the following winter, in India, Sobers led his men to a 2-0 victory his own contributions in that series being equally spectacular.
The captaincy had so far proved entirely straightforward for Sobers although looking back perhaps the fifth Test at The Oval in 1966 gives some indication of failings in his concentration. West Indies went to The Oval 3-0 up and recorded 268 in their first innings. England, whose first seven wickets fell for just 166, looked likely to lose the fourth match of a home series for just the second time, only Bradman's 1948 "Invincibles" having achieved that before. In the event the last three England wickets put on a remarkable 361, and impending defeat became a face saving innings victory. The captaincy of any man whose opponents score so many runs at that stage is inevitably going to be brought into question and from contemporary accounts the main mistake Sobers seems to have made is in taking the second new ball at 203 for 7 at which point Wes Hall and Charlie Griffith had already been bowling in tandem for some time and were certainly not fresh. Ultimately however the result at The Oval served only to underline what a fine summer of cricket there had been in a season when, inevitably given England's success at the soccer World Cup, cricket took something of a backseat.
Sobers would therefore have gone into the 1967/68 series against England in the Caribbean with his confidence high. There would also, after 1966, have been an expectation in the Caribbean that the Wisden Trophy would be retained. It is clear from what he has said subsequently that Sobers took no pleasure in the cricket that was played in the early part of the series. Each of the first three Tests were drawn. England had the better of the first and while the scorecard of the second gives the appearance of England having been fortunate to escape with a draw the reality is that those who witnessed the match were almost universally convinced that England would have triumphed had it not been for a riot that began when, with just five West Indian wickets standing in their second innings, the home side were still 21 short of making England bat again. The third match was also drawn with neither side having any discernible advantage, the West Indies at the end being 184 ahead with 4 second innings wickets left, and a 23 year old Clive Lloyd well set on 113. It must be accepted that England's tactics would have been frustrating for Sobers and the Caribbean crowds. Years before Lloyd's pace battery brought the issue to the attention of the English cricket loving public over rates from the English were low as were their scoring rates, despite the presence of such stroke players as Tom Graveney, Colin Cowdrey and Basil D'Oliveira.
As far as Sobers was concerned he was never going to play the game cautiously and he continued with his policy of playing attacking cricket in the fourth Test at Port of Spain as the home side declared with seven wickets down for 526, those runs scored at almost four an over. In reply England eventually stuttered to an all out total of 404 which took them all of 176 overs. Taking into account that due to rain the innings did not start until around an hour before lunch on the third of the scheduled five days the England innings ate deeply into the time available to Sobers to force a victory. Oddly enough England started quickly enough, scoring their first 63 at more than a run a minute in the run up to lunch, however after that the innings became mired in a sea of mediocrity, the occasional medium pace off cutters of Michael "Joey" Carew, used because of an injury to pace man Griffith, going for just 23 runs in 25 overs, 18 of which were maidens. In fairness to England they were at one stage struggling after a mid innings collapse which saw them faltering on 260 for 5 so a degree of caution in their batting at that point was understandable, but their earlier strokeless play is difficult to understand.
Despite the mid-innings alarms the follow on was duly avoided and the tourists reached 373 for 5 when another startling feature of the match began to unfold. Sobers threw the ball to Basil Butcher to try and create an opening with his occasional wrist spin. Sobers must have been desperate because in addition to his own left arm orthodox spin and wrist spin he also had at his disposal the high quality off spin of Lance Gibbs, as well as the Trinidadian leg spinner Willie Rodriguez. In 44 Test matches Butcher took only five wickets, and all five of them came in this single spell as England's tail disintegrated after Cowdrey was the recipient of a caught behind decision that did not please him.
At the end of the England innings there was still time on the fourth day for the West Indies to make a start and with the whole of Tuesday available to them, and a first innings lead of 122, the expectation was that there would be some aggressive batting and England would be left with around four hours to survive in their second innings. As the innings unfolded however it seemed that the West Indies had no expectation of victory and their openers accepted an offer to go off for bad light in the third over. The conviction that the match was headed for a draw was confirmed the following day when the home side meandered through the 22 overs in the morning session at no more than three runs an over, and it came as a surprise to virtually everyone in the ground when, shortly after the afternoon session began, Sobers waved his batsmen in with the score on 92 for 2 after 30 overs. England's task for victory was therefore 215 in 165 minutes.
England's run chase was, of course, successful history recording that a superb 71 from skipper Cowdrey and a wonderfully paced 80 not out from Geoffrey Boycott saw them home by seven wickets with just three minutes to spare. Ever the sportsman Sobers had ensured that his side bowled their overs at a rate of 19 per hour even though his side were never in it from the moment John Edrich was dropped in his first over – it is difficult to imagine that many other captains in the history of Test cricket would have maintained such an over rate in similar circumstances.
In the aftermath of the match, as one would expect from the sportsman that he was, Sobers accepted sole responsibility for the defeat but in doing so had, perhaps, not anticipated quite what a backlash there would be. He did everything in his power to put things right in the fifth Test which began in Guyana just nine days later. In another famous game the Glamorgan left arm pace bowler and well known batting rabbit, Jeff Jones, played out 12 deliveries at the end of the match to deny West Indies the last wicket they needed to square the series. Sobers had top scored in both West Indies innings with 152 and 95 not out and had bowled more than 60 overs in total taking three wickets in each innings. In many ways Sobers' captaincy never recovered from the series. His record as a captain is certainly unusual in that, for a man who had never done the job at all, his first 13 matches resulted in 7 victories and just 2 defeats, whereas in the remaining 26 matches in which he captained he won only two more yet lost another eight.
From Sobers' point of view he has always remained unrepentant on the subject of the declaration stating that he did it for cricket and to keep the game alive. His reasoning always was that England, not having scored at more than 40 an hour in the entirety of the series, he had not expected to lose and on a turning wicket and with a good spin attack he believed there was a good chance of victory. Despite the storm of criticism caused by the defeat it does seem that for many years Sobers simply shrugged his shoulders and did not let the incident worry him unduly, and his 1988 autobiography simply reiterated his justification for the decision that he took without any hint of bitterness. By 2002 however Sobers clearly felt differently, his most recent volume of reminisences demonstrating considerable anger, not only towards those who continued to criticise him about a decision made more than 30 years ago, but also about those who shared the decision making and who had not supported him.
Sobers' account then was that he had spoken to each and every member of his team about a declaration and that in particular discussions took place with the manager, Everton Weekes, and that all concerned were in agreement with his plan. Of those involved there is, regrettably, little written of their views although Griffith, one of the senior players and the one who was taking no further part in the match through injury did, while not dealing with the incident in any detail, state in his autobiography that it was a collective decision. On the other side of the coin Clive Lloyd, in a book he published in 1980, claimed that the decision to declare came as a "bolt out of the blue" and that by implication he knew nothing about it. It is impossible to reconcile Lloyd's account with that given by Sobers but interestingly Lloyd's 2008 biography, while repeating how distraught he was at the defeat, does not suggest that the declaration was unexpected. The most interesting input on the issue might well come from Everton Weekes who, it is clear from his 2002 book, Sobers is the most disappointed in but the one book published in Weekes' name, in the Caribbean in 2007 and therefore not well known, deals almost exclusively with the great man's playing career and makes no reference at all to the Port of Spain Test in 1968 or indeed of the entire series*.
In terms of establishing exactly what did happen the most support for Sobers' account comes from the autobiography of England skipper Cowdrey. Cowdrey notes that during the morning session on that fifth day the England players were convinced that the game was drifting towards a draw and that one of the main reasons for that view being reached was the fact that a number of the West Indian team in the pavilion had changed out of their flannels. Cowdrey goes on to say that almost straight away after lunch the England twelfth man, Robin Hobbs, ran out to speak to Cowdrey, without prior invitation, to give him the news that the West Indians had changed back into their kit. It seems very difficult in those circumstances to accept that the account given by Sobers is anything other than accurate.
The majority of the England team for that Test did subsequently go into print and it is clear that Cowdrey himself was not entirely free from controversy as a result of his actions. Boycott strongly, but others too, make the point that Cowdrey was strongly opposed to any attempt to go for the runs and that he needed to be persuaded by others, in particular Boycott, Barrington and Graveney, to attack the target that had been set. Cowdrey himself did not dispute that he was concerned to ensure there was no flurry of early wickets to put pressure on the middle order, and wrote that it was always his intention to review the position at tea. At the interval England, with nine wickets standing, needed another 142 in 90 minutes and given that Cowdrey himself played one of the match winning innings it does seem that whatever doubts he may have had, and however much persuading he might have needed, that once he felt defeat was out of the question he did all he could to press for victory.
In 1988 former Jamaican Prime Minister Michael Manley published "The History of West Indian Cricket", a book that has now passed through several editions and is therefore recognised as the definitive work on its subject and accordingly likely to be the starting point for anyone approaching the subject for the first time. Manley's verdict on the declaration is that it was a dreadful mistake and should never have been made. His reasoning is the now generally accepted view that there was no possibility at all of a West Indian victory and that the declaration should have been delayed until any possibility of an England win was gone.
One conclusion that can certainly be drawn from Sobers' writings, or those of his ghosts, are that he doesn't argue his own case as well as he might. My reason for saying that is the position of the least known member of the West Indies side at Port of Spain, local man Willie Rodriguez. Rodriguez made his First Class debut at 19 in 1953 and played once more the following season without any conspicuous success with bat or ball. On his third appearance however, four years after his first, he scored what was to prove to be his only First Class century against the touring Pakistanis. As a consequence Rodriguez found himself in the touring party to India and Pakistan the following winter.
Rodriguez did not make the Test side in 58/59 but did play in the Caribbean in two Tests against India in the 1961/62 season in the second of which, at Port of Spain, he took three wickets with his leg breaks and googlies to record what were to remain his Test best figures. Selected to tour England in 1963 so ineffective was Rodriguez' bowling that he took just four expensive wickets on the entire tour but he still found himself in the side for the final Test, the only one he was ever to play overseas, as Conrad Hunte's opening partner after the other two opening batsmen in the party, Carew and Easton McMorris, had each failed twice in the first four Tests. In 1965 against Australia Rodriguez was selected to play at Port of Spain without success. When he was selected again for this, his fifth and final Test and third on his home ground, it was a case of a specialist spinner being selected who in 14 seasons had taken just 79 First Class wickets at 33 apiece.
Willie Rodriguez was a decent enough wrist spinner but was found wanting against good batsmen because his variations were easy to pick. At Port of Spain he was a much more effective bowler as his career statistics show. What the basic figures do not show is that it was only from the Pavilion End of the ground that he enjoyed much success, the reason being the simple one that, during his playing career, there was no sightscreen in the Pavilion, the ground authorities being anxious not to lose any seating. Purely by chance Rodriguez' height was such that when bowling from that end his arm, at wrist height, passed in front of a grey recess. The batsman could not therefore see his wrist and accordingly couldn't pick his googly or top spinner. In the tour match England had played against Trinidad, two months previously, they had been dismissed for a modest 207 in their first innings, Rodriguez removing Boycott, Milburn, Barrington, Graveney, Titmus and Jones at a personal cost of just 51. Despite the home side being in with a real chance of victory Rodriguez was called upon to bowl just two overs in the tourist's second innings, surely an example of a man being held back on orders from the Test side's management.
With the greatest of respect to Michael Manley I believe he has, like many others before and since, oversimplified the argument. There can be no doubt that by his very nature Sobers was always looking for an opportunity to win and in this writer's view anyone who plays the game that way deserves to have their actions fully considered before being summarily dismissed as a disaster in a book which, like Manley's, purports to be a comprehensive history. Sobers had to factor into his decision that his opposition was a slow scoring team led by a conservative captain. The remarkable success that Basil Butcher enjoyed with his very basic brand of wrist spin at the conclusion of England's first innings perfectly reasonably gave Sobers the expectation that himself, Gibbs and the mercurial Rodriguez might, with whatever further assistance Butcher might offer, give a chance of victory. Sobers would also have been influenced by the way the England second innings had subsided so quickly in the second Test to 68 for 8, with himself and Gibbs in total control as time ran out. At the same time it ought to have been possible, had early wickets not fallen, for bowlers of the quality available to have kept that England side in check and as noted it speaks volumes for Sobers' integrity as a cricketer that when things started to go wrong he did not, as England surely would have done given that they bowled only 22 overs in the two hour morning session, slow the game down to ensure the draw.
Sobers is not the only West Indies captain to have found himself in such a position yet it is his decision that is remembered. Less than a decade later, also at Port of Spain, a not dissimilar situation arose as the West Indies, then playing India, set those tourists a seemingly impossible 403 to win in the fourth innings. In the event the tourists, having been dismissed for 228 in their first innings with Michael Holding taking 6 for 65, scored the runs they needed for the loss of just four wickets to record a memorable victory to draw level in the series. The target the Indians were set in that match certainly appeared on its face, unlike in Sobers' match, to be a highly improbable one, and doubtless it was only the fact that the fourth Test was won by the home side to secure the series that ensured there was not a similar backlash inflicted on the West Indian captain on that occasion and the reputation of Clive Lloyd, remains that of one of the great captains.
That the declaration was a mistake follows on, by definition, from the fact that England reached the target set. Having conceded that much I do not believe that the decision should stain Sobers' reputation more than forty years on. It is well known that Sobers was a gambler by instinct and also that he played the game positively at all times. He was, certainly, angered by England's negative tactics and said as much in the press box after the game, his quoted comment being "I could have played the game the England way, but that would only have led to another tame draw. We have had three of those already and that is no good for the game of cricket". His judgment may well have been awry as a consequence of his frustration but ultimately he declared when he did only because he saw an opportunity of victory. He should, with hindsight, have given the possibility of defeat a more prominent place in his thoughts but he wanted desperately to win the match and, in my view, saw a genuine chance to do so.
In conclusion I have to say that my view is that Sobers is entitled to be bitter at cricket's failure to put the events of the 1968 Port of Spain Test in their proper context. His career should be defined by his magnificent ability with a bat in his hand over many years and not, as sometimes seems to be the case, by the fact that his bowling record is not as statistically impressive as his batting or, even worse, by the fact that on a sunny day in Trinidad in 1968 he spurned the opportunity to coast to a stalemate, and instead tried, albeit unsuccessfully, to win a Test match.
*Sir Everton departed this mortal coil in 2020 at the age of 95. He never did write that full autobiography and the last book published about him, an appreciation by Tony Cozier in 2017, made no mention of the match