Sir Frank Worrell
Martin Chandler |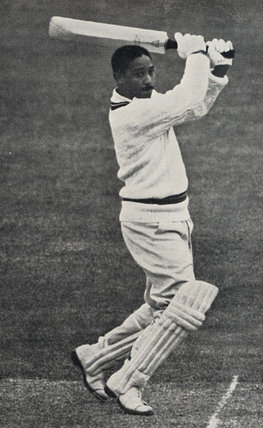 The three "Ws", Clyde Walcott, Everton Weekes and Frank Worrell, will forever be linked in cricketing folklore because of the initial letter of their surnames. Were that not so then it would surely be the case, more than half a century after the great triumverate last appeared in a Test match together, that Worrell would now be the best remembered of the three.
The reasons are not difficult to find. It was Worrell who, eventually and after some controversy, became the first black man to regularly captain West Indies. The burden of that task might well have proved too much for many but, at a time when West Indian cricket was not as strong as it had been, and would soon become again, Worrell succeeded in uniting the group of cricketers who played under him, their disparate personalities and nationalities notwithstanding. They played some wonderful cricket and the combined weight of the results his team achieved, coupled with his astute tactical knowledge and man-management skills, silenced once and for all those who had been opposed to his being given the job.
Like his fellow "Ws" Worrell was Bajan by birth and, like Walcott but unlike Weekes, he came from a middle class background. He was always a keen cricketer, although had he followed his parents and siblings to the US in his teens he would almost certainly have been lost to the game. As it was the promising orthodox slow left armer remained on the island where, at just 17, he made his First Class debut for Barbados in 1942. The young spinner took three wickets in each innings, although the cultured 29 that he made from number eleven in his side's first innings was of rather more significance.
A little over twelve months later, in just his fifth First Class match, having worked his way up to six in the order, although he could not prevent a ten wicket defeat, Worrell top-scored with 64 against Trinidad to record his first half century. The transformation of the young spinner into a front line batsman became complete just over a week later with innings of 188 and 68, on both occasions after Worrell came in after four quick wickets had fallen.
By the end of the 1943/44 season Worrell had played in eight First Class matches and was not yet out of his teens. His batting average by then, over 80, was remarkable in itself, but for a man who had started his career as last man in it is barely credible. In getting there he had scored 308* against Trinidad. It was a remarkable innings and the unbroken 502 that he and John Goddard added for the fourth wicket was a new West Indian record for any wicket. The innings was almost flawless, there being just a difficult caught and bowled chance to Jeffrey Stollmeyer when on 104 to put in the debit column.
That partnership record was not destined to last very long, less than two years in fact, as Worrell beat it again, this time in company with Walcott. Their unbroken partnership of 574, as well as eclipsing Worrell's West Indian record, also became the highest stand ever in the First Class game. This record too was short-lived, India's Vijay Hazare and Gul Mahomed raising the bar to 577 just over a year later, but the mark has only been bettered twice since, and no other batsman, let alone a 21 year old, has ever been involved in two partnerships of more than 500 runs.
Would the meteoric rise of Worrell in the First Class game continue when he reached Test level? The answer is that it did, and while averages can be misleading after just a few games, at the end of his first series in 1947/48 his Test average was a Bradmanesque 147 following a century and a half century against Gubby Allen's England tourists. In the manner of the times England did not send a full strength side (and deservedly lost the series) but, five of the tourists being selected to play against Bradman's Invincibles in the following summer, they were rather stronger than a second eleven.
What sort of player was Worrell? Sadly for anyone below retirement age, who therefore never had the opportunity to watch him, there is not a great deal of footage around, so we have to look at the descriptions of others. Trevor Bailey was as eloquent as most on the subject when he described Worrell as Tall and loosely built, he possessed a smoothness of movement and a feline grace which made him fascinating to watch , whether batting, bowling or fielding. He made everything appear effortless and natural. His backlift was high and preceded a fully flowing follow through. Although he hit the ball very hard he gave the impression of almost caressing it. His strokes had a wristy flavour and a delicacy of touch which charmed all those who saw him in action. There was poetry in his batting. Neville Cardus, always a man to paint a picture with his writing famously said A Worrell innings knows no dawn: it begins at high noon. But my favourite is quoted by Worrell's biographer Ivo Tennant as the last word in his book. He told a story of an unknown woman, approaching former West Indies skipper Gerry Alexander some years after Worrell's death, and saying You're from West Indies aren't you? When I think of your country I think of Frank Worrell. Watching him play was like going to the ballet
But to return to Worrell's career, as a result of his success against Allen's men the 1948 summer saw him begin what was to prove to be a long career in the English Leagues. During the following English winter West Indies visited India for the first time and won a five Test series, where bat dominated ball, by taking the only Test that got to a finish. Weekes averaged 111, Walcott 64 and openers Alan Rae (53) and Jeff Stollmeyer (68) made hay as well. Worrell missed the trip, and an opportunity to swell his average. The reason he did not travel was not entirely straightforward. The reason he gave at the time was that, as a professional cricketer, he asked the board for a payment for his services that they declined to make, and that he therefore decided to remain in England to pursue his studies. In truth it seems the main reason for his omission was disciplinary. He had turned up late on occasion in matches against Allen's side, and had upset his captain, Gerry Gomez, by at one point asking to be substituted during a Test so that he could go and meet his sister at the airport.
In view of his youth and remarkable early success it is perhaps not surprising that Worrell became something of a prima donna, but he learnt very quickly the right way to behave, and doubtless the understanding that he gained of the way in which highly talented young men are wont to behave stood him in good stead for his later role as captain of the likes of Garry Sobers.
That Worrell took on board the lessons of his foolish behaviour is shown most vividly by his performances in England in 1950. The crushing defeat that John Goddard's team inflicted on the full strength of England will, quite rightly, always be associated with the remarkable achievements of the two raw spin bowling talents, Alf Valentine and Sonny Ramadhin, but runs had to be made as well. Worrell was his sides leading batsman, scoring 539 runs in the Tests at fractionally under 90. In the third Test, at Trent Bridge, he scored a magnificent 261. He batted for just over five and a half hours before Alec Bedser dismissed him early on the third morning. There were many on the ground who had confidently expected him to go on to pass Len Hutton's then Test record of 364 with ease, so commanding was his occupation of the crease.
In response to that famous victory in England the Australian Cricket Board hastily arranged a tour for 1951/52, billing the series as the game's World Championship. In the event the series was disappointing as the West Indies, ironically in view of what was to come in the future, had no answer to the pace of Ray Lindwall and Keith Miller. Worrell scored a courageous century, batting with a broken hand, at Melbourne in the fourth Test, but overall he could average no more than 33. The visitors dearth of quality pace bowling also threw a heavy burden on Worrell the bowler, now mainly a left arm seamer, and he bowled more than 118 overs with a return of 17 wickets at just 19, including 6-38 as Australia were shot out for only 82 in their first innings at Adelaide, their solitary victory in a 4-1 defeat. Poor though their batting was, and despite the Australian wickets being wholly unsuitable for them, thereby stifling the threat of Ramadhin and Valentine, had the West Indians held their catches, they might still have won the series. Certainly Worrell had done enough to emerge from the series with credit, even if his overall batting average had taken the sizeable tumble from 104 down to 65.
In the early 1950s Worrell was spending his English summers playing league cricket. He spent three of his English winters on the sub-continent captaining a very strong Commonwealth XI, comprising mainly fellow league professionals, as well as touring Australia in 1951/52 and engaging in home series in the Caribbean against India and England in 1952/53 and 1953/54. In both those latter series he failed to match the brilliance of Weekes and Walcott, nor the standards that he set himself in his early Tests, but he ended them averaging 49 and 47 with the bat and fully justified his place in the side. In 1954/55 Australia visited the Caribbean and despite Walcott scoring more than 800 runs and averaging over 80, and Weekes' average touching 60, the tourists won the series 3-0. Obviously jaded from playing cricket 12 months a year for more than half a decade Worrell finally looked fragile as he averaged just 25 with the bat and his three wickets came at a cost of more than 100 runs each. His heavy schedule apart there was one other factor which must have soured the series for Worrell that being the decision to take the vice-captaincy away from him before the series began. In Cricket Punch, an autobiography that was published in 1969, the 1954/55 Australian series was not mentioned at all.
Worrell decided to give the leagues a miss in the summer of 1955 preferring, after the Australian series ended in June, to stay in Jamaica where he worked for six months as a welfare officer on a sugar plantation. He treated everyone he encountered, from the knighted Englishman who owned the plantation to the poorly educated local labourers, in exactly the same way, employing all the man-management skills that had been one of the hallmarks of his successful captaincy of the Commonwealth XIs in the late 1940s and early 1950s.
West Indies toured New Zealand in 1955/56, but Worrell and Walcott opted out of a young experimental team so it was 1956 before Worrell played the game regularly again. He was keen to begin preparation for his post cricket career and to pursue a degree course in England. He had already tried studying optics, but due to lack of funds had abandoned that after a year. For 1956 he secured a much more lucrative professional contract with Norton in the North Staffordshire League which enabled him to, at 32, secure a place at Manchester University to read Economics.
After his disappointments against Australia Worrell played no more First Class cricket, a couple of festival matches at the tail end of the 1955 season apart, until he took his place in the West Indies party for their 1957 tour of England. The tour was not a happy one. There was disharmony between the players and Worrell, who was overlooked for the vice-captaincy in favour of Walcott, was less than happy at that decision. Worst of all despite considerable success against the counties the Test series was a demoralizing experience for the tourists as they lost 3-0, and were between a rock and a hard place in the two drawn Tests. England easily avenged the ignominy of 1950. Walcott and Weekes were by now in decline, and averaged just 27 and 19 respectively. Despite his disappointment at being overlooked for the vice-captaincy Worrell averaged 38 with the bat, only just behind Collie Smith, and on the tour as a whole was well clear at the head of the table with 58. He was also West Indies most effective bowler, but ten wickets at 34 apiece perhaps said more about the rest of the tourists attack than it did about Worrell.
Amidst the general misery in the Tests there were at least a couple of vintage performances from Worrell. That his side escaped from the Trent Bridge Test with a draw was courtesy of a superb unbeaten 191 from Worrell, who carried his bat through the innings, and scored more than half of his side's total. Wisden said of him that he …went on to bat all through Saturday, waging a remorseless battle against some splendid bowling and excellent fielding. Three weeks later at Headingley he could not prevent an innings defeat for his side but at least had the satisfaction of recording his best ever bowling analysis, 7-70, in the England innings. English journalist Bruce Harris wrote what everyone on both sides was thinking What West Indies would have done on this tour without Worrell goodness only knows.
West Indies next Test series was scheduled for the following English winter, against Pakistan at home. It is often overlooked that Worrell was offered the captaincy for that series which, after much deliberation, he declined in view of his studies. For the same reason he again chose not to accept the captaincy when it was offered a year later, for the tour to India and Pakistan. That latter tour is remembered, as much as anything else, for the fact that skipper Gerry Alexander clashed with pace bowler Roy Gilchrist and sent him home.
Having graduated in 1959 the following winter, that of 1959/60, saw England touring the West Indies and Worrell was available once again. Times were changing in the Caribbean and to a greater or lesser extent all the islands were agitating for Independence, particularly Trinidad and Jamaica. The groundswell of public opinion, hardly surprisingly, was that a black man should lead the team. Worrell was the obvious candidate. He was a fine player, had demonstrated great captaincy ability in the past, and was also now a man of letters and was viewed as being akin to an old-fashioned amateur. The selectors however chose to preserve the status quo, and the pale skinned Cambridge graduate Alexander remained in charge. There was much unrest in the islands, particularly Trinidad where CLR James, through his position as Editor of the political newspaper The Nation, led a vociferous campaign for Worrell's appointment. James believed fervently that …there was not the slightest shadow of justification for Alexander to be captain of a side in which Frank Worrell was playing.
The series was not an easy one for West Indies. There was a riot at Port of Spain in Trinidad in a match that England won and that, being the only result in the five Tests, was enough to enable them to take a series in the Caribbean for the first time at the fifth attempt. Worrell was magnificent in the first Test, scoring an unbeaten 197. At well over eleven hours it was by a distance the longest innings of his career and, in the final analysis, was the final century in a career that was, despite by now beginning to draw towards a close, about to enter its most significant phase.
Australia hosted West Indies in the 1960/61 season and, in a move that obviated the need for James to raise the stakes in his campaign by playing the race card, Worrell was appointed captain. The decision was made easier by the attitude of Alexander, the incumbent for the previous three series, who made it clear that he was willing to play under Worrell's captaincy. As if to prove a point about the difficulties inherent in leading the side Alexander went on to score a century and five half centuries in the series. In those five Tests in Australia he scored more runs than in the whole of his previous twenty. The series itself was almost universally regarded by those who saw it or played in it as the finest the game had seen. After the first Test was famously tied the series was won 2-1 by Australia with one Test left drawn. The drawn game was the fourth Test, as West Indies failed to take the final Australian wicket to move 2-1 ahead. Worrell, with five half centuries and ten wickets at important times, led from the front.
The penultimate tour of Worrell's career was the 5-0 defeat of India in 1961/62. Worrell again failed to make three figures, although with four more half centuries he managed to average 83. The cricket was however in some ways a secondary consideration and Worrell's best remembered contribution to the tour is probably for being one of those who gave blood to help the treatment of his opposite number, Nari Contractor, who required extensive surgery as a result of a blow on the head from a Charlie Griffith bouncer in the tourists match against Barbados.
The final act of Worrell's Test career was, fittingly, to lead his side in England and more particularly to take them onto the field at Lord's. The series was not quite as exciting as that in Australia, as the West Indies won comfortably by three Tests to one, but the cricket was almost as good, the Lord's Test, the one left drawn, being the famous game when Colin Cowdrey, with broken arm, had to come out to bat in the final over in order to deny the tourists another victory at the end of a pulsating Test match. Worrell's personal contributions to that series were modest, just one half century and an average of 20, but he led his side wonderfully well and, perhaps inevitably, was hugely popular. Sportsmen were rarely honoured in any way in those days, least of all with knighthoods, but nobody was surprised when, within the year, he became Sir Frank Worrell.
By this time Worrell was already employed as Warden by the University College of West Indies in Jamaica. His job within the University was largely an administrative one but he also assumed a pastoral role towards the students, of whom there were then more than 700, a task for which he was ideally equipped. Jamaica secured its independence in 1963 and Worrell was promptly invited to take a seat in the fledgling nation's Senate, an Upper House modelled on the UK' s House of Lords. Worrell was deeply honoured by the invitation, and diligently attended throughout his two year tenure, but his easy manner and diplomacy did not really equip him for politics, and he derived little pleasure from the appointmant, and only ever made two speeches.
In 1964 the Worrell family moved to Trinidad and Sir Frank took up a position as Dean, a promotion from Warden, of the University of West Indies campus there. He was not lost to cricket however, and spent some time in England in 1964 in the press box, commenting on that season's Ashes contest, and he played his last First Class cricket, leading a West Indian XI who played some festival matches. Later on that year he managed the West Indies team captained by his protege Sobers, who competed with Australia for the inaugural Frank Worrell Trophy, which they won by two Tests to one.
Worrell was much in demand as a lecturer in his last years and in early 1967 was, to coincide with West Indies' visit to India, in that country. He fell ill and his condition rapidly deteriorated. A virulent form of leukaemia was diagnosed. It was too late for anything to be done and Worrell could do little more than return home and on 13 March 1967, just a few weeks after he had apparently been in good health, he passed away. The outpouring of grief throughout the Caribbean was only to be expected but the extent of the respect in which the global community held Worrell was most vividly illustrated by the fact that a service to his memory was held at Westminster Abbey, the first time a sportsman had been so honoured.
Naturally there were numerous moving tributes paid to Worrell after his death. Former Jamaican Prime Minister Michael Manley, who knew him well, wrote that he ….. was a brilliant tactician, CLR James feels perhaps one of the greatest tacticians that ever lived. If you talk to Wes Hall, he will tell you Sir Frank was one of the greatest psychologists that ever lived. In short, he was a great leader of men. But I shall finish with the final words of Gordon Ross in his obituary from Playfair Cricket Monthly, …..his memory will live for as long as cricket is played; he belonged not just to West Indies, but to the whole world of cricket.