Leader of the Pack
Cameron Burge |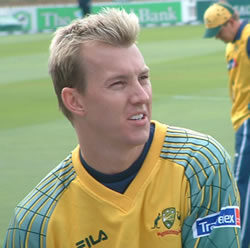 He's snared nigh on 300 Test wickets, topped the ODI bowling rankings and for 18 months been regarded as the pre-eminent fast bowler in the world. But for Brett Lee, the biggest challenges lie ahead.
Since Glenn McGrath's retirement, Lee has taken 58 Test wickets at 21.55. He's not McGrath, but that's McGrath-esque. Harnessing his God-given gift of speed, Lee has developed a degree of control which tested even the strong Indian line-up on the featherbed pitches of the past Australian summer. Previously guilty of bowling two lengths, Lee – at nearly 32 years of age – is now consistently at the batsmen, testing them in a far more meaningful manner than that of raw pace alone.
It seems no coincidence, however, that Lee's period of excellence has come at a time of personal and professional stability. He has flourished under Ricky Ponting's captaincy, helped by the skipper's provision of a clearly delineated role within the team. As early as 2006, Lee noted "Going back two or three years I wasn't sure what they [team hierarchy] wanted me to do". Further, Lee married and fathered his first child at about the time his form notably began to improve.
Right now, his role has never been clearer. Lee is unquestionably the "go to" guy – the leader of the pack. Man-of-the-series performances against Sri Lanka were followed by spells of sustained pressure against India, prompting such luminaries as Rahul Dravid and Sachin Tendulkar to pass glowing comment on Lee's improvement and the challenge he now presents to Test batsmen.
Nine months after the end of that acrimonious series, the protagonists are about to lock horns again. For Lee, as for most fast bowlers, the challenge of India at home will be the sternest of examinations. In addition to leading an attack which has not bowled a single ball in a Test match in India, Lee must also overcome the pressures associated with his own high profile on the subcontinent and the recent separation from his wife of two years, Liz Kemp.
Temporally, there seems a strong link between marriage, fatherhood and Lee's period of sustained improvement. Of course, only the man himself can know whether his stable personal life contributed to the maturity of his cricket. How well Lee deals with his recent personal upheaval will go a long way to determining the fate of the Border-Gavaskar Trophy.
It seems churlish and selfish to place a man's personal issues at the centre of so prosaic a matter as a cricket match, but such is Lee's importance to an increasingly inexperienced Australian side that supporters will be hoping he can, like another recently retired blonde bowler from Australia, set aside off-field matters and continue to bowl so effectively.
Australia's upcoming schedule comprises the Indian series; home-and-away matches against South Africa, and The Ashes in England. Each represents a different, but substantial challenge for the spear head. The first Test in India will mark Lee's debut in a country where his pop-star profile is arguably larger than it is at home. Moreover, South Africa appear a side on the rise, and with Australia still looking for a consistent third seamer and a spinner to support Lee and Stuart Clark, the former's work load will no doubt be heavy.
Barring injury, Lee will head to the IPL between the series in South Africa and the England tour. The helter-skelter world of modern cricket means there will be little or no rest between this October and August next year. Lee's two previous forays in England have been anything but successful, with his aggressive-but-wayward style of yore unsuited to the slower English wickets. Ponting will be hoping Lee's maturity and control of line and length will overcome an otherwise terrible record there.
The manner of Lee's response to these cricketing challenges while dealing with his off-field issues will test his normally sunny countenance. It's easy as supporters to forget our heroes are mortals too, and there may be more important things to them than flinging leather or grasping willow. Somehow, being reminded of their normality makes our appreciation of their achievements all the greater.
Should Lee's form hold, Australia stands a good chance of winning each of the upcoming series and maintain its place at the vanguard of world cricket. Should he stumble, Australia's stocks are likely fall with him.