England's Depth Extends to Performance Squads
Paul Wood |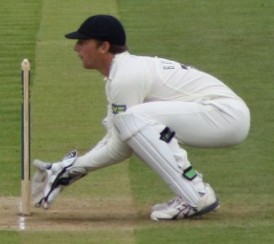 The tightening of the 'Kolpak' regulations in recent times (the ruling that allows overseas players to play cricket in England without being classed as such) is one reason why many counties may have offered enhanced opportunities to promising youngsters, cricketers that would generally have been expecting a season largely consisting of second XI fixtures. The odd limited-overs appearance in the first-team when outstanding form or the resting of a senior player dictated was about the best the clubs 'greenhorns' could hope for, yet for many, it all turned out rather differently. Of course the financial restrictions that hindered a number of counties also contributed in leading them down the 'giving youth a chance' route.
There is no doubt the right 'Kolpak' signing can strengthen a club throughout its structure, players such as Murray Goodwin, Neil McKenzie, Andre Adams, Zander de Bruyn, Andrew Hall and Dale Benkenstein are perfect examples of why the system can be used to strengthen English cricket as a whole. It is the players that do not significantly improve a county's squad list and are signed as a cheaper alternative, but tend to hinder the learning process of the budding academy players.
As we are now around six weeks on from the season's conclusion, preparation begins for a group of England hopeful's to look forward to a winter excursion with one of the England development squads, whether that's to Sri Lanka, India or South Africa depends on which performance programme the individual has been selected for and also dependant upon their chosen discipline.
There have been two squads selected, the first one is the EPP, otherwise known as the England Performance Programme, and the other is the Potential England Performance players. So basically in the EPP squad you have players that have already made an impact in domestic cricket and a number that have already appeared for the full England side in a limited-overs format, or several that have dipped their toes in the international waters with the England Lions (or 'A' team). The second squad is less experienced and seemingly further down the pecking order in terms of national selection.
There are five in the EPP squad that have been actively involved with the England side in the recent disappointing tour to India, Jonny Bairstow, Stuart Meaker and Scott Borthwick have all made appearances in the ODI's and will no doubt have learnt plenty when they arrive home to reflect on the chastening experience. Jos Buttler and Alex Hales are also in the EPP squad, and they featured in the only success on the tour, in T20 contest. These players will receive a period of rest at the end of October before joining up with the EPP squad. Chris Woakes could have made it six EPP players to compete in India, but he returned home prematurely due to a thigh injury.
As you would expect with development sides, the general age of the players are between 19 and 22, with only Boyd Rankin and Jack Brooks (both 27) outside of that category.
The schedule devised for this winter is for the 17-man EPP squad to attend a three-week training programme at the National Cricket Performance Centre at Loughborough in November, and the squad will then be split into two groups for the trips abroad that follow. The batsmen, wicket-keepers, and spin bowler will set up a training camp in India, while the pace bowlers will go and enjoy the pitches more suited to their discipline in Pochefstroom, South Africa.
The attention to detail and precise planning for the years ahead should come as no surprise. Andy Flower and his management team are becoming renowned for their meticulous nature, and such development opportunities for these players to go and learn how to play in conditions they have little or no experience of, can only aid England in the years to come. The selection of such squads are not a completely new concept, in 2007-08, 17 players were selected to spend a couple of weeks at Loughborough before a four-week trip to a High Performance Camp in India, where recent Test players such as Tim Bresnan, Chris Tremlett, Graham Onions, Stuart Broad, Jon Trott and Ravi Bopara were all selected to attend.
So let's have a closer look at those selected for this winter. As mentioned earlier, Bairstow, Borthwick, Hales, Meaker, and Buttler are already on England's radar in the shorter forms of the game, and there is to be a focus on one-day cricket this winter as thoughts turn towards planning for the World Cup in 2015. Other batsmen selected are Tom Maynard, who flourished in all forms of the game this year, Yorkshire's opening batsman Joe Root, who made 937 County Championship runs in his debut season, Jason Roy, whose powerful and exciting strokeplay has caught the eye, his form in the CB40 competition particularly impressive, and the two James' – Vince and Taylor of Hampshire and Leicester. Vince's elegance has long been talked about, and if his first-class season stuttered in 2011, his T20 efforts were a big reason Hants reached Finals day. Taylor was in a struggling side in four-day cricket, yet still made 889 runs. His future at this moment in time may lie away from Grace Road, Nottinghamshire remain the favourites for his signature.
From witnessing the recent failings of their superiors in the recent ODI series in India, they will be only too aware of the difficulties that they will face in combating the conditions. The ability to rotate the slow bowlers is a skill that has appeared troublesome to generations of English batsmen. This looks a confident bunch, and they will need all that confidence to conquer the surfaces using decisive and nimble footwork and skilful shot placement.
The big surprise in the bowling ranks is Essex's Tymal Mills, who was recently called-up from the Potential Performance squad, along with Brooks, because of injuries to Woakes and Ajmal Shahzad. One thing Mills is reported to have, is pure pace. He also offers an alternative angle being a left-arm quick, but his pace is presumably what is exciting the England management and hurrying them into promoting him through the ranks. His first-class debut came in June 2011 against the Sri Lankans, and he made his first three Championship appearances this year. Surrey legend Mark Ramprakash said he was the quickest bowler Surrey faced all season, and he has been rewarded for his encouraging start by accepting the offer of a new two-year contract with Essex in August.
James Harris, Nathan Buck and spin duo Danny Briggs and Simon Kerrigan are the other names selected in the squad. Harris once again displayed the kind of consistency in 2011 that is not seen too frequently in a bowler of his age.
Borthwick, Kerrigan and Briggs will all work on expanding their game with the subtleties required to succeed on all surfaces. My personal worry is that with one-day cricket being the main focus for these squads, that the art of attacking spin bowling is lost, rather than bowling with a wicket-taking intent, they fall into the trap of throwing down flatter trajectory deliveries to limit the boundaries taken off their bowling, and aid their economy rates. Taking wickets is a vital part of one-day cricket, as is the ability to impart a healthy number of revolutions on the ball, these are equally, if not more effective, than the modern darts that spinners often revert to. Improvements in their longer format skills is perhaps even more crucial.
So what of that other squad ? These are perhaps the lads that have gained most from the Kolpak restrictions. Had the cheap imports from South Africa, West Indies, etc, still been allowed to flood into the English game then emerging talents such as Luke Wells, Adam Wheater, Alex Wakely, Moin Ashraf, and Karl Brown would not all have been able to appear for their counties in over 10 Championship matches each. To what extent their development would have been hampered is debateable, the real talent generally always comes through, yet maybe not as soon as these may blossom.
Their schedule starts in a similar fashion to the EPP squad, with a period of training at Loughborough, before a three-week training camp in Colombo, Sri Lanka, in January, which is then followed by an exciting opportunity for a seven-week match play element for the batsmen and the spin bowlers, while the quicker bowlers will be working on their reverse swing and variations in an Indian training camp.
It represents an excellent chance for some of those inexperienced cricketers to play some competitive cricket in Sri Lanka, in as diverse conditions as they will ever have encountered.
Varun Chopra and Moeen Ali are two of the more wily cricketers selected for this tour. Chopra has 74 first-class games to his name, with Moeen 65, yet they are both still only 24 years old and no doubt eager to build on decent seasons in Division One.
Outside of the 29 players selected in these two squads, there are still names such as Will Gidman and Ian Saxelby from Gloucestershire, and Somerset's Lewis Gregory, amongst others, that make us believe their is a healthy depth to the young talent around England right now. Although Gidman is 26, this was his first full season in first-class cricket, and how he shone with outstanding contributions in both disciplines. He achieved the impressive double of 1,000 first-class runs and 50 wickets, the first to do so since West Indian Phil Simmons back in 1996 for Leicestershire. You have to go back to 1989 for the last English-qualified player to manage the same feat, that was Northamptonshire's David Capel. Surrey's young leader Rory Hamilton-Brown, who played the lead role in the CB40 final with a typically swashbuckling 78 off 62 balls, must count himself unlucky not to make either of the squads.
Those selected for the England Lions tour of Bangladesh and Sri Lanka will be announced in December, and the management may have a bigger pool of talent to select from than they have had for quite some time.