Cricketers Brave
Martin Chandler |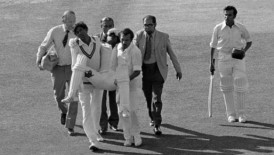 As soon as touring the sub-continent began there was a steady stream of visiting teams who would stop off for a congenial visit in Ceylon. Cricket was well established there and over the years the island produced some very good cricketers one of whom, Mahadevan Sathasivam was, according to Wikipedia, once described by Garry Sobers as the greatest batsman ever on earth. Sathasivam was at his best in the 1940s and was 51 when Sobers first toured Ceylon, so given that his name is not mentioned in any of Sobers' three autobiographies I take that one with a generous pinch of salt. That said it is clear that Sathasivam was fine player.
The English game never saw Sathasivam, but in the years after World War Two it did see a number of men who learned the game in Ceylon. The first was Laddie Outschoorn, who batted well enough for Worcestershire to represent the county for fourteen seasons from 1946. Next came Gamini Goonesena, a leg spinning all-rounder who was undoubtedly of Test class and spent a few seasons playing full time for Nottinghamshire in the mid 1950s. He was regularly chosen to appear for the Gentlemen against the Players.
As Goonesena left English cricket Dan Piachaud, a fine off spinner, spent four summers at Oxford University in one of which he also played for Hampshire, but he did not play very much after 1961. Batsman Stanley Jayasinghe batted for Leicestershire for four seasons in the early 1960s, making his thousand runs each year. He was joined later by Clive Inman who stayed with the county for a decade. Inman was a great crowd pleaser, and scored plenty of runs.
For 1975 the ICC arranged the first World Cup. In those days, with South Africa in exile, there were just six Test playing nations, Australia, New Zealand, England, West Indies, India and Pakistan. To bring the numbers up to eight a side from East Africa was invited, and finally the newly independent Sri Lanka. In six years time the Lankans would be granted Test status. Most adjudged the elevation came a few years too soon, but it wasn't too long before they were respected opponents.
The Sri Lankans warm up fixtures summed up where they were in 1975. They began by comfortably brushing aside London club side Hampstead and Minor County Berkshire. From there they had a couple of games against New Zealand, a not particularly strong side themselves at that time. New Zealand won both with something to spare, although the Lankans certainly did not disgrace themselves. Two counties who both put out their strongest elevens, Surrey and Northamptonshire were their final opponents before the serious business started. They beat Surrey and lost to Northamptonshire.
Sri Lanka's first match in the tournament proper threatened to be a rout. They came up against West Indies, not quite the power they would soon become, but they were the eventual champions. It was a hot summer's day at Old Trafford, but the ball seamed around for Bernard Julien, Andy Roberts and Keith Boyce and they reduced the debutants to 48-8. At that point seamer Tony Opatha and leg spinner Somachandra De Silva mounted a recovery of sorts to see their side to 86 all out. It took just over 20 overs for Clive Lloyd's men to overhaul that total with nine wickets to spare.
The Sri Lankans' concentration cannot have been helped when, as their number four batsman David Heyn walked out at 5-2, was beaten to the wicket by eight male protestors who squatted under banners proclaiming 'Racists' and 'Anti-apartheid'. The demonstration was not violent and the police quickly cleared it. The British press noted what had happened but were not interested in finding out any more. In fact the invaders were a group of Eelamists seeking to highlight the discrimination against Tamils in Sri Lanka and a large number of cyclostyled information sheets were distributed amongst the crowd. It was a pity if unsurprising that the press did not bother to read them, or that if they did they chose not to explain. The polite but passionate wording of the missive would certainly have attracted much more attention today.
The next match for Sri Lanka was the arguably even more daunting prospect of Australia at the Oval. The previous winter Ian Chappell's men, inspired by Jeff Thomson and Dennis Lillee, had hammered England and skipper Anura Tennekoon must have feared another rout, so on winning the toss and in an attempt to ensure the game took up most of the day he invited Australia to bat.
Australia's openers were Alan Turner and Rick McCosker, decent players both. The Sri Lankans tried six bowlers in the morning session, but none could get through. At lunch, after 34 overs of the 60 that was then the norm for the format, the pair had put on 178 and Turner had reached his century. The fielding was looking less than impressive and a huge total beckoned. In fact however it was the Sri Lankans who seemed to come out refreshed after the interval. When Turner failed to clear mid off in De Silva's first over of the session the Sri Lankans were probably more relieved than enthused, but when the same bowler got through McCosker's defences in his next over, and Ian Chappell played down the wrong line to off spinner Lalith Kaluperama the Australians had lost three wickets in eleven deliveries.
The respite proved to be only temporary however. Greg Chappell and Doug Walters both made half centuries before seamer Mevan Pieris dismissed both with the score on 308. There was just enough time left for Thomson and Rod Marsh to add a final flourish and take the total to 328-5, the highest in ODIs to that date.
What the Sri Lankans didn't know was that Thomson, a fearsome proposition at the best of times, was in a particularly ugly frame of mind. A couple of hours before the game began he had been called in to see the Australian manager Fred Bennett. A series of articles written by Thomson's manager, David Lord, had appeared in the press and the Board were deeply unhappy. Bennett told Thomson he was being sent home.
It was Chappelli who rescued the situation. As soon as he was told what had happened he went straight to Bennett and told him in no uncertain terms that if Thomson was to be sent home then the whole squad would follow. With a four Test series against England due after the World Cup the Board had little choice but to back down.  The episode did nothing for the Sri Lankans though, a furious Thomson needed to take his anger out on someone, and the next set of opposing batsmen were those who were going to catch it. In his own words I was fired up and the poor Sri Lankans got the wrong end of the stick. It was just bad timing for them.
The Sri Lankan openers were Sunil Wettimuny, older brother of Sidath who was to open the batting in the Lankans early Tests, and wicketkeeper Ranjit Fernando. Wettimuny had missed the West Indies game and based on what he did at the Oval that one may have been a little more competitive if he had played at Old Trafford.
The Australians were in no mood to be charitable and began with Lillee and Thomson. Lillee's field included four slips and a gully, as clear a statement of intent as he could have made. Wettimuny got off the mark with an unconvincing boundary, edged between two of the slips. Fernando on the other hand got his first boundary from a genuine stroke. If the Sri Lankan pair thought Lillee was quick he had nothing on Thomson that day, Wettimuny saying years later his first ball flew past my nose and a chill ran down my spine. I never saw the ball, just a streaking line – it was like a tracer bullet was coming at me
The Sri Lankans were able to exploit the gaps in the field in the early overs, and at the beginning of the eighth over were 30 without loss. Fernando had 22 of them, most taken from Lillee but now he was facing Thomson. He was soon dismissed but, rather unluckily, when he dragged the ball on to his stumps.  Wettimuny must have been happy to get down to Lillee's end. In Thommo's opening burst he hit him twice on the inner thigh, a cracking blow to the hip bone and a crunching hit to the rib cage.
Batting at first drop was Bandula Warnapura. He helped Wettimuny see off Lillee and Thomson and after that Max Walker's fast medium was much less threatening. The other support bowling, Doug Walters' medium pace, Ashley Mallett's off spin and the Chappell brothers encouraged the Lankans to play their shots. In that they were successful and were going along very nicely when, at 84 in the nineteenth over, Warnupura took one too many liberty against Mallett and was stumped. Future Test captain Duleep Mendis came in next, and at tea Sri Lanka were 114-2.
Progress continued after tea until Sri Lanka reached 150. Chappell brought Thomson back and straight away he poleaxed Mendis. The delivery was a little short, but climbed and given Mendis' lack of height it hit him square on the forehead. There was no option but for Mendis to retire hurt and he was carried off and from the Pavilion taken to St Thomas's Hospital. The crowd booed Thomson and harangued him at every opportunity after that. He wouldn't, of course, have been in the slightest bit bothered by that.
Skipper Anura Tennekoon did not hurry out to the middle, and when he got there he struggled with Thomson. He admitted later I couldn't pick the ball up from his hand. The first over I only saw the ball whizzing past my head. The ball was coming from behind his back and his arm speed was so rapid I couldn't see the ball.
Fourteen runs later and Thomson was the villain again. He unleashed his famous 'sandshoe crusher' at Wettimuny and it caught its target on the right instep. In great pain Wettimuny hopped around and out of his crease. Big Bad Thommo, apparently encouraged to do so by his teammates, threw down the wicket and appealed with Wettimuny still limping badly in no mans land. The bowler had been had by his teammates though. No one else appealed and Wettimuny stayed.  He didn't stay long however as the very next delivery was all but identical in pace, line, length and effect. It was the end of Wettimuny's innings and he was soon on his way to join Mendis at St Thomas's.
Despite having two new batsmen at the crease, Michael Tissera having come out to join his captain, the Sri Lankans refused to give up. The 200 came up in the forty fifth over and the runs kept flowing. Victory was always just out of reach, but Tissera and Tennekoon never stopped looking for runs and it was not until they reached 246 that Chappelli removed Tennekoon. Twenty two runs later, and just after reaching a thoroughly deserved half century, the Australia captain removed Tissera as well. When the end came Sri Lanka were 52 runs short. Former Surrey and England batsman Laurie Fishlock gave the match award to Turner. The neutrals would have like to see it go to one of the brave Sri Lankan batsmen, although most deserving was probably Thomson. The Sri Lankans did not manage to shock the game of cricket to its core, but if Thomson had not incapacitated Wettimuny and Mendis, and returned figures of 12-5-22-1 who knows what might have happened.
Cricket is not war, although occasionally it has stirred similar reactions and emotions, and this was possibly one such occasion. Wettimuny's words are sobering ones; Never before or since that day did I know fear on the cricket field. When I got to hospital I discovered I had sustained a hairline fracture of the rib, my right foot was broken, I had a dreadful bruise on my inner thigh, my hip bone was badly bruised and I was completely numb in my left leg. I thought I was paralysed. The numbness stayed with me for 12 hours.
There was just one more game for Sri Lanka and that was three days later against Pakistan at Trent Bridge. With two of their best batsmen missing it was always going to be tough for the Sri Lankans after their bowlers let the Pakistanis total 330-6. Even so they would have been disappointed to lose by 192 runs. As at Old Trafford it would have been worse had it not been for Somachandra De Silva, who scored 26 after coming in at 90-7.
The second World Cup took place in England again in 1979 and by now Sri Lanka were close to achieving Test status. They didn't get past the first round again, but did record the first victory by an Associate nation when they beat India by 47 runs at Old Trafford. The school of '75 were to the fore in the win, the architects of the victory being Wettimuny and Mendis with the bat, and De Silva and Opatha with the ball.
A decade on from that day at the Oval in '75 and Sri Lanka were a Test playing nation on their first tour of Australia. By then Mendis was skipper, and his side came up against a Queensland side led by Thomson in a 50 overs per side match. Sam Trimble scored a century as the Queenslanders reached 212-5. The visitors won with more than two overs to spare, Mendis leading the way with an unbeaten 72. Sunil Wettimuny had retired, but younger brother Sidath was at the top of the order, and he contributed 28 to the victory. The intervening ten years had not turned the cricket world upside down, but times had certainly changed.