Title Contenders?
Angikaar C |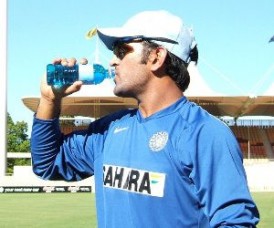 A lot of people have penciled India in as their favorites to win the greatest prize in world ODI cricket, the World Cup. Not surprising, as India is looking like the team to beat, with an inspirational leader and a top class batting lineup. But it would be better to exercise caution, as the scars of 2007 are still visible to one and all.
Here's a quick-look, player-by-player breakdown of the warriors who will seek to bring the Cup back to India after 28 years.
Mahendra Singh Dhoni (Captain and Wicket-Keeper)
Inspirational, considered one of the best captains in cricket today and among the best in history. Will look to replicate the same success which brought him the 2007 T20 crowd. His customary calmness should bring stability in an Indian team full of stars. His batting, though a step downwards from the flamboyancy of old, still packs a mean punch. One of the best finishers of the game. Under his captaincy, probably this is India's best chance after 1983 to win the World Cup.
Virender Sehwag (vice captain)
Probably the most destructive batsman of his age. Is enjoying a rich vein of form, and despite not being part of the ODI squad against South Africa owing to injury, he is still feared as a priceless wicket. Sehwag can change any game on its head, and if he gets going, India wins 90 percent of the time. His handy off-spin, which at times has proved more effective than Harbhajhan, should also be useful in the subcontinental wickets.
Ravichandran Ashwin
A deceptively under-rated offspinner, Ashwin has proven to be extremely useful. Along with Piyush Chawla, he will provide the back-up spinning option to Harbajhan Singh. Whether he or Piyush Chawla will be preferred remains to be seen, but he is a personal favourite of MS Dhoni. An extremely effective bowler in the IPL for the Chennai Super Kings, his real test will come at the World Cup.
Piyush Chawla
Along with Ashwin, Piyush Chawla provides a leg-spinning option for India. He might be the one picked ahead of Ashwin, if Dhoni decides to go for more variety in his attack. If selected, he is a handy batsman down the order.
Gautam Gambhir
A promising young player in 2007, Gambhir is today acknowledged as one of the seniormost members of the Indian team. After making public his disappointment at not being picked in 2007, Gambhir will look to continue his extremely fruitful partnership with Sehwag at the top of the order. Whether he opens or comes in at No 3, he is one of the top cogs in the batting order, for his iron will and determination to excel.
Harbhajan Singh
The lynchpin of the Indian bowling attack, along with Zaheer Khan. Will have to step up and provide the wickets in the slow and low pitches of the subcontinent. The Indian bowling department is being looked upon as a weak link as compared to the batting; it is up to the ?Turbanator? to remove such doubts. Has recently shown fine form with the bat as well.
Zaheer Khan
Carries the burden of the entire Indian pace attack and carries it well. One of the best bowlers in world cricket today, both with the new and old ball. Also has to act as a mentor for the other pace bowlers in the team and ensure they perform well in tandem. However, has to guard against injuries as India will not want their ace fast bowler out for any part of the tournament.
Virat Kohli
Has unleashed onto the international scene with a vengeance and gatecrashed into the India WC squad. A product of the brash new India, Virat Kohli is a complete cricketer who has both the shots and the talent at his disposal. However, questions have been raised about his temperament. Has the ability to play both the big shots and also knuckle down pressure.
Ashish Nehra
Ashish Nehra will not mind meeting England one bit when the two teams do battle on February 27th. Last time he played against England in the WC, he took 6 wickets for 23 runs in a scorching spell in Durban where he clocked 93 miles per hour. India will be hoping he replicates that performance. He has the ability to swing the ball both ways and should be underestimated at the opponent?s own peril. Again, injury-prone.
Munaf Patel
A canny customer, Munaf Patel might have lost his pace of old but he has the ability to bowl line and length, consistently and stifle the batsman. His fielding skills are poor, so he will be try to make up it for by supporting Zaheer,Nehra or Sreesanth if he plays along them. Dhoni will look to use him to lull opposing batsmen into a false sense of security.
Yusuf Pathan
Yusuf Pathan has, in a very short span of time, become India?s most destructive weapon at the WC. He annihilates bowling attacks when he gets going. As he himself admits, he knows the shots he can play and is willing to bide his time till he gets deliveries in his zone. Then he goes berserk. A Yusuf Pathan and Sehwag, both in full flow at the crease would be the worst nightmare of every opposing captain. Bowls canny off spin and has the lack of breaking partnerships. Comes into the WC with huge expectations riding on him after his heroics in South Africa.
Suresh Raina
Along with Gautam Gambir and Yuvraj Singh, Suresh Raina is the third southpaw in the Indian cricket team. Stylish, elegant and very destructive, Raina can build an innings and yet, score very quickly when he is needed. Not in the best form of late, but if he can come good, would supremely complement a Sehwag or Pathan.
S Sreesanth
Sreesanth was not part of the original squad but was picked after Praveen Kumar was ruled out of injury. When he gets going, he makes the ball talk, at the peak of his prowess; he is among the finest bowlers of word cricket. Ferocious, snarling and forever sniping at the batsman, he gets on the nerves of the opposing team and tries to channel his energy into his bowling. However when things go wrong for him, he is apt to get frustrated and spray it around a bit, something he must guard against.
Sachin Tendulkar
At 38, Sachin Tendulkar has nothing else left to achieve but this: a World Cup victory. He came close in 2003 but he will want to make amends now. This will probably be his last WC and going by his form these days, might be his best till date, overshadowing 2003. Will want to make amends for 2007. Expect him to put in his all to achieve ?The Final Frontier?.
Yuvraj Singh
Yuvraj Singh, despite his poor form, is still next to Sachin Tendulkar, if it comes to match-winning ability. He tends to come good in pressure situations, so there is every probability he will want to remind the world about his talents in these WC. Explosive, aggressive, and like a lot of batsmen in this Indian squad, has the ability to hit sixes at will (remember the 6 sixes against England in the 2007 T20?). His left-arm spin has also come in handy against batsmen nowadays.