The Johnson Enigma
Cameron Burge |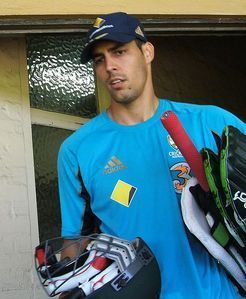 It is a riddle, wrapped in a mystery, inside an enigma
– Sir Winston Churchill, on Russia. 1939
Three weeks' ago, Mitchell Johnson was a shot duck. No runs, no wickets, a dropped catch in Brisbane and dropped from the Australian team for the second Test in Adelaide. His previous few tests had been disappointing and he looked a man under enormous strain.
Two weeks' later, Johnson found himself recalled to the team, having not played any cricket between times, and yesterday he was named man of the match as the hosts levelled the Ashes series 1-1 with two to play.
Many followers of English cricket may well have wondered, with some justification, what all the fuss was with regards to Johnson. They would have heard stories about him roughing up South Africa, both home and away; of stirring hundreds and long sixes; of athletic fielding and spells of bowling to take the breath away. Yet they had really not seen any of these attributes. Against the Old Enemy, Johnson had almost looked timid, a shell of the man who Sir Geoff Boycott described at the start of the 2009 Ashes series as the most dangerous fast bowler in the world.
It?s difficult to know exactly what it is that prompts a tu'n around in any given player. When Greg Chappell was going through his run of outs, it took the West Indies' physiotherapist Dennis Waight to ask him whether he was watching the ball for Chappell to realise that he actually wasn't. Ian Botham made a pair at Lord's in 1981, walked off to silence from the Members, was stripped of the captaincy for the next match, then turned in an amazing series-winning performance for his country. So what did it for Johnson? What turned him from plodder to plunderer in less than a month? I really don't know, but I'd like to bottle it.
Cricket is a simple game, made complex by those who play and follow it. Bowlers run in and hurl the ball down, batsmen hit it, fieldsmen try to catch or stop it. How often have fans and ex-players bemoaned the seeming inability of players to get back to basics? Line and length. Straight bat. Play in the "V". Simple field settings. Find a plan and stick to it. Were it only that easy.
Mitchell Johnson is among the most curious cricketers I have ever seen play the game. Not because he has innate talent but often struggles to harness it – heaven knows there have been many players like that – but because it's just so hard to know what makes him tick. One sees players like Border or Lillee, Ambrose or Lara, Pietersen or Swann – and their mindset is as overt as their talent. They exude toughness, aggression, intensity, swagger or hubris. It's as plain as the nose on their face. Others, like Tendulkar and Hadlee have a quiet intensity; while still others like Merv Hughes and Derek Randall are clown princes – annoying to play against, but a precious gift to their captain and team mates. Where Johnson sits in this regard is a mystery.
The first hint of what happened to Johnson in Perth came on day one. Jonathon Agnew noted on the radio that Michael Vaughan had watched him bowling in the nets and said he was swinging the ball at express pace, and looked a different player. Then came his 60-odd in Australia's first innings, and two incisive overs late in the day, where the ball swung at high velocity. An interesting backdrop was the lip service paid to Johnson by certain England players, especially James Anderson and Kevin Pietersen. It's not often opposition players sledge the fastest bowler on either team, but it says something about how England rated – or didn't rate – Johnson that they had no compunction in doing so.
What was curious about these exchanges was Johnson's reaction. Last year in England, personal issues plainly played on his mind. A very public internecine dispute between the two women closest to a man is unlikely to help his state of mind. Despite bowling decently after Lord's, it seemed something was lacking in him. There wasn't the fire inside, or so it seemed.
Not so over the weekend. At the end of day one, Johnson was quite happy to walk up to Andrew Strauss as the players left the field and have a quiet word to the England skipper. Certainly he was happy enough to chirp at Pietersen and Anderson – his reaction to the latter's second innings dismissal when he shushed the England spearhead as he walked off, said that Johnson was a man exuding confidence and aggression once more. That's all well and good, but where did the turn around come from?
Bravado is a funny thing. Some people exude it naturally, for others it's a try-on. Like an inflated balloon, one pin prick and it disappears. I've seen Johnson chirp to players before, but it's a rare thing for him, rather than a habit. He's no Merv Hughes or Shane Warne when it comes to chatter. He seems as personable a young man as you could find. A fast bowler happier smiling than glaring at a batsman. But plainly the jibes of the Englishmen on day one bit him, and he responded with one of the best spells of fast bowling you could wish to see. I would suggest England will discuss a "Sounds of Silence" approach to him before Boxing Day.
Yet still one wonders, where did this come from? Does two weeks' work in the nets really transform a player so comprehensively, or is it more to do with the mental approach to the game? Whilst Johnson and the Australian set-up propound the former, I suspect it's really the latter. From the time he strolled to the wicket, there seemed a clarity of thought about him that had been missing for quite some time. The uncomplicated, free swing of the bat, decisive footwork and attacking stroke play that was a feature of his game in early 2009 had returned. Then came Friday – a straightened approach to the crease, the ball swinging all over the shop, and a spell for the ages. Truly, this was the type of bowling to trouble any batsman, in any era. To see a test match number five beaten on the defensive stroke by close to a foot is something very, very rare. It's what happened to poor Paul Collingwood in England's first innings though. The fact that it was Johnson – a man who took 0-170 three weeks earlier, made it all the more remarkable. Afterwards, there seemed relief as much as anything on Johnson's face. The faces of the England batsmen betrayed their thoughts too.
That evening, Johnson spoke of "consistency". Well, there's the rub. His action isn't the most repeatable at the best of times. But really, it's his mindset which I suspect holds the key for him. Where clarity of thought leads, decisiveness and results follow. Often supporters bemoan that certain players in any sport need to be handled with kid-gloves. We expect that our sporting stars be robust in thought, as well as deed; that they wear emotional armour. But sports people are human too. They share the doubts and difficulties of us mortals too.
And that's one of the most compelling things about Johnson. There seems a fragility to him that his physique and natural gifts say should not be there. He looks a modern Achilles – long limbed, athletic and physically imposing.
But Achilles had his weakness too.
At this stage, you never know what you'll get from one match to the next with Mitchell Johnson. It's frustrating, it's infuriating, it's incomprehensible.
It also makes him one of the more enthralling cricketers to watch. The Sporting Gods among us aren't meant to have human frailties. Johnson's play out before our very eyes.
So simple a game. So complex a character. Such compulsive viewing