Wisden Cricketers' Almanack 2018
Martin Chandler |
Published: 2018
Pages: 1488
Author: Booth, Lawrence (Editor)
Publisher: Bloomsbury
Rating: 4.5 stars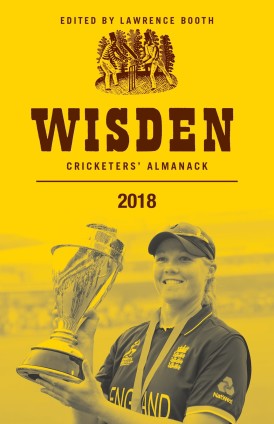 The most famous and longest lived of sporting annuals celebrates its 155th edition this year, as remarkable a statistic in itself as any inside a book that, whatever else changes, still contains a section devoted to listing the most iconic numbers in sport. The yellow book remains instantly recognisable, despite the 2003 relegation of the traditional Ravilious woodcut from centre stage on the front cover to a bit part above the chosen photograph of the year. This year there is also a significant departure from that relatively new tradition in that, for the first time, a woman is the subject of the photograph, Anya Shrubsole. There can be no doubt however that, despite having the same feel and general appearance, the Almanack has changed a good deal in recent years.
The challenge Wisden faces is continuing to be relevant to the needs of its readers, which are certainly different now to when I first fell under the book's spell. In years gone by the editor did not need to change too much but, like any other commercial venture, Wisden has to achieve sales and, as its regular purchasers depart this mortal coil it has to attract a new audience in a landscape where, much as some of us do not like it, the game itself has changed a great deal.
Back in the 1970s and 1980s, the years when I first recall eagerly opening the Almanack each April, I would start by reliving the previous season's county season. There were full scores and descriptions of all county matches, whether First Class or List A, and the memories stirred would often cause me to then go delving backwards to previous seasons. Only when that exercise had been carried out would the other features of the book be looked at.
One of the issues that Wisden has had to battle with in recent years is that its traditional core function, to provide that comprehensive and accurate record of the previous year's cricket, is now information that can be accessed online at any time. In years gone by, save for hoarders of newspapers, a summer's memories could not be relived until the next Wisden appeared and that, I have no doubt, is the main reason why the importance of a new edition arriving at my home is no longer what it once was, and it has taken a few weeks for me to read sufficient of the 2018 edition to enable me to write this review.
In recent years the selection of the Five Cricketers of the Year, essentially a continuous feature since 1890, has been used to build up interest. The breaks from tradition have been on the increase. We had the first woman selected in 2009, and the pointed choice of just four in 2011. This year the selection of three women from England's World Cup winning side was doubtless motivated in part by a desire to garner some publicity. Personally I have no difficulty with the principle involved, but how Sarah Taylor was not one of the three is beyond me, but then disagreement over the rights and wrongs of the editor's five choices has always been one of the pleasures of reading Wisden.
The good news is that the quality of the writing in the Almanack shows no sign of faltering. These days it is very much the case that the early sections of the Almanack, and their feature articles, are the main attraction. Editor Booth's notes are as trenchant as tradition demands. Generally I agree with him, as I have with all of his predecessors. It will be interesting to see, next year, what he has to say about 'sandpapergate' a subject which, for once, I suspect may have me shaking my head as I read his words. We will see.
There is an important article from Tanya Aldred on 'Cricket and Sexism', and the later section devoted to 'Women's Cricket' runs to 42 pages. Given that three out of five of the book's starring roles go to women that may not seem very much in such a bulky volume, but perhaps the better context in which to put that particular figure is that the section on 'Overseas Domestic Twenty20 Cricket' is 20 pages, of which the IPL gets just three. As time has passed I have been more accepting of the game's need for its shortest format, and have even been known to watch it, but I do think Wisden has it right on that one, recognising the existence of the concept and recording what happens, but leaving detailed coverage to others.
Ms Aldred's piece is a good one, and something which I shall revisit once I have had an opportunity to read two recently released books from the ACS. One is Women at the Wicket by Adam McKie, which looks at the developed of the women's game between the wars. The second is written by Simon Sweetman and is the first biography of a woman cricketer in the Lives in Cricket series; Enid Bakewell – Coalminer's Daughter. A contemporary of the much better known Rachel Heyhoe-Flint, Enid has a far better record than her former skipper, averaging all but 60 with the bat in Tests, and a tick over 16 with the ball.
But I digress. One article that achieved a good deal of advance publicity is that of Zafar Ansari, explaining his decision to retire from the game at 25. We had, on the strength of his tour of India in 2016/17, already realised that Ansari wasn't going to be a male Enid Bakewell, but that trip was far too early to write off his chances of being a decent international cricketer. His motivation for his decision and his hopes for the future are well worth reading.
Perhaps my favourite essay is the one by Gideon Haigh. Just to show his versatility Haigh, a heavyweight cricket writer if ever there was one, has written a hugely entertaining piece on just about as lightweight a cricketing subject as you can get; cricketers' foibles, eccentricities and mannerisms at the crease. There isn't even much in there that is new and won't be known to a goodly number of his readers, but there is something about the way Haigh puts his thoughts together that turns a piece that promises little into one that is rather special.
All the usual Wisden features are present. The review of the year, covering as it does nowadays so much more than a look at the previous year's books, goes from strength to strength and the coverage of the year's cricket is as comprehensive as ever. The various collections of oddities that crop up regularly, and are one of the most welcome recent developments, are once again well chosen and, to link back to my initial paragraph, there is even a short piece about that famous woodcut.
As expected Wisden 2018 is well worth buying, as are all the previous 154 editions. The cover price of £55 may seem daunting, but no one need pay more than around half that and, despite what some collectors and dealers might suggest, if what you are interested in is what is inside a Wisden rather than how good it looks on your shelves none of the other 154 should, in some form or other, set you back much more than that cover price and many of them will be very much less – there has never been a better time to start to build a collection.