Winning The Ashes Down Under
David Taylor |
Published: 2011
Pages: 294
Author: Strauss, Andrew
Publisher: Hodder and Stoughton
Rating: 3 stars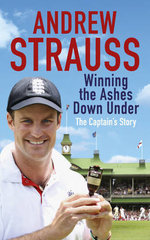 The England captain's account of England's triumphant series in Australia in 2010-11 is not, to be honest, a book I'm likely to have chosen for myself. It has often been remarked on here that books by current players, especially those with a central contract, tend to be rather safe and uncontroversial, and while this is not an autobiography (Strauss has done that too, with Coming Into Play in 2007), it was never likely that Strauss would want to upset any apple carts. However, having received a copy for Christmas, and more recently seen a sharp reversal in England's fortunes I decided it was time to remind myself of happier times for England supporters, especially as this is updated to the end of the home series against India.
The narrative starts with the unhappy episode in early 2009 which saw both Kevin Pietersen and coach Peter Moores relieved of their positions and the captaincy pass to Strauss for the approaching tour of the West Indies. The new incumbent could hardly have made a less auspicious start – England were bowled out for 51 in Jamaica to lose the first Test, and despite getting close more than once never managed to level the series. After that of course there was another Ashes series, in which the urn surrendered in 2006-07 was regained – but here it's a whistle-stop tour of little more than four pages*. It is clear by this time that Strauss is on a headlong dash to the main event. A slightly longer chapter covers Pakistan's visit to England the following year, and although it is still a lead-up I was interested in what he had to say about the spot-fixing affair. "My strong feeling was that the game of cricket had been dealt a pretty serious blow, and that everything we'd achieved in that series, and even in other series, had been devalued." No doubt he'll have more to say on that when he writes his story again at the end of his career, when he should be able to worry less about upsetting Giles Clarke or anyone else.
We get told a bit about the privations of the Bavarian boot camp – the sort of thing which seems to be compulsory for many touring sides nowadays – I can't imagine Bedser or Boycott would have been impressed – and then it's on to Australia. Here of course I was looking for a bit of insight, the inside story from the dressing room. I don't need the England captain to tell me who scored the runs, took the wickets or held the catches. That Stuart Broad was the chief golf organiser – at least until he flew home injured – was no more than trivia. But Broad does feature in a rather more relevant passage, when he reminds the team before the first Test "I don't have any negative feelings about playing in Australia at all. All I've done is beat them and I don't see any reason why we can't do it again." And there perhaps lay a pointer to England's success. The many changes that had been made to the team from four years earlier, coupled with a home win in the interim – meant that this team went into the series with genuine confidence. And it helped of course that Messrs Warne and McGrath, among others, were no longer on the scene.
From there Strauss takes us through the series, a chapter a match, each subdivided into a day's play to read like a diary entry. Whether it really was written at the time seems unlikely; I would have thought he might have been a bit short of free time. The book was written with Simon Hughes, who was I believe covering the series for BBC radio, so they may have got togther from time to time I suppose. But the book does seem like Strauss's own words – the influence of "the analyst" isn't readily apparent. Among his thoughts on the series are his views on four versus five bowlers, the need for the WAGs and children to join the players at some point and some technical notes on the players. Alistair Cook made some changes to his technique after the Pakistan series apparently, although I don't remember hearing about it, still less spotting any difference. And he pays a nice tribute to the outgoing Paul Collingwood.
While there is nothing of a headline grabbing nature here, and the content is by and large undemanding stuff, the book is readable and enjoyable – for England fans, anyway – and the captain's sense of pride in his team is palpable. With so many Ashes series planned for the next few years though, Australia's revenge may not be far away.