Victor Trumper
Martin Chandler |
Published: 2020
Pages: 58
Author: James, Alfred
Publisher: The Cricket Press Pty Ltd
Rating: 4 stars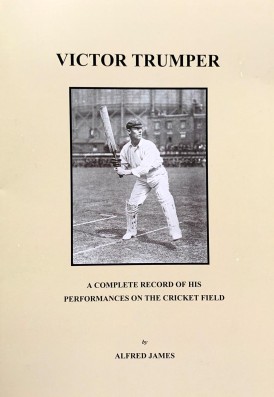 I grew up in England in the 1970s and, thanks to my cricket loving father, inherited his passion for the game and its history, although he failed to pass on with it his considerable playing skills. Back then the name of Victor Trumper was one that I recognised and knew and, inevitably, I read some of the passages Neville Cardus wrote about him. But then Cardus waxed lyrical about many, and Trumper's was far from a household name in my corner of Lancashire.
It may have been different in Australia, but on any level there has been a welcome explosion of interest in the iconic figure of Trumper in recent years and I would go so far as to suggest, even taking into account the reputations of the likes of Hobbs, Grace and Bradman, that his may now be the most revered name in cricket. A measure of Trumper's lofty reputation in the 21st century is that this is the eighth book published about him since 2010 that we have reviewed. There are certainly two more that we have not reviewed, and yet another is due before the year is over.
So has Alfred James produced anything that adds to our knowledge of the great man? The main body of the book is a record of Trumper's performances on the cricket field something which has been attempted before, in a booklet in the ACS Famous Cricketers Series, but that dealt only with Trumper's performances in First Class and Test cricket. James' efforts have produced a record of every game in which Trumper played, from his first for Crown Street school at age 10 to the last, at 37, for Gordon in the Sydney First Grade competition, seven months before his untimely death. All in all there are 255 First Class matches (including 48 Tests), 146 First Grade matches and 105 others games.
Clearly only a serious student of Trumper's genius is going be interested in such an extensive cache of, essentially, statistical information. That is not to say however that there are no other snippets of information as there are, not least in relation to the match, which if I recall correctly James was the first to identify, when Arthur Mailey dismissed his hero and, as he recorded in his autobiography, felt like he had killed a dove.
Whilst the book is primarily concerned with the mission statement referred to in the sub-title, A Complete Record of his Performances on the Cricket Field, there are a handful of other features which might influence a prospective purchaser. The first is James's introduction, as good a pen portrait of Trumper as I have read. There are also a couple of appendices the first, The Trumper Family, containing genealogical information and the second a tribute from teammate Les Poidevin that originally appeared in the Sydney Morning Herald two days after Trumper's death.
Victor Trumper appears in two editions. Of the first there are 99* signed, numbered and modestly priced copies of a book that is a relatively unprepossessing publication in paper covers. Then there are another 22** copies, once more signed and numbered, but this time printed on high quality paper and bound in soft leather with marbled endpapers and, not present in the more modest edition, a selection of rare photographs from publisher Ronald Cardwell's personal collection reproduced within the introduction.
*The number of centuries Trumper made in all cricket
**The number of seasons in which Trumper appeared