This is Cricket
Martin Chandler |
Published: 2020
Pages: 368
Author: Melamud, Daniel
Publisher: Rizzoli
Rating: 4 stars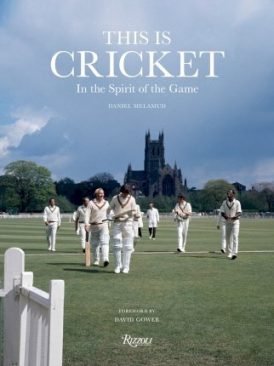 The day in April when the new Wisden appears is, no one will be surprised to learn, one of my favourite days of the year. Everyone has their own 'go to' section that they begin with, and for me that is the book reviews. After all the keen amateur always wants to know how the professionals go about their business.
This year's Wisden reviewer was Emma John and, as has been the case for a number of years, her job involved not only looking at the previous year's output as a whole but also nominating a Book of the Year. Given Wisden's pre-eminence in the game it is an important accolade for the successful book.
For once this year the winner was a title that had completely slipped under my radar, authored by a man whose name was unfamiliar, and published by a company I had never heard of. The only comfortable and familiar name was that of David Gower, who produces the sort of pithy foreword that only he could.
But anyway, if it was good enough for Emma John to rate as the book of last year I felt This is Cricket was a title I needed to acquire and, admittedly a few months late and with many thanks to CricketWeb's owner James Nixon, I finally have a copy, and a chance to form my own opinion on what so impressed Ms John.
The first thing I learnt was who Daniel Melamud is. He is a cricket lover and an Englishman who, as a youngster at primary school, once captained a side at Lord's. Since then however his writing, editing and photography careers having taken him to the US so his continuing love affair with cricket has become something of a long distance relationship. As for Rizzoli they are based in New York, which explains why I had not previously encountered them.
One thing that Melamud has managed to do is to try to make his book accessible not only to cricket lovers but also those who pick it up having previously taken little or no interest in the game. To illustrate this his semi-autobiographical introduction sees the need to contain a footnote that explains that a century is what you get when a batter scores one hundred runs – methinks he hopes that a decent number of Americans will be buying his book.
The penning of that introduction apart, which runs to around 4,000 words, and the addition of some detailed and skilful captioning, are the only work that Melamud has done. That is not, I hasten to add, denigrating the time that he has put in, but I would take a great deal of persuading that spending what must have been a very happy few days in the Getty Hulton picture library selecting a cross section of the finest and most iconic images in cricket history amounts to any sort of toil. It is the reproduction of those images that take up the great majority of This is Cricket's 368 pages.
Almost all of the photographs come from the last seventy years, so there is no Victor Trumper jumping out to drive, nor the billowing shirt of Walter Hammond as he plays the ball exquisitely through the covers, but just about everything else is here.
The images are gathered together under six broad headings; Batting, Lunch, Bowling, Tea, Fielding and Drinks. Each of the chapters has its own introductory paragraphs, but those do not stretch beyond a few hundred words. All the game's formats are covered, and all levels of the game are featured. There are no geographical boundaries, and the women's game is by no means ignored.
Much as I enjoyed gazing lovingly at its contents I have to say that This is Cricket is not the book I would have chosen had I been given Emma John's task, but I can certainly see her thinking. The visuals in this large format slab of high quality paper are stunning. There are plenty of photographs here that I have seen before, but never so beautifully reproduced, and if many of the images are familiar there are certainly a goodly number that are not. The book is not, at its RRP of £50, an inexpensive gift, but it is one that will certainly be appreciated by any cricket lover.