The Headleys
Martin Chandler |
Published: 2022
Pages: 290
Author: Flatley, John
Publisher: Von Krumm
Rating: 4.5 stars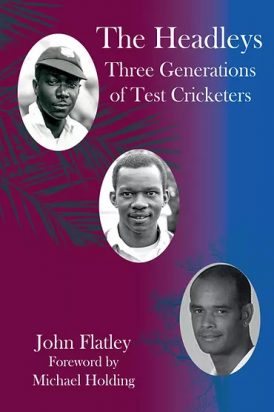 This one has been on the stocks for a while, so much so that at times I began to wonder whether it would ever actually appear, but here it is at last and I am delighted to report that the finished product is well worth the wait. The Headleys is an excellent biography of the first and still one of only two families who, for three successive generations, produced a Test match cricketer.
George was, of course, the first great West Indian batsman, and averaged a fraction over 60, a mark of the highest quality. After reading John Flatley's admirably balanced account of his Test career I fear that perhaps I have slightly misjudged George over the years. I had never really taken on board what it must have taken to shrug off a disastrous start to the one series he played in Australia, by making technical adjustments that brought him centuries in the third and fifth Tests after starting with scores of 0, 11, 14 and 2.
In the past I have also had an inclination to downgrade George's achievements by a notch or two by virtue of eight of his Tests, all at home, being played against sides not fully representative of the full might of English cricket. I am less convinced by that one now, and of course George did very well in his six Tests in England, when he was undoubtedly playing against the very best. I must also admit to having failed in the past to give proper weight to the fact that George was always his side's only truly reliable batsman and that, aged 30 when World War Two began, he suffered more than most from losing to that conflict what might well have proved to be his best years.
I now know also of the travails that George had off the pitch, having to contend with the embedded discrimination of the time, not least amongst the game's administrators in West Indies. That a black man in the 1930s had to put up with such treatment is not itself a surprise, but that some who could have done something to ameliorate the difficulties chose not to do so is certainly disappointing.
Having been the subject of two previous biographies and an extended monograph, one of which he fully co-operated with, George is not a difficult man to write about but, with the memories of two of his sons and a grandson to rely heavily on Flatley had a big advantage, one extended when he located an unpublished autobiography in a Trinidad University, with annotations by the great West Indian writer CLR James.
And then it is on to Ron, the eldest of George's three sons. Left behind in England in the mid 1950s when the rest of the family returned to the Caribbean Ron carved a successful career as a batsman with Worcestershire. He never touched the heights that George did, but did do enough to earn a call up for West Indies for a couple of Tests in 1973.
As far as Ron is concerned the Worcestershire supporting Flatley, from his childhood onwards, saw plenty of his batting for himself. Adding to that also the full co-operation of Ron and Dean and once more he could hardly fail. Younger brother Lyndie, an Olympic athlete for Jamaica in the 1960s, also provides valuable insights into the life of the Headleys.
The years of the global conflict apart George's career was a full one, albeit his later years were affected by injury. Ron too enjoyed a full career something which, sadly, cannot be said for Dean. His part of the book begins with, in the manner of modern sporting biographies, the defining moment of his career, that remarkable spell of bowling at the MCG in the fourth Test of the 1998/99 Ashes series when, looking for all the world like England were going 3-0 down, Dean's five wicket burst pulled victory from the jaws of defeat.
At the time of his career defining spell Dean was just short of his 29th birthday and it seemed certain he would have a few summers at the top of the English game. It was not to be however and as soon as just over a year later Dean's career as a professional cricketer had been ended by injury. How that retirement came about is in itself an unusual story, and one that I had certainly not fully grasped before.
England supporters generally avoid dwelling too much on the 1990s but, perhaps, there were highlights as well. I had forgotten just how good a bowler Dean was, and the story of his three hat trick summer in 1996 was one aspect of that it was good to be reminded of, as was the fact that to an extent at least he was a decent batter as well, and thus followed the family tradition more than I had previously realised.
On the subject of Dean's batting I was particularly struck by one story of batting as nightwatchman with Mike Atherton in 1997 in only his second Test. The following morning Dean, to the delight of all England, took a few liberties with Glenn McGrath and saw off the great Australian. Atherton, showing a sense of history as well as the sort of man management skills that he is not always noted for, told him he was batting like the 'beige Bradman'. Athers wouldn't have said that today of course, but we are talking about the last century!
The Headleys has the benefit of a perceptive foreword from another Jamaican hero, Michael Holding, has a good index and is well illustrated. There are some rudimentary statistics, the brevity of which might disappoint some, but I can see that to produce three comprehensive sets of career figures would have been a far from straightforward exercise, and would have added significantly to the book's page count.
The first cricketing family to produce three generations of Test players is certainly thoroughly deserving of a comprehensive, thoroughly researched and well written biography, and that is what his reader gets with John Flatley's auspicious writing debut. It is difficult to find anything to criticise in either the narrative or the production standards of the book, so I won't be trying to do so, although I will express a tinge of disappointment at not having the opportunity to acquire a leather bound limited edition of the book, signed by Ron, Lyndie and Dean.