The Greatest Season
Martin Chandler |
Published: 2019
Pages: 192
Author: Murphy, Patrick
Publisher: Fairfield Books
Rating: 4.5 stars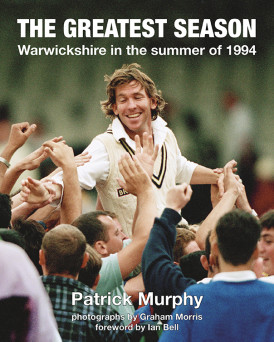 I am too young to remember it, but I was born into an era without any List A cricket at professional level. In England there was, as there had been since 1890, just the County Championship. That much conceded by the time I was first able to hold a cricket bat the Gillette Cup, a 65 overs (quickly reduced to 60) a side knock out, had arrived. Then in 1969 the 40 overs a side John Player League started to take up my Sunday afternoons before, in 1972, the 55 over Benson and Hedges Cup began and, for the rest of the twentieth century and a little way beyond, the counties had four trophies to fight for.
Every April I would look forward to Lancashire winning all four. It was a massive ask, and of course they never did. Nor did anyone else and as I matured I could see the clean sweep was all but impossible. I add the 'all but' rider because, as I must confess I had forgotten until I learned this book was to be published, Warwickshire failed to win all four in 1994 only because they lost the toss in the final of the 60 over tourney, by then known as the Nat West Bank Trophy.
Professional writers never have to retire, and as they age they just have more time to work on subjects they want to write about rather than those they are told to cover. Thus the former BBC and Birmingham Post man Patrick Murphy has chosen to tell the story of that summer a generation ago. This book is by no means his first nor, hopefully, will it be his last.
A great deal of Murphy's past work has been involved in assisting players putting together an autobiography. The list is an impressive one including Vivian Richards, Alec Stewart, Wasim Akram, Basil D'Oliveira, Mike Procter and Imran Khan to name just six. His best work however, in this reviewer's opinion at least, remains what I suspect was his first book, the story of Tiger Smith. There is some reassurance, as time seems to fly past increasingly swiftly, that there are still folk around who knew well a man whose First Class career began as long ago as 1903.
Following Warwickshire in their stellar season was clearly a real pleasure for Murphy, made all the sweeter no doubt by the fact that he was paid to do it, and The Greatest Season dropping through my letterbox was eagerly awaited. I tried to set the scene for myself by attempting to recall who their stars of the summer were, and was immediately embarrassed by my inability to get with any confidence beyond the unforgettable Brian Lara and larger than life skipper Dermot Reeve, who is the focal point of the book's dust jacket.
It was only a glance at Wisden that reminded me who the supporting cast were. Lara was magnificent in the year of his 501*, although Reeve's was very much a bit part, injury restricting his appearances and even when he did play he seldom contributed with bat or ball. Lara apart the hard graft was done by a group of honest toilers; Roger Twose, Andy Moles, Dominic Ostler and Trevor Penney with the bat, and Tim Munton, Gladstone Small and Neil Smith with the ball. England played six Tests that summer, but did not call on a single Warwickshire man for any of them.
The content of The Greatest Season is, naturally, entirely predictable. Rather less so is the way it is presented. The presence of the Fairfield Books imprint on the spine of a book is, as we all know, akin to a cricketing kitemark, so I knew there would be rather more to the book than a match by match account based on contemporary reports supplemented by Murphy's memory.
The start of the book involves two essays that set the scene for the main story. The first is on the man who was initially signed as Warwickshire's overseas player for 1994, the Indian all-rounder Manoj Prabhakar, and the second on Asif Din. The previous year Din's career had looked over, and then he got into the side for the 1993 Nat West final and scored a century of such genius that even I recall it. The innings got him another contract, although sadly his 1994 was mainly spent on the treatment table, and unfortunately did prove to be the end of the line for him.
Those preliminaries out of the way the main players of the 1994 summer are also the subject of some excellent pen portraits. It is possible to write a readable essay on a cricketer just by reading a few books, but these are nothing like that. Every single one of them leaves the reader feeling he knows the subject personally. The names I have already mentioned are covered as well as several others including some whose involvement was purely off field, notably coach Bob Woolmer, Club Chairman Mike 'MJK' Smith, and Chief Executive Dennis Amiss.
I will specifically mention one of these essays, that being the one concerning wicketkeeper Keith Piper, who played a significant but inevitably unsung role in the Lara 501*. I always knew Piper was a decent cricketer, but little more than that and although I must have heard about his issues I  certainly never properly appreciated that he was something of a troubled soul. The essay regarding him is a particularly sensitive and illuminating one, accompanied by the best of a hugely impressive selection of photographs. Northamptonshire all-rounder David Capel always struck me as one of the more mild mannered professional sportsmen around, but it is abundantly clear from one image that Piper knew exactly how to get under his skin.
Part two of the book looks in detail at the season's important games. This section will be of more interest to Warwickshire supporters than neutrals but nonetheless held my attention. I have to say I was surprised at the lack of any bitterness about that Nat West final defeat. These were the days when the early start necessary in September to permit 60 overs a side to be bowled meant that the side batting first had a huge disadvantage, and for years the toss had effectively decided the match. That problem was aggravated in 1994 as the rain came down at lunch time necessitating the use of the reserve day, so to further compound Warwickshire's difficulty they had to bat through two early starts.
Murphy closes with a selection of quotes from that season's opponents before, as should be obligatory with any book of this kind, there is a chapter looking briefly at what the future held. The design, appearance and feel of the book are typically Fairfield and once more demonstrate just how a cricket book should be put together. The Greatest Season is a superb book and a credit to all involved a list which, in view of what is said by Murphy in his introduction, I will stress includes Brian Halford, whose idea the book was. I hope that whatever issues prevented him for carrying the project through have resolved themselves.
I have given The Greatest Season 4.5 stars but, in a country where we could do with a few more democratic gestures that is what that is. For inhabitants of the UK's second city the book is most certainly five star stuff.