The Early Years of Gilbert Laird Jessop
Martin Chandler |
Published: 2019
Pages: 114
Author: Battersby, David
Publisher: Battersby, David
Rating: 3.5 stars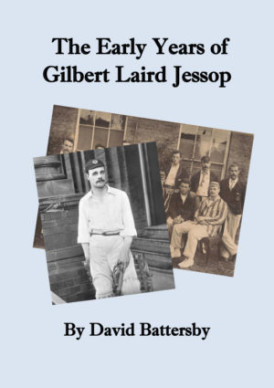 Cricket tragics of a certain age, and to an extent of any age, still revere the so-called 'Golden Age' that covers the quarter of a century before the Great War. The reason is simple enough. It is because when we were wide-eyed primary school children, sat quietly beyond the boundary watching our fathers play, the old men of the village would come and sit next to us and, sensing our developing passion for the game, tell us all about the players they watched when they were our age.
There was always going to be a northern bias for me, and the names of JT Tyldesley, Archie MacLaren and Reggie Spooner were the ones I heard most often, but men like Ranji, CB Fry and WG Grace were not forgotten. One name I seldom heard however was that of Gilbert Jessop, although looking at his Test record now I would probably have concluded that, as an all-rounder, he was probably fortunate to have played in as many Test as he did.
I find it quite amusing therefore that, half a century after I was first told about the 'Golden Age', and Jessop never got a mention, that in the modern era he is just about the only man from that time who ever does get a name check. It is the inexorable rise of T20 cricket that is to blame for that. Jessop was a mighty hitter of a cricket ball, still the scorer of England's fastest Test century whether measured by balls faced or minutes at the crease. In addition he was, for a few years, a bowler of genuine pace and a magnificent fielder in the covers. David Battersby is by no means the first to have made the connection between Jessop's talents and the game's shortest format.
A distinctive batting stance meant that Jessop was always known as 'The Croucher'. He was born in Cheltenham, the twenty first century home of Welshman Battersby, a man who last year provided us with a biography of William Woof, another Gloucestershire cricketer and man of Cheltenham whose career was ending just as Jessop's began. That book told us the life story of a man who had been largely forgotten. With Jessop, who unusually for the time wrote an autobiography, and who in the 1970s was the subject of one of the better cricketing biographies, there is rather more material around, so Battersby decided to limit his book to the first 21 years of Jessop's life, up until he went to Cambridge in 1895.
In some ways the project is a difficult task. At the end of the day Jessop's most memorable deeds, and the more interesting aspects of his life outside the game, all lay in the future. With no descendants to interview or any new finds in terms of items or documents personal to Jessop there is never going to be a wide appeal for this one and the question is therefore whether the book contains enough of interest to appeal to those with an interest in Jessop or Gloucestershire cricket generally.
Essentially what the book consists of is, to the extent it can be discerned from newspaper and other archives, a match by match account of Jessop's career since he was first mentioned in a press report in 1885 when he was just 11 years old. The reporting is, in the manner of the times, fairly dry, but the number of different teams that Jessop represented is a striking feature. Also curious is the fact that, for a future international, he was not always dominant as a young man. That said he had his moments, and was clearly far too good for the opposition he faced when playing for a school at which he taught in 1895, Beccles College, for whom he scored more than a thousand runs at 132.25, as well as taking exactly one hundred wickets at a mere 2.44.
Something I hadn't realised before reading The Early Years of Gilbert Laird Jessop was that the best known image of Jessop, which appears on the cover of the book, was taken when Jessop was only 21. There are no images of the famous batting stance, but there are some team photographs and reproductions of scorebooks and press reports in what is a very nicely presented piece of self-publishing. Subject to the caveat that to gain real pleasure from the book a reader needs to be a hardcore cricket tragic, this is a title that is certainly recommended.