Second Only To Bradman
Martin Chandler |
Published: 2019
Pages: 169
Author: Francis, Bill
Publisher: The Cricket Publishing Company
Rating: 4 stars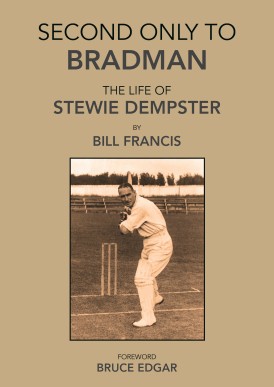 As all cricket lovers know statistics can be misleading, but they can also speak volumes, which is why we spend so much time looking up and quoting them. The man with the highest Test match average is and always has been, in bibliographical terms, a cottage industry by himself. It might therefore be assumed that the man who is second to Donald Bradman in that list would have taken up the time of at least one biographer by now. The reality is rather different however and, until now, no one had written a life of Stewie Dempster.
Part of the reason for his relative obscurity is the obvious one that Dempster's name isn't seen, because it doesn't appear in the relevant list very often. There is generally a cut off of twenty innings, and in his ten Tests Dempster only got to the crease fifteen times. If the cut off is reduced to ten matches however he is Second Only To Bradman because he averaged 65.72 over those fifteen innings. If you restrict that to his eleven knocks against England the figure rises to 88.42. It is true that four of those Tests were against the modest side that toured New Zealand in 1929/30, but whilst cricket statistics are always 'open to interpretation' like any circumstantial evidence they never lie, so whatever their vagaries Dempster must have been a class batsman.
It is a shame that, despite being contemporaries, Dempster and Bradman never shared a cricket field. There were two opportunities for a meeting to happen. The first was when Dempster represented his native Scotland against the 1934 Australians, and the second four years later when he led Leicestershire against Bradman's 1938 side. On both occasions however the Don didn't play. It is interesting that Dempster made his point in both those matches, being the only Scotland batsman to get to grips with Tim Wall, Hans Ebeling and Chuck Fleetwood-Smith in 1934, and for Leicestershire atoning for a first innings duck by taking the first century from the tourists on their trip, their attack being led by Ernie McCormick, 'Tiger' O'Reilly and Frank Ward. Once again Dempster was the only batsman in his team to come to terms with the task.
A man whose roots were, as indicated, in Scotland, Dempster was born in Wellington in 1903. Author Bill Francis has made a good job of reconstructing his early life, doubtless much assisted by the recollections of Dempster's only child, a daughter Kay, now in her mid seventies albeit the one contemporary photograph of her in the book suggests she is rather younger.
The book contains, naturally, an account of Dempster's cricket career, and amongst many others Francis tells the stirring stories of his two Test centuries against England, and a fine 83 he scored against Douglas Jardine's tourists in 1932/33 in what proved to be his final Test innings. After that Dempster followed the Englishmen home. His initial plan was to stay for a few months, but he ended up remaining in the UK for more than a decade. It would be after the Second World War before Dempster returned permanently to New Zealand, and although by then 43 he was picked to play in the one off Test against England in 1947. Sadly for him however an eye injury picked up on the golf course prevented him adding to those dozen caps.
Unlike some in a similar situation Dempster did not play cricket professionally, at least not as such. He was one of those who would secure a job in business, and then spend much of his time playing cricket. The furniture magnate Sir Julien Cahn was the man with whom Dempster had the greatest involvement, but he also spent a couple of years in Blackpool tearing up the record books in the Ribblesdale League whilst working in an accountancy firm, a position found for him by a benefactor of the Blackpool Club. This was of particular interest to this reviewer who, having spent all his childhood on the Fylde Coast, heard many stories of Blackpool Cricket Club and its famous former players like Harold Larwood, Ted McDonald, Cecil 'Ciss' Parkin and Bill Alley, but despite his tall scoring whilst with the club I never heard Dempster's name mentioned.
In terms of his career outside cricket the textile industry was where Dempster's skills lay and he set up his own business on his eventual return to New Zealand where he also became a highly effective coach, responsible for the development of a number of Test players including Bruce Edgar, who contributes a foreword. His personal life appears on its face a little chaotic in that he was married three times, in 1938,1945 and 1968. His daughter was from his second marriage and, in a twist worthy of a Mills and Boon novel, his third wife was the fiancee who he left behind in New Zealand in 1933 when he first went to England.
There is one frustration with Second Only To Bradman and that arises out of something I had previously read. David Frith, in his 2014 book Frith's Encounters, briefly looks at former England leg spinner Ian Peebles. In later life Peebles became an accomplished writer and was a sociable, urbane and well-liked man. He played with and against Dempster but when, in 1974, Frith asked him to contribute an obituary to Wisden Cricket Monthly Peebles declined the commission because he didn't like the chap at all.
Why should Peebles have so taken against Dempster? There must presumably have been a less appealing side to Dempster that his daughter never saw and was never told about and which, by the time he got back to New Zealand after the war, he had left behind him. It seems unlikely that the mere fact that he was something of a womaniser and was determined to make a commercial success of his life would have upset Peebles, so there must have been something more – alternatively perhaps the comment says more about Peebles than it did about Dempster? In any event Frith being unable to add anything further it seems unlikely that the answer to that one will ever be known.
Second Only To Bradman is a fine book by an excellent writer and researcher. Interesting in its own right it also fills a significant gap in the annals of the game and is doubly welcome for that reason. The book's production standards are, as is to be expected from this publisher, very high and in addition to the standard book there is also a limited edition of 35 leather bound copies which are all signed by Francis, Kay Martin and a number of the cricketers who Dempster coached.