S.F.Barnes: His Life and Times
David Taylor |
Published: 1997
Pages: 207
Author: Searle, Andrew
Publisher: Empire Publications
Rating: 3 stars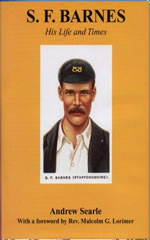 Sydney, or as he was often known, SF Barnes is a name that still recurs when people are asked to name the greatest bowler that ever lived. His was an extraordinary and unique career. He played only a handful of matches for Warwickshire and two seasons for Lancashire. Most of his 27 Tests, in which he captured 189 wickets, a world record at the time, were played after he'd played his final county game. The rest of his career he spent in the leagues and with Stafforshire, a minor county, re-surfacing a few times a season to play for MCC and for the Players against the Gentlemen.
He was a dour, hard, uncompromising individual, with a strong sense of his own value. One player told of how he was picked for his first Gents v Players match and arrived to find Barnes urging the others not to play unless they received more money. He turned down the chance to tour Australia in 1920-21 because the MCC would not accede to his insistence that he take his family on tour with him – an astonishing request for the time. We learn little about his early life, except that his father was a steel-worker, that he was one of five children, and he trained as copper-plate writer. There are few clues as to why he became the person he did, and few illustrations – four uncaptioned pictures, three from his playing days and one in old age.
His bowling style was loosely described as fast-medium leg-cutters – think of someone bowling at Stuart Clark or Matthew Hoggard pace and cutting it away like a Shane Warne or an Anil Kumble. He had a tremendous strike rate but for every ball that took the edge there must have been countless more that beat the bat. He also employed swing, or 'swerve' as it was usually known then, and changes of pace.
Barnes played professional cricket into his sixties despite often succumbing to injuries when he was younger. Perhaps that's what made him decide to restrict his cricket to one-day league games and two-day minor county matches. His record in these matches was unsurpassed – here maybe Searle over-does the stats a little – and you have to wonder what caliber of batting he was up against. He was in a sense the first 'one-day specialist.'
Overall a good read – the author is clearly sympathetic to his subject – and you do start to warm to the old curmudgeon by the end.