Rupert Webb – Goodbye Old Friend
Martin Chandler |
Published: 2019
Pages: 16
Author: Filby, Jon
Publisher: Sussex Cricket Museum
Rating: 3.5 stars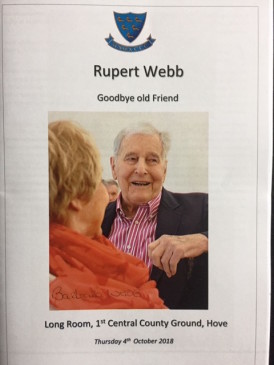 Rupert Webb was an old fashioned wicketkeeper. He was no mug with the bat, but as he never did quite manage a First Class fifty he couldn't be considered an all-rounder in the modern sense. His glove work was nonetheless of sufficient quality to see him as his county's first choice for the best part of a decade. After retiring from the game Webb later married an actress and went on to do a good deal of modelling and acting himself with, as all his obituarists noted, the highlight of his second career being an appearance in Four Weddings and a Funeral.
As the years passed Webb spent plenty of time at his old stamping ground at Hove and was a supporter of the Sussex Museum from the off. In 2012, to mark his 90th birthday, one of the Museum'e earliest publications appeared, A Celebration Lunch for Rupert Webb. A 32 page signed limited edition of 90 copies that booklet, a collection of appreciations by a selection of Sussex cricket people, has long since sold out. It was remiss of me not, at the time of publication, to have reviewed that one, but it is an excellent read and well worth tracking down.
Webb was 96 when he passed away last year, and in a ceremony on 4 October his Ashes were interred at the County Ground in Hove. Rupert Webb – Goodbye Old Friend is a record of that day. It is a modest 16 page booklet and, in the main, consists of a selection of photographs featuring those who attended in order to celebrate Webb's life. The narrative is based on what was said at the ceremony by Jon Filby, Chairman of the Sussex Cricket Foundation. If Jon's words on the day were as eloquent as they appear in writing it must have been a moving occasion, and proof positive that he really should write more than he does.
Rupert Webb – Goodbye Old Friend is available for a modest fiver plus postage and packing. It has been produced in a limited edition of 100 copies all of which have been signed by Webb's widow, Barbara Whatley. There is one particularly thought provoking image of a group of old Sussex players, looking rather different to the men I remember. That one is captioned, but slightly annoyingly none of the others are. I can however confirm that Mr Filby is the handsome fellow behind the microphone on page five. The identity of the others I regret I cannot help with, though I assume that Messrs Sharp, Epps, Packham and Barnes must be in there somewhere.