Richard Boys
Martin Chandler |
Published: 2018
Pages: 24
Author: Tebay, K Martin
Publisher: Red Rose Books
Rating: 3 stars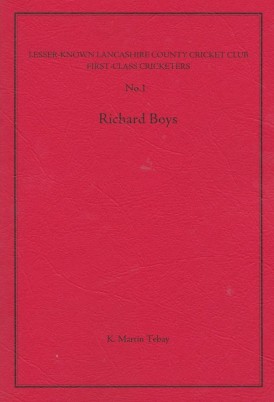 The arrival on my doorstep of this slim biographical monograph of Richard Boys put me in mind of a comment I made last year when reviewing Keith Booth's biography of Jack Crawford. The Surrey all-rounder played twelve Tests for England in Edwardian times with some success, but an interesting life and career was soon forgotten. I expressed surprise then that after more than a century with very little attention from the chroniclers of the game such a man should be the subject of two biographies within the space of a couple of years. If someone had told me then that two more years on a man who, thirty years before Crawford's time, played but a single First Class match would then become the subject of two books within a similar timeframe I wouldn't have believed them.
The above comment does need some qualification. Boys was only one of the subjects in Keith Walmsley's Brief Candles 2, and Richard Boys is in the nature of a monograph rather than a full length book, but it is still remarkable, and testament to the diligence of both Walmsley and Tebay that they have, independently, delved so fully into the life of a man whose First Class career was so fleeting.
The single match itself was unremarkable, MCC defeating Lancashire comfortably at Lord's in June 1877 with Boys, a wicketkeeper, taking a couple of catches and scoring 10 and 3*. What makes Boys' story noteworthy is the tragic circumstances of his death in January 1896 when, whilst working in a shop he ran in Burnley, an industrial chimney collapsed on to the building killing both Boys and his wife as well as two others who were inside a neighbouring property. Mr and Mrs Boys had four children, three daughters and a son. The two eldest girls were adults, the youngest 15, and the son 9.
Richard Boys does a decent job of reconstructing its subject's life and times, and more particularly his cricketing pedigree with the Burnley club, but with the best will in the world that is a story unlikely to persuade too many to invest in Tebay's work. Much more thought provoking is the story of the disaster that cost those four lives. The cause of the accident was the want of proper maintenance to the chimney by its owner, but there was no prosecution, and the compensation paid appears derisory in light of modern standards. The children received a considerable amount more from a public fund set up for their benefit, the people of Burnley clearly looking after their own. The way the children stayed together, seemingly for the remainder of their lives, is striking and it is at that point the lack of further information becomes a little frustrating.
Tebay's story ends with the immediate aftermath of the accident. There is a good report of the inquest, the compensation claim and the collection, but he takes events no further. That there was a little more to discover is clear from Walmsley's closing paragraph on Boys in Brief Candles 2. The four children stuck tenaciously together, all eventually leaving for Northern Ireland. Only one of them ever married, the middle daughter. She herself had one daughter, but Walmsley's research revealed little else. I was so keen to learn more about the family that I even persuaded my own personal genealogist to try and discover something additional but even she, alas, could find just a couple more dates of death and no descendants. She did however find the married name of the granddaughter, so there may yet be something more out there.
I suppose the fact that I was inspired to do some further research of my own, albeit vicariously, must of itself reflect well on Tebay's efforts (and Walmsley's) and this modestly priced (£7.95 including UK postage) limited edition of forty copies is certainly recommended.