Picking The Perfect Cricket Team
Martin Chandler |
Published: 2020
Pages: 214
Author: Bermange, Benedict
Publisher: White Owl
Rating: 3 stars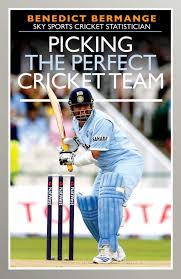 Benedict Bermange has one of those interesting jobs which I would love to do, although my arithmetical shortcomings would always be an impediment. As cricket statistician for Sky Sports he gets paid to travel the world, watch cricket, and mix with the great and the good of finest sport there is – what more could a man want?
With a background in accountancy those numbers clearly hold no fears for Bermange and, tellingly in the context of writing a book like this, he understands that statistics fascinate most cricket lovers by virtue of their passion for the game, rather than any love for abstract mathematical concepts.
So what is Picking the Perfect Cricket Team all about? I must admit to having made a somewhat sweeping assumption on that one, and been completely wrong. I was expecting Bermange to give us his own view of that timeless cricket lover's discussion about our dream teams, save in his case with a body of statistical evidence to support his views. In fact he doesn't. His purpose in writing the book is to provide ammunition to those who want to fight their own particular battle in that arena – I dare say the intention is that a follow up might well involve Bermange committing himself on the question, and treating us to a detailed treatise on his reasoning – I certainly hope so.
As for what he does here he selects 99 players ranging, chronologically, from Fred 'The Demon' Spofforth to Virat Kohl. There are, on the basis of an analysis that even I could understand, 18 opening batsmen, 27 middle order batsmen, 9 wicket keepers, 9 all-rounders, 24 seam bowlers, and 12 spinners. Magnanimously, and recognising the controversies that will rage even from that preliminary selection, Bermange suggests his reader select the hundredth man. To be fair to him I spotted only one 'sin of omission', although it is a glaring one – is he really trying to tell me there have been 24 greater fast bowlers than Harold Larwood?
Each of the 99 get two pages. Up to half of that gives the reader a bit of background, but given that for Bermange's target audience none of these men need an introduction these are not pen portraits. They are nonetheless interesting and there are facts there that some may not know. Examples are the growth spurt at 16 that cost Keith Miller the chance to become a jockey, and that his partner in the famous double act of Lindwall and Miller spent his childhood bowling in the streets and aiming at paraffin cans in the hope of catching the eye of the local celebrity, Bill 'Tiger' O'Reilly.
Then there are of course the statistical snippets, not lengthy tables but lists highlighting aspects of a man. Some are well known, like the table of high averages that appears under the name of Donald Bradman, and Sydney Barnes record series haul of 49 wickets against South Africa in 1913/14. Then there are less well known facts like Malcolm Marshall's record haul of 134 wickets in an English season since the reduction of the Championship programme in 1969, or Imran Khan's achieving the highest ICC bowling ranking back in 1982.
Most interesting, inevitably, are some of the quirkier figures that emerge. For example whilst I might at some point have read or been told that the record for the most runs scored in a session of a Test match was held by Denis Compton I had long forgotten. On the other hand I am pretty sure I have never known which batsman had faced the greatest number of deliveries in Test cricket. If called upon to guess I would have plumped for Sachin Tendulkar with some confidence. In that I wouldn't actually have been too far away, but still quite wrong, as the answer is Rahul Dravid, by a margin of more than 1,800.
Picking the Perfect Cricket Team is an easy read, and an absorbing one and, I would suggest, it will make an entertaining Christmas present for any cricket lover who you wish to keep quiet on Boxing Day. I was impressed by Benedict Bermange who is clearly is an interesting man, although he does give away his relative youth  in the book. All credit to him for including four Test man Barry Richards, who is a lock in my all-time World XI, in his 99 but the give away is the question Which way was Richards headed? We will never know. Those of us old enough to have had the very great pleasure of seeing Barry Richards at the crease have no doubt.