No Boundaries
Martin Chandler |
Published: 2009
Pages: 277
Author: Irani, Ronnie
Publisher: John Blake
Rating: 2 stars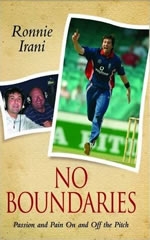 When injury forced Ronnie Irani to retire from the game after just four matches of the 2007 County season I doubt that the self styled "Big Brash lad from Bolton" imagined that he would be publishing a volume of autobiography just two years hence. That he did is due to his larger than life persona securing him a gig as Alan Brazil's sidekick on UK radio station talkSPORT's flagship weekday breakfast show.
As a cricketer Irani was not one of the greats. He played three Tests for England in the the late 1990's and 31 ODI's over a period stretching into the early noughties. This is important in assessing his book because while he was undoubtedly a popular figure at his adopted County, Essex, a very much wider market for this book lies with the hundreds of thousands of listeners he has at talkSPORT.
The content of the book is, in the circumstances, just what you would expect. There are stories of brushes with authority followed by unjust repercussions at Lancashire and the more so with England. The reader learns of his fallings out with, in particular, Nasser Hussain, Mike Atherton and David Lloyd although in fairness there are contrasting tales of his admiration and respect for the likes of Graham Gooch, Keith Fletcher and Andy Flower. We also learn a good deal about Irani's business activities and both his failures and successes seem to be described with refreshing honesty.
What we don't learn enough about are the subjects that interest the cricket lover as opposed to the football fan who listens to talkSPORT. There is mention of an occasion when the 14 year old Irani played in a club match against a rampaging Franklin Stevenson (sic) yet scored a half century – worth a whole chapter in my view yet it gets less than a page. Similarly the passing on to Irani of the techniques of reverse swing by Wasim Akram is not dealt with anything like as fully as I would like it to have been.
The book lacks an index which, for an autobiography, is sadly not that unusual but much more remarkable is the absence of even the most rudimentary of statistical appendices which would, if present, highlight the most interesting feature of Irani's career. After 2003 Irani, on medical advice, gave up his bustling medium fast bowling completely. His batting averages for the next three full seasons were 57, 57 and 59. After those four games in 2007 which preceded his forced retirement it was a Bradmanesque 118. Should he have abandoned his bowling as a youngster? What sort of a batsman might he have become if he had? Possibly we would have been considering a man with 100 Test caps but sadly the issue is not explored nor in any depth are any other important cricketing questions.
As a cricket book this is distinctly lightweight but, despite all I have said, I did get drawn into and thoroughly enjoyed the tabloid style rollercoaster ride that "No Boundaries" took me on so this book is by no means a write-off, just one that has to be approached with caution and not too much in the way of expectations.