New Books – An Overview for July 2011
Martin Chandler |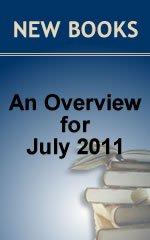 As I embark on this twice yearly feature for the fifth time I am beginning to get used to it so initially I will remind myself of my mission statement. I know now from experience that there is simply no way of knowing about all pending titles, so what you have here is those books that have been announced as forthcoming. That does not, of course, mean that all of them will actually appear, but experience shows that they generally do. Other titles I include are those which have appeared in the last six months and which, for a variety of reasons, were not on my radar in December. One last point is that there are some books due, a new biography of Fred Trueman for example, that I have mentioned in previous features, so haven't mentioned them again, thus a new reader will get a fuller picture if this is read in conjunction with the earlier features, which can be accessed through our archive. So now we are sitting comfortably and know the rules I will begin with my favourite genre, biographies and autobiographies.
The publishing arm of bookdealer Christopher Saunders has recently brought us the first biography of William Lillywhite, the great bowler of the round arm era, who was known as the "nonpareil", the unequalled. The book is written by Martin Wilson, a cricket historian whose reputation is growing year on year. Lillywhite died in 1854, so the book is largely a review of the writings of others, but it is well written and an interesting glimpse into a largely forgotten era. A full review from Archie will follow soon.
In Australia Alan Gregory has published a biography of former Ashes skipper Bill Woodfull. Some years ago Woodfull was, with Bill Ponsford, the subject of a double biography by Marc Fiddian, so this is not untravelled territory. I enjoyed Fiddian's book but was left with the impression that there was more that could be written about Australia's Bodyline captain – I hope that Gregory has filled the gap.
October will see the publication of Graeme Swann's autobiography – at the moment it seems the title will be The Breaks are off – My Autobiography. A larger than life personality like Swann, with the full weight of major publisher Hodder and Stoughton behind him, will doubtless produce what is, in cricketing terms, a bestseller. Will it be worth reading? As a centrally contracted player this will naturally be a sanitised version of Swann's Test career which, it seems remarkable to relate, will still not be three years old when the book is published. That said the lack of anything genuinely controversial should not detract from the value of a book by Swann, and the story of his old fashioned spin bowler's apprenticeship is certainly something I am looking forward to.
Christopher Martin-Jenkins, in his case with Simon and Schuster, also has the backing of a major publisher for his Memoir, although I would venture to suggest that sometime between now and the anticipated release date in April 2012 that title may change. I do not expect CMJ's book to bring much joy to the libel lawyers of the cricket world, but I have no doubt that there will be some stern admonishments for some, amongst the always well thought out and eloquent writings of one of the game's finest ever journalists and broadcasters.
Whilst on the subject of broadcasters I am also going to mention Higgy: Matches, Microphones and MS that appears in A and C Black's schedule for a September release. It is the autobiography of Alistair Hignell who is best known these days for his award winning efforts in spreading awareness of Multiple Sclerosis, a condition he was diagnosed with in 1999. As a sportsman Hignell was capped 14 times at full back for England's Rugby Union team in the 1970s, but he was also a good enough batsmen to play 170 First Class matches for Gloucestershire and Cambridge University and I have little doubt his story will be well worth reading.
From India there are, hardly surprisingly, new books about Sachin Tendulkar. Sach by Gautam Bhattacharya, is not however a biography. The author has interviewed as many as 83 people about the effect that the Little Master has had on them, although I understand there may be a little more to the book than just that. Suresh Menon has edited a collection of essays by various writers entitled Sachin: Genius Unplugged. I find myself wondering just how many writers are currently working on a "definitive" biography of Tendulkar with a view to that being first in the race to define his career following his eventual retirement. My guess is there must be at least a dozen now, but as it looks increasingly like they will have a few seasons yet before they can declare their hands, I shudder to think how many there might end up being. I will say now that I intend to limit myself to a mention of just two, whenever it is that the sad day comes.
With all due respect to Tendulkar, and indeed Bhattacharya, there is a much more interesting book due from the Indian market that being a biography of the man who many have suggested was capable of being Tendulkar's equal. Vinod Kambli – The Lost Hero, by Kunal Purandare, is a book I shall certainly make the effort to track down.
Jonathan Smith, father of former Kent, Middlesex, Cambridge University and England batsman has written a book called The Following Game. I don't suppose this will be a conventional biography, after all it is counter-intuitive that a father write one about his son, but from the publisher's comment The Following Game is about passion and obsession. It's about cricket, family and poetry, but most of all it's about a father following his son's career in the public eye and the close relationship they share. suggests there will certainly be a biographical element to it.
One forthcoming Australian title to mention is Barry Nicholls biography of former Australian wicketkeeper and (once) skipper, Barry Jarman. Unfortunately for Jarman his opportunities were limited for most of his career by the excellence of Wally Grout, although he was eventually first choice briefly. It may well be that Jarman's 25 "appearances" as one of the first ICC Match Referees in the early 1990s will prove as interesting as his playing career during the dour 1960s.
And finally, at least for books about players, is a life of Brett Lee that is to be published next year. The book is written by James Knight, who wrote a biography of Mark Waugh, and indeed has already published one book about Brett Lee, albeit where he shared top billing with brother Shane. In truth I know little about this one, so will say nothing further for now.
There is still one autobiography left, that being Sticky Wicket by Malcolm Speed, who of course spent a decade as CEO of either Cricket Australia or the ICC. The preface refers to issues of …. corruption, chucking, technology, player behaviour, doping, terrorism, wars, politics, Zimbabwe and the emergence of India as a cricketing superpower that was prepared to use its muscle – I dare say the book will not be an easy read, but I suspect it will be an important one.
In the limited edition market Martin Tebay of Red Rose Books has embarked on the publication of a series of monographs on Lancashire cricket the first of which, an account of a game against Leicestershire in 1906, has already appeared and two more are due soon. They are published in editions of 25 and are small and inexpensively produced, however at less than ten pounds each they are a diverting read, assuming an interest in Lancashire cricket, and seem unlikely to fall in value.
On the subject of my beloved Lancashire I have just learned of the existence of Two Men for all Seasons by Roy Cavanagh. I am afraid I do not know a great deal about this, and have yet to track down a copy myself, but I understand it to be a booklet about two Lancashire and Everton double internationals, Jack Sharp and Harry Makepeace. I also dream that there may be a bulkier Lancashire title appearing later in the year – as a working title I would suggest The End of the 77 Years of Hurt. On that theme there is available a celebration of Nottinghamshire's County Championship triumph last year, What Do Points Make?, by local journalist and broadcaster Dave Bracegirdle, who had the pleasure of being with the team throughout the highs and lows of their successful campaign.
A particularly pleasing little book comprises reproductions of three early Sussex benefit leaflets by AJ Gaston which date back to before the Great War. The original leaflets are so ephemeral that only a tiny number of copies survive and I do not recall seeing a single one being openly advertised during my time as a collector. This limited edition of 50 copies, published by the Sussex Cricket Museum and Educational Trust, which has the benefit of an excellent introduction from Roger Packham and Nicholas Sharp, seems likely to prove a decent investment. I obtained my copy from Christopher Saunders, who may still have copies available.
Boundary Books have one title scheduled for release later this year. While EK Brown, Cricket Bookseller may not be as ambitious in scope as the publisher's last two efforts, "Echoes of a Golden Age", and "The David Frith Archive", this 40 page memoir by David Smith of Ted Brown will be a diverting read. For more than 30 years Ted Brown ran his business from Liskeard in Cornwall, and was universally respected. He closed the business just a few years before my time as a collector, thus I never had the benefit of his sage advice, but I have heard much about him and am looking forward to reading what is written by David Smith, a very capable writer and diligent researcher. The book is expected in a limited edition of 90 copies.
In Australia Ronald Cardwell, who has already produced a number of limited editions has, I am assured, more than 15 similar offerings pending. Whether all will see the light of day must be open to doubt but my sources assure me that one at least, an account of a game in which a man named Bradman scored one hundred runs in three overs, has been finished.
On a different level altogether, on the basis of weight anyway, is Volume 1 of a monumental work, First Class Cricketers in Australia, by Ray Webster, Warwick Franks, Ken Williams and Rick Smith, which covers the letters A-C, and is due soon in what is likely to be a limited edition of around 400.
There are a few tour books around, as far as the Ashes 2010/11 are concerned, but nothing on any other tour last year, although I would be surprised if we do not see a detailed account of Pakistan's visit to England last summer now that a trial date for Amir, Asif and Butt has been fixed given that, following the conclusion of the case, it will be possible to fully report the proceedings without publishers taking the risk of finding themselves in contempt of court. As to the Ashes we have already reviewed Gideon Haigh's wonderful book. I do not intend to read any of the others, at least not the traditional sort of accounts, although I am sure that those bearing the names of Jonathon Agnew and Andrew Strauss will have something to offer. The one that might tempt me is Australian Autopsy by Jarrod Kimber, he of the "Test Match Sofa" team, whose irreverent book about 2009 certainly had its moments.
What does appeal to me is Jardine's Last Tour which is written by Tim Heald and published by Methuen. Anyone who doesn't know their Jardine will probably be thinking that another book on Bodyline is the last thing cricket literature needs. However Jardine also captained England the following winter, that of 1933/34, on the first ever Test tour to his birthplace, India. A tour undertaken by what was very much an England second, or perhaps more fairly third team, sandwiched between the momentous Ashes series of 1932/33 and 1934, was never going to linger in the memory and so it is that it is almost forgotten. That said there was some good cricket played by some fascinating characters. I am sceptical as to whether at this distance in time Tim Heald will have uncovered too much that is new about the tour itself, but the raw material that the likes of Nobby Clarke, Ticker Mitchell and Fred Bakewell give him on the English side, and Amar Singh, Vijay Merchant and Lala Amarnath on the Indian, not forgetting the "Iron Duke" himself, really ought to make this book rather special.
I will also mention at this point Mike Harfield's Spirit on the Water. Not exactly a tour book, but a book about tours, in a fairly loose but literal sense. All in all an enjoyable journey through cricket history that we have already reviewed here.
May 2011 saw the publication of a particularly fine collection of photographs in the form of Adam Powley's When Cricket Was Cricket, which I reviewed here two weeks ago. Another coffee table book is Australia – Story of a Cricket Country which is edited by Christian Ryan. If it is anything like as good as Adam Powley's offering readers will have reason to be grateful to Kim Hughes' biographer.
Cricket's seamier side has proved popular with publishers for more than a decade and Caught Out by investigative journalist Brian Radford has just appeared. It sounds like an interesting read, the publisher's blurb promising Caught Out shines the light upon the most extraordinary cricketing tales, including the tragic death of Pakistan coach Bob Woolmer, whose body was discovered in his hotel room; the disgraced former South African captain Hansie Cronje, who was killed in a plane crash in 2002; the terrified Pakistan wicket-keeper who was forced to seek asylum in Britain after fleeing angry bookmakers; and how slippery England literally licked the Aussies with Murray Mints to bag the Ashes.
On a not dissimilar tack to Radford's book is Guy Fraser-Sampson's first cricket book, Cricket at the Crossroads which re-examines a decade of controversies in the game over the period between 1967 and 1977, which began with Brian Close's sacking as England skipper and ended with "The Packer Affair". History is one of those subjects that is almost always best served cold and, my earliest cricketing memories dating from that period, I am looking forward to reading the thoughts of a man who is a financial consultant by profession.
Gulu Ezekiel, who has been writing about cricket, and the Indian game in particular, for more than 30 years is publishing a collection of writings entitled Cricket and Beyond. Gulu has previously written biographies of Sachin Tendulkar, Sourav Ganguly and MS Dhoni, so has an impressive pedigree, and by all accounts displays within the covers of this work that he is no IPL enthusiast.
…….. and finally I come to Britain's Lost Cricket Grounds: Forty Hallowed Homes of Cricket That Will Never See Another Ball Bowled by Chris Arnot which is due in October. I first heard of this book some time ago when CW favourite Stephen Chalke was involved in the project and although I have to report that Stephen wasn't ultimately able to proceed with the book I confidently expect this to be a beautifully illustrated and original piece of work and, for those of us who value the game's heritage, an essential purchase.
Twice a year CW looks forward to those cricket books due in the months ahead. Inevitably in this sort of exercise books will be overlooked. If any publisher or author reading this has a book we have missed please let us know and if you would like CW to review your books and/or announce your future plans at the end of December 2011 then please contact us at info@cricketweb.net, which email address can also be used by any prospective purchaser seeking further information. As ever this article is as comprehensive as it is only as a result of assistance from others and, in particular on this occasion, Roger Page, Stephen Chalke and Mike Down