New Books – An Overview for January 2014
Martin Chandler |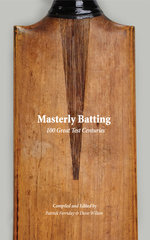 After the heavy crop of new titles that I was able to locate in July this feature has proved to be something of a disappointment. I hope the lull is a temporary one, and that the optimistic note that I began this feature with in July was not misplaced, but only time will tell.
First of all I will look at some books that have already seen the light of day in recent weeks, and will start in South Africa. Long-serving wicketkeeper Mark Boucher with assistance, no doubt considerable, from experienced writer Neil Manthorp, has published an autobiography, Bouch. Boucher played Test cricket for 15 years and played a vital role with bat and gauntlets throughout that time and saw all the many controversies that affected his country over that period. Let us hope that, the book being published following Boucher's retirement, that he feels able to give a full and frank account of his time in the game.
Another biographical work, this time with thirteen different subjects, is Jacques Kallis and 12 Other Great South African Cricket All-rounders by David Williams and former Springbok skipper and well-known administrator Ali Bacher. Kallis, who perhaps surprisingly has not, to date, been the subject of a full length book is understandably the headline act, and the appearance of his name will doubtless sell plenty of copies of the book. Personally however I am looking forward rather more to reading about some of the more forgotten men, particularly Jimmy Sinclair from South Africa's earliest days, but also Tiger Lance and Eddie Barlow from the 1960s. As for Kallis I suspect that, now his Test career is over, an autobiogrphy will follow in the not too distant future.
The Pacemen: 100 Years of South African Fast Bowlers by Drew Forrest covers the stories of 32 speed men. By necessity these essays will not amount to anything like full biographies, and will doubtless do no more than scratch the surface with the likes of Dale Steyn, Alan Donald and Makhaya Ntini. On the other hand if researched diligently it will be fascinating to learn more about the likes of Buster Nupen, JJ Kotze and, hopefully, Norman Gordon, who celebrated his 102nd birthday in August of this year.
Whilst on the subject of South Africa I shall also mention Tony Greig: Love, War and Cricket. We did of course have a splendid biography of the former England captain from David Tossell in 2011, so at first blush another so soon after his death seems superfluous but, uniquely for a cricketing biography, this one is written by its subject's mother and son, Joyce and Mark, so I am confident there will be room on any cricket lover's shelves for both.
On a very different note Brand Botham has produced Beefy's Cricket Tales: My Favourite Stories from On and Off the Field, a book which I have already seen in what we used to call remainder shops, and sounds and indeed looks wholly unappealing. I did however pick up a copy in a bookshop the other day and a brief look suggests that this may be one of those occasions when one should not judge a book by its cover. There are many and varied contributions from a number of sources, and some new light cast on past controversies as well as the humour that the title and cartoon-style cover promise.
A couple of recent Ashes protagonists have produced autobiographies. Ricky Ponting's mighty tome, At The Close Of Play, weighs in at a prodigious 704 pages. In comparison a mere 400 pages from Mike Hussey's Underneath the Southern Cross, virtually the same title as David Boon's second autobiography, seems almost like a pamphlet. I am sure both will sell well in the Southern Hemisphere. Another Australian Test player, former quick Damien Fleming, has lent his name to Bowlology: Cricket, Life and Stories from the Avenue of Apprehension. It seems to be one of those humourous "loveable larrikin" type volumes that, based on the number that are published, must be popular in Australia. It will inevitably contain some autobiographical elements, but I must admit to having been under the impression that "Bowlology"* was a serious theory, so the book will doubtless be a bit of a mixed bag.
In October I waxed lyrical about Grahame Lloyd's Howzat? The Six Sixes Ball Mystery, an intriguing story I described as the most original cricket book published in years. I am pleased to note other reviewers have agreed with me, and once again wholeheartedly endorse a fine piece of work.
Just last week I turned my attention to another "different" cricket book, Saving the Test, which marks Mike Jakeman's bow as a cricket writer. It is not quite so entertaining as Lloyd's effort, and its subject matter has been touched on by many authors, commentators and journalists, but it is an important and thought-provoking work nonetheless.
The Wisden stable has produced an excellent anthology, The Essential Wisden, which well and truly floated Archie's boat as well as a rather splendid looking "coffee table" book Wisden Cricketers of the Year: A Celebration of Cricket's Greatest Players. They are edited by John Stern and Simon Wilde respectively, although in Wilde's case he has substantially rewritten the original essays, so his role is more akin to that of author. For next year there will of course be the 151st edition of the Almanack itself to enjoy in April, but the imprint has also now confirmed the release in May of Andrew Renshaw's labour of love Wisden on the Great War: The Lives of Cricket's Fallen 1914-1918.
A total of 289 men who had played first-class cricket are listed on the Commonwealth War Graves Commission's roll of honour; of these, 89 did not receive a Wisden obituary. Many had played only a match or two in countries which were beyond Wisden's horizons at that time, eg for Europeans in India, but among them are Claude Newberry who played four Tests for South Africa against England in 1913-14; Tony Wilding, better known as a Wimbledon champion; Leonard Sutton who played 17 matches for Somerset; Norman Callaway who scored 207 in his only innings; and Hampshire's Harold Forster who won more medals for gallantry than any other county cricketer. gives a flavour of what the book is about. At 560 pages it is certainly a heavyweight, and I suspect that Archie and myself will be two of the not inconsiderable number of cricket lovers who will be unavailable to friends, family and Cricketweb for a couple of weeks after the book appears. So hopefully Mr Renshaw will do the decent thing and provide us with a couple of reviews to tide us over – no pressure Andrew – choose your own titles!
Also due from Wisden are Elk Stopped Play: And Other Tales from Wisden's Cricket Round the World, described as A celebration of cricket's furthest outposts and frontiers as documented annually in the Wisden Cricketers' Almanack and a new departure, a monograph from Fred Trueman's biographer, Chris Waters, about Hedley Verity's remarkable spell in 1932 when he took 10-10 against Nottinghamshire, County Champions just three years earlier, at Headingley.
To get back to books that have already been released the Almanack may have had the highest profile 150th birthday celebrations last summer, but was not the only one of the game's great institutions to reach such a venerable age. Also celebrating were Yorkshire and Joe Sayer's diary of their summer, which included an ultimately unsuccessful tussle with Durham for the Championship, was published at the beginning of November.Rose Tinted Summer: The Dressing Room Diary is the title, and it is published by Great Northern Books, making a welcome return to cricket publishing.
Christopher Saunders Publishing have recently published Those Were the Days by John White, a book which, thanks to the Ashes and the need to earn a living, I have yet to read. Mr Saunders sets the scene very well in his catalogue, so I shall quote him in full, as a boy John White lived in Royston, the same West Riding village as Norman Yardley, and getting the autograph of the Yorkshire captain was the start of his life-long fascination with Yorkshire cricket and its characters. With a foreword from Yardley's son Ed and photographs from the Yardley albums, this unique book takes us from the author's childhood in Royston, with much about Norman Yardley's life and career, to his exile in the south. It continues with a potted history of Yorkshire cricket, illustrated with over 800 items from John's personal collection of pictures, photographs, postcards, press-cuttings, clothing, and his first love, cigarette cards.
And finally looking forward to next year I have news of some of our favourite writers. Gideon Haigh is going to produce one book on the two back to back to Ashes series of the year, the first of which I shall enjoy looking back on rather more than the second. Also due is Uncertain Corridors: The Changing World of Cricket which is sub-titled writings on modern cricket. It will of course show Haigh's versatility. Part of the publisher's blurb refers to a decline in interest in the game in Australia, which is a very bad thing, although I have little doubt that trend will now have reversed, for the worst of reasons, in the eyes of myself and my countrymen at least.
So the current master Anglo-Australian scribe is active, and so too is his predecessor, as Patrick Ferriday's imprint Von Krumm Publishing will follow up Masterly Batting with Frith's Encounters, a collection of the articles bearing that name that have appeared in The Wisden Cricketer over a number of years. As for our favourite modern storyteller, Stephen Chalke, neither he nor his imprint Fairfield Books are due to publish anything this year, but Stephen is working on a history of the County Championship for 2015 release. Such a book is long overdue, but the consolation is that having got off the ground it is now in the safest possible pair of hands.
Pitch Publishing, responsible for fine biographies of Maurice Tate and Percy Jeeves in 2013, will be publishing a new biography of Tom Graveney in the spring, Touched by Greatness. There are plenty of books by or about Graveney already. Three volumes of autobiography and a 1992 biography by Christopher Sandford are a start, but in addition there is a bulky volume in the ACS Famous Cricketers Series, as well as an account of Graveney's time as MCC President that was published by Stephen Fay in 2005. What has the book got to offer? Pitch's promotional material reads Oft misunderstood, the character behind the legendary raconteur's affable facade is now effortlessly unlocked in this first-hand account of his life by close friend and fellow former professional cricketer, Andrew Murtagh. The details of many incidents, anecdotes and controversies have never before been shared – sackings and banishments, redemption and a glorious international 'second coming' – revealing Graveney as a fount of cricketing insight and as a true entertainer, at the fireside as at the crease. As Murtagh's second career was as an English Master at Malvern College, and he has had his subject's full co-operation, it does seem that this will be the definitive account of the life of one of England's senior Test cricketers.
From the ACS Lives in Cricket series I can confirm that February will see the publication of Leicestershire stalwart Ewart Astill's biography. Derbyshire's Donald Carr and the South African captain in the 1912 Triangular Tournament, Frank Mitchell, will follow in May. I understand that Max Books in Lancashire will be producing a joint biography of the Red Rose County's spin twins from the 1950s, Roy Tattersall and Malcolm Hilton. Tattersall was much under-rated, and Hilton never quite managed to live up to the expectations brought about by his, at just 18, dismissing Don Bradman twice in Lancashire's game against the 1948 Invincibles. I shall look forward to that book as will Lancashire supporters of a certain age everywhere, but for the wider world a biography of Bob Barber that is being written by Colin Shindler will doubtless appeal more. Barber achieved much in his life outside the game and his story will be a fascinating one.
In the Southern Hemisphere there are some interesting forthcoming items in Roger Page's latest list. Some time ago Roger kindly provided us with a review of Bill Francis' biography of an early New Zealand captain Tom Lowry. It was an excellent book, and tricky now to track down, so I expect Roger to do a brisk trade in the 150 copies of Francis' follow-up, a biography of Sidney Smith who toured England with the 1906 West Indians, remained to play for Northants, and then moved on again to New Zealand where he played for Auckland. He was a fine all-rounder.
I also like the look of a book by Max Bonnell about a very early Australian cricketer, John Kinloch, another limited edition, this time of just 100 copies. Roger also lists two forthcoming books about MS Dhoni, which I don't suppose will be any substitute for our own Gulu Ezekiel's, and one about Sachin Tendulkar. That one is surely the lull before the storm. In July I will note a further edition of Gulu's life of the great man if there is to be one, but I do not intend to mention specifically each and every one of the competition. I would not be surprised if the number of those ran into double figures.
Although there is no evidence to suggest that tour books are coming back into fashion, there is no sign of interest in one particular Ashes series, that of 1932/33, declining any time soon, and yet another book on the series is scheduled for release in April of next year. Cricket and Empire (RLE Sports Studies): The 1932-33 Bodyline Tour of Australia is written by Ric Sissons and Brian Stoddart. What can possibly be written of the "Bodyline" tour that hasn't been written before? Very possibly nothing, as although I have not been able to track down much about the book I strongly suspect that it will just be a revised edition of a book by the same authors with a very similar title that was originally published back in 1984**.
Court and Bowled: Tales of Cricket and the Law by James Wilson is also due to put in an appearance in 2014. Interestingly the publishers do produce legal texts for practitioners, so I would think that the book will be of special interest to lawyers. Whether it can be as engaging or well written as John Scott's 1989 book Caught in Court is doubtful and I do fear, as the two books seem to cover much the same ground, that Wilson's effort may struggle to stand out from retired solicitor Scott's superb book. But I shall certainly approach it with an open mind.
Chris Arnot is a man who specialises in seeking out historical information about places and things that are long gone. He has already done mines and, separately, beer and breweries. On a sporting theme he has looked at lost cricket grounds, and indeed lost football grounds. Next spring will see a variation on the cricketing theme, Britain's Lost Cricket Festivals, of which there are many. There is clearly a market for these very well illustrated books and I am looking forward to seeing this one.
There is one more book that I think, on reflection, I will mention, as its subject matter is important. Wounded Tiger: The History of Cricket in Pakistan runs to 416 pages and, written by Peter Oborne, he of an acclaimed 2004 biography of Basil D'Oliveira, sounds like it will be an invaluable book for all who love the game. It is published by Simon and Schuster whose website appears to confirm that a print version will be available, which is a matter of some relief given that the Amazon listing seems to suggest it will be an ebook only. I fear the advance of the ebook is unstoppable, and I dare say they have their uses, but we at Cricketweb are really not at all keen, and the prospect of an important book such as this one not being available in a format I can put on my shelves fills me with dread.
And finally, not a book at all, but as we are on the subject of cricket literature well worth mentioning. Mike Down of Boundary Books has produced some wonderful catalogues of books for sale in the past, and regularly sends out themed email alerts to those on his mailing list. Last time he sent out a lengthy list he also talked his customers through the available items on his own youtube channel, in my opinion a terrific idea, and a resource which I hope he will regularly add to.
* Martin seems not to fully understand Australian humour – Bowlology is a something of a catch cry of Fleming's, and is not said in anything but a trivial and amusing way – Archie
**Ric Sissons has confirmed to me that this title is a reprint and not a new edition – Archie
Twice a year CW looks forward to those cricket books due in the months ahead. Inevitably in this sort of exercise books will be overlooked. If any publisher or author reading this has a book we have missed please let us know and if you would like CW to review your books and/or announce your future plans at the end of June 2013 then please contact us at info@cricketweb.net, which email address can also be used by any prospective purchaser seeking further information. As ever this article is as comprehensive as it is only as a result of assistance from others and, in particular on this occasion, Roger Page, Stephen Chalke, Roger Moulton, Andrew Renshaw, and Mike Down