New Books – An Overview for January 2013
Martin Chandler |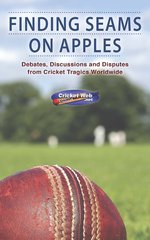 One of the trickier problems that I confront each time I sit down to begin this article is where and how to start. Do I start with the big names and likely top sellers, those most likely to achieve critical acclaim, or do I just arrange the books by genre?
There is no such problem this time however as I must, naturally, introduce first of all what is destined to be the cricket book of 2013, Finding Seams on Apples is the title, and the sub-title Debates, Discussions and Disputes about Cricket. The book will be published in April by an imprint of Quiller Press and breaks new ground, consisting as it does of some of the most profound thoughts on our great game that have ever been reduced into writing. My enthusiasm for this particular project may in part arise out of the fact that the book is a collection of our forums' most entertaining threads, although I like to think I am not quite so shallow as to allow self-interest to completely cloud my objectivity!
After that announcement everything else inevitably seems somewhat banal, but there are still some other forthcoming titles that will make the cricketing bibliophile want to reach for his plastic and I will start with biographies and autobiographies. In the case of the latter there really aren't very many, and indeed at this stage I can find but two, the first being 80 Not Out by Harold "Dickie" Bird. To those of my generation Dickie needs no introduction but, perhaps, as it is getting on for twenty years since he stood in a Test I should just mention that he was, arguably, the foremost umpire in the game for a couple of decades before becoming a professional Yorkshireman in retirement. The measure of his success at both is probably the fact that to my certain knowledge there has been one previous book entitled My Autobiography, as well as at least three others of a not dissimilar ilk. The lad has done well though. His publisher is Hodder and Stoughton, one of the big players.
Another of the major publishers, Simon and Schuster, have an autobiography from David Gower pencilled in to their schedule for August. It is now just over twenty years since Gower's last auto appeared. That was a well-timed post Test retirement book so, his not having played any cricket of note in the interim, I would have thought there will have to be a good deal of rehashing of old material. But there are a generation of readers out there who have grown up since Gower – The Autobiography went out of print so I am sure there will be plenty of eager purchasers for the life story of a man who will always remain for me, despite the occasional frustrations, one of my favourite batsmen.
Biographies are usually much more rewarding than autobiographies but publishers have, with one notable exception, shown an increasing reluctance to enter the field and there has been a worrying slowdown in the number released in recent months. Sadly the downward trend continues although, thankfully, so does the excellent output, both in terms of quality and quantity, of the notable exception. But before we get to the ACS Lives in Cricket series I shall mention the other titles I am aware of.
First for a mention is Ric Sissons life of the great Australian bowler of Victorian times, Charlie "Terror" Turner, that is due for release in Australia any minute. The book is published in a limited edition of 500, although I would expect that to amount to plenty to go round. Turner played in 17 Tests, almost half of them with JJ Ferris. Another experienced Australian author, Max Bonnell, is releasing a biography of Ferris (who also played a solitary Test for England). Ferris died in 1900 in South Africa aged just 33 so he is a rather more elusive character. The 125 copies of his biography that are being released are, with all due respect to Sissons, a "proper" limited edition. The title of Bonnell's book is Something Uncommon In The Flight.
Due next May is an unauthorised biography of Brian Lara by James Fuller. There have been a couple of books about Lara in the past, one by Brian Scovell, a man who knew him well having previously "assisted" to write his autobiography, and the other, published in the Caribbean, by Clifford Narinesingh. From what I have observed over the years Lara is a genuine enigma, and while I am doubtful whether an unauthorised biography will properly capture the essence of the man, I do think another attempt at writing his life story is worthwhile.
Our old friends at Sportsbooks are, in February, publishing a biography of Willie Watson, written by Frank Garrick. Watson was one of the dozen men to have played both football and cricket for England, yet despite being half of one of the most famous rearguard actions in cricket history (with Trevor Bailey at Lord's against Australia in Coronation Year) he has slipped out of the game's consciousness in recent years. I am certainly looking forward to this one, which will be a perfect complement to the same publisher's 2011 biography of Arthur Milton, chronologically the last of the double internationals.
John Wisden played his cricket before Test matches began, and despite being one of the leading players of his day he is rather better remembered now for the Almanack that bears his name and makes its 150th consecutive appearance in April 2013. To mark the event a biography of the "Little Wonder", written by Robert Winder and published, of course, by the firm that bears his name, will appear at the same time.
Author, commentator and noted raconteur Henry Blofeld was a First Class cricketer, and during a stomach bug epidemic on a tour of India in the 1960s almost made a sensational Test debut to make up England's numbers. "Blowers" autobiography is pencilled in for October, and will doubtless appeal to some.
In India Makarand Waingankar has published a small book, Yuvi, about his good friend Yuvraj Singh. I believe there is also an autbiography, doubtless rather more substantial, due in 2013 from the man who looked at one stage as if he might be able to join the very best, but never quite has.
Only just available is a "book" that I have to say causes me a good deal of concern. Wally Hammond – Gentleman and Player by Roderick Easdale is very possibly a good read, although how it could add anything to David Foot's masterly WallY Hammond – The Reasons Why rather escapes me. But what is worrying is that as far as I can see the book is only available in an electronic version so, as I have no intention of buying an ereader, I won't be able to comment further – I do hope that this doesn't start a trend, although I fear it may, as this effort adds to another offering of Easdale's, about The Don, that the same publisher released a few weeks ago. When I made these discoveries I have to confess that, in some ways to my shame given the context in which they are usually quoted, the first words that popped into my head were the well known ones of Heinrich Heine Where one burns book one will, in the end, burn people.
But on a happier note I now come on to the Lives in Cricket series, which I am confident will continue to appear in print for a long time yet. Just released is a volume about Australian Keith Carmody, he of the umbrella field. Carmody's cricket career was relatively modest in terms of achievement, but more interesting is his PoW diary, from 1944 and 1945, when his camp in Poland was eventually liberated by the Soviets. He played in a Victory Test only days after getting back to the UK. Tony Barker, an academic in Western Australia, whose professional expertise includes War history, is the author.
Next on the schedule, in March, is A.N.Hornby by Stuart Brodkin, a book I mentioned in July. Brodkin is a sports journalist, who has already contributed a book to the series on Johnny Briggs, so this will be different in style from Barker's more scholarly approach.
Douglas Miller's book on the only England captain ever to have been immortalised in a Monty Python sketch is out in June; MJK Smith is the ACS president and it is remarkable he has never been the subject of a biography before, although I understand he has declined offers in the past. Miller has written some excellent cricketing biographies in the past so like Robert Brooke's effort last year on Frank Foster, this one may well be award material.
For anyone who, like me, is a little disappointed that there are only two releases in the series in the first six months of the year, I can boost your spirits by advising that there may be as many as five in the second half of the year, so I will certainly have something to write about in July. The subjects jockeying for position in the release schedule include Walter Robins, Ewart Astill, Eric Rowan, Donald Carr, Jack Robertson, Bert Vogler and Syd Brown. That regarding Robins appears particularly promising. He was an interesting character anyway, but the author has also had access to a cache of correspondence that passed between his subject and Sir Donald Bradman about cricketing issues, which should make interesting reading. Robins was a leg spinner, and a good enough one to take more than 60 wickets in Tests. The Don apparently favoured the lbw law being changed to allow decisions to be given when the delivery pitched outside the leg stump – I will be surprised if the two correspondents were not ad idem on that!
There are also a few interesting limited editions about. The Sussex Cricket Museum has produced a couple of slim volumes, one about the County's very well known former player, Ted Dexter, and one about the rather less noted Rupert Webb. Red Rose Books have continued their welcome policy of issuing a number of booklets about interesting incidents and characters from the history of Lancashire cricket, Ted McDonald, Henry Cudworth and Johnny Tyldesley being just three of the men featured this year. The same publisher has also produced Squire Berners by Stephen Musk, the story of an early benefactor of Norfolk cricket.
One of our favourite publishers is Stephen Chalke's Fairfield Books. They had a quiet year last year, Stephen's memorable biography of Mickey Stewart apart, but we can expect a couple of books this spring albeit I believe nothing, sadly, from Stephen himself. That said a collection of essays by former Sussex captain John Barclay is bound to be a worthwhile read, and I am also interested by the other promised title, a history of the wandering clubs. Teams like I Zingari, the Free Foresters and their like have all had their stories published, but in many cases not for some considerable time, and in any event a look at the clubs together as a subject in itself is not something I recall seeing before.
In Australia the Cricket Publishing Company has various projects on the go but one that will certainly appear around February time is The Team That Never Played – Wahine And The Otago University Cricket Team 1968 by Ronald Cardwell and Bill Francis, the story of the eleven Otago players, and their frightening experience on ill-starred TEV Wahine and what has become of their lives in the 45 years since that fateful journey. I understand from Roger Page that there will be two editions, a standard hard-back (128 pages) and a limited edition of 45 copies bound in blue leather, and signed by the authors and selected members of the Otago University team. Due a little sooner is Clem Hill's 365, a small book about the great man's most famous innings. This is a limited edition of 100 copies, and the author is Bernard Whimpress.
In July, for once, I missed relatively little and that which was overlooked, a book about former Indian off spinner Ghulam Ahmed, I have since made up for by reviewing it,here, .
The demise of the tour book is in evidence again this year, although for obvious reasons I expect a renaissance next year. I can find nothing on recent tours, and just Gerry Wolstenholme's welcome little book on the ,1911 Tour of India, from the past, and even that is a bit left field, harking back as it does to 21 years before the Indians first played Test cricket.
But the 2013 Ashes will doubtless show in due course the genre does still have a bit of life in it, and the publishers are already girding their loins with a couple of general "Ashes" books on the way, those being Tuffer's Alternative Guide to the Ashes and The Ashes According to Bumble. I will assume that I do not need to introduce the writers of those books, or perhaps more realistically those whose names are credited with their authorship. I cannot see either book being too scholarly in its approach to the matter in hand, and for those that like that sort of thing there is also a new edition of Simon Briggs Stiff Upper Lips and Baggy Green Caps: A Sledger's History of the Ashes. Being a bit of a traditionalist I do struggle sometimes with books that attempt to introduce some levity into the game, and I don't really relish the idea of either of the two new ones, but I must confess to having spoken to some who rated the first edition of Briggs' effort as very entertaining.
Rather better I suspect will be When Cricket Was Cricket: The Ashes: A Nostalgic Look at a Century of the Greatest Rivalry. If it is the sort of book that Mr Powley's ,previous offering, was, and the similarity of title and the fact that the publisher is the same suggests it will be, then this will definitely be one to buy.
Turning now to the history of the game there is not a great deal of publishing activity in this area, although one book that is something of a landmark is Maids Versus Marrieds: A History of Women's Cricket by Isabelle Duncan that is due to appear in May. The publishers say that it "fills a yawning gap in cricket literature", which implies it is the first book on the subject to appear. That isn't strictly accurate, but it is a quarter of a century since the bulky history of Women's Test Cricket, The Golden Triangle, appeared and more than 60 years since Nancy Joy's Book, Maiden Over was published, so a definitive volume is long overdue.
Gentlemen and Players: The Death of Amateurism in Cricket, appeared in September and is due in paperback in April. While I wouldn't go as far as to say the subject is one that has been "done to death", it has certainly been visited on a regular basis over the years, and it will be interesting to see whether author Charles Williams has any new angles or new information. Lord Williams as he is better known has written a decent biography of "The Don", and was himself an amateur batsman good enough to appear for the Gentlemen as Mr CCP Williams in 1956, so if anyone can I suspect he is the man.
A new film has also breathed new life into the old World Series Cricket controversy and Christopher Lee's Howzat!: Kerry Packer's War is due out in the UK in May. I can't really see it being better than Gideon Haigh's The Cricket War, but that was first published as long ago as 1993, and although a second edition appeared in 2007 the whole story is, in my opinion at least, such an important one that there is plenty of scope for Lee's book to be as important as Haigh's.
Cricket has always had its troubles, although from to time the issues within the game resolve themselves only for new ones to emerge in their place. Samit Chopra has sought to address those issues in Brave New Pitch, a title that Gulu Ezekiel will be reviewing for us in the New Year.
In Australia Malcom McGregor has written An Indian Summer of Cricket, which sounds like it may be a tour book, but isn't really, certainly not in the traditional sense. I did ask Archie how to categorise the book, and his response was "Although the majority of the book is set during the Indian Test tour of Australia in 2011/12, and despite the title this is not an easy book to define. It is part autobiography and part one man?s journey from a young cricket tragic to an old cricket tragic with a 20 year gap in between when he lost his love of the game." Doubtless we will learn more once he has completed his review.
By way of a sort of follow up to ,Not in My Day Sir, a collection of cricketing letters to the Daily Telegraph, Martin Smith has plundered the paper's archives once again to edit The Promise of Endless Summers: Cricket Lives from the Daily Telegraph. The content consists, inevitably, of some obituaries, but also pen portraits, memoirs and appreciations penned by a variety of authors. Having enjoyed the previous offering I suspect that this one will be a worthwhile investment as well.
Moving on to the interests of the hardened collector Cardus: A Reader's Guide has just been published in a limited edition of 300. This is a little more than a bibliography, and a very useful outline of Cardus' writing career. On a lighter note the same publisher (Max Books) has produced a light-hearted booklet about Lancashire's title winning season of 2011 calculated, no doubt, to help supporters forget the travails of the 2012 season.
For the serious cricketing bibliophile Christopher Saunders Publishing will be producing a bibliography relating to Surrey cricket which will doubtless be welcomed by that section of the county's fanbase that appreciates the club's history. Of more general appeal is a history of and, hopefully, some sort of index to Cricket – A Weekly Record of the Game, a periodical that appeared between 1882 and 1914 and which is, particularly in relation to the final volumes, very difficult to find copies of.
Twice a year CW looks forward to those cricket books due in the months ahead. Inevitably in this sort of exercise books will be overlooked. If any publisher or author reading this has a book we have missed please let us know and if you would like CW to review your books and/or announce your future plans at the end of June 2013 then please contact us at info@cricketweb.net, which email address can also be used by any prospective purchaser seeking further information. As ever this article is as comprehensive as it is only as a result of assistance from others and, in particular on this occasion, Roger Page, Stephen Chalke, David Jeater, Christopher Saunders, Gulu Ezekiel and Mike Down