More Than a Game: The Story of Cricket
Archie Mac |
Published: 2007
Pages: 433
Author: Major, John
Publisher: Harper Press
Rating: 3.5 stars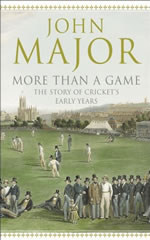 I knew John Major was a cricket fan but I had no idea that the former English Prime Minister was such a knowledgeable devotee of the history of the game.
This, his first foray into cricket book writing is an impressive debut, thoroughly and comprehensively researched it will be an indispensable volume to the serious cricket reader.
More Than A Game traces the history of cricket from its embryonic stage through to one of its most glorious periods; known as The Golden Age, which ended in 1914 with the out break of The Great War.
Mayor is happy to pour cold water on many of the excepted canons of cricket history, including what is considered the first written examples of the game.
The author believes the often quoted reference by King Edward I in 1300 of 'creag' has no relation to the game we now call cricket, and that the first most creditable reference is not until 1598, by an English coroner.
Although John Mayor suggests some former historians have been guilty of arrogating, he fails himself in providing much new information on the past great events and players of the game. The lack of a bibliography was also a minor annoyance.
The bibliography would have made it clear whether the author had used 'The Glory Days of Cricket' as a reference source.
One of the great mysteries of the old Hambledon club is the curious standing toast recorded in all of their clubs minutes; to 'The Immortal Memory of Madge'. Mayor writes: "who or what is 'Madge'? Is it an acronym? If so, for what? Was 'Madge' a woman, perhaps an abbreviation for Margaret? Or was it and in-joke among the club members?..the answer is hidden: we may never know".
Ashley Mote in 'The Glory Days of Cricket' refers to 'Madge' as being a slang term for the female vagina. It would have been interesting to read the view of Mayor on this theory which was also expressed by John Arlott (from memory).
The 1811 Dictionary of The Vulgar Tongue written by Captain Frances Grose, lists Madge as slang for a 'woman's sexual organs'
The book begins with a very interesting preface, in which John Mayor gives an account of his involvement in the game, and what cricket means to him personally. In fact Mayor was the driving force behind the belated rewarding of an MBE to Harold Larwood.
This book is much more then just a history of cricket, with many interesting facts about life in England during a fascinating period of humanity. If you want to learn about the great history of the greatest of all sports then I can highly recommend More Than a Game.