Match: South Australia v New South Wales 16-21 December 1927
Martin Chandler |
Published: 2019
Pages: 41
Author: Whimpress, Bernard
Publisher: WHIM Press
Rating: 3 stars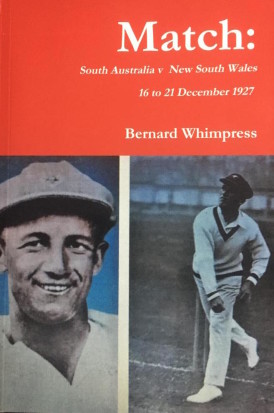 I am sure I was told some time ago now that Bernard Whimpress' next monograph would be about Electric Light Cricket. It is possible that I simply misunderstood the information I was given, or that it is one that I missed, although I don't think so. I also think it unlikely that a man like Whimpress has abandoned the project, so I'm guessing he's still working on it, although I'd like to know for sure.
But while I'm waiting Whimpress has come up with this interesting little booklet. The match in question was the First Class debut of Donald Bradman, playing for his native New South Wales against the state to which he would in due course switch his allegiance, South Australia. In setting the scene Whimpress makes reference to one contemporary publication that, in introducing the youngster, describes him as a capable batsman. The gift of understatement was clearly alive and well in the Australia of the roaring twenties.
As with most books on the subject of a single match Whimpress gives the background to the fixture and introduces the combatants before moving on to give a detailed account of the match itself. There was nothing pedestrian about this one. The young Bradman scored 118 and 33, but in the end South Australia, in a match that ebbed and flowed, ran out winners by a single wicket.
In addition to the description of the match Whimpress identifies a number of personal rivalries that were going on in the background and which were to endure for the rest of the careers of those concerned, and his assessments of those are what make this account as enjoyable as it is. At one end of the scale is the confrontation between the two captains, both of course fully established in the game, Alan Kippax and Vic Richardson. The other personal contests all involved Bradman; that with Archie Jackson, New South Wales' other bright young thing, with Bill Ponsford, the great accumulator of runs, with Clarrie Grimmett, the master bowler, and with Kippax, who for spectators evoked memories of Trumper.
Match: South Australia v New South Wales 16-21 December 1927 is a worthy addition to its author's oeuvre and is available from Roger Page for a very reasonable AUS$20 in a signed and numbered limited edition of 117 copies.