Mailey's Googlies
Archie Mac |
Published: 1921
Pages: 32
Author: Mailey, Arthur
Publisher: Graphic Publications Ltd
Rating: 3 stars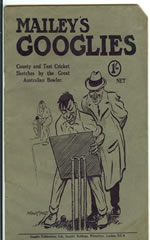 This little book of sketches by Arthur Mailey was released during the Australian tour of England in 1921. At just 32 pages with black and white covers and contents – apart from a splash of red in the adverts – it is not surprising that most copies published were thrown out or lost. Of those left the price is a steep $300.00 U.S. even given inflation it must be a significant increase on the original price of one shilling.
The 1921 Australian team was one of the most dominant in Ashes history. After defeating England 5-0 in the 1920-21 Ashes series in Australia, they extended that to eight straight Test victories back in England before the home team managed to draw the last two Tests (all the matches were of three days duration). If it wasn't for an old campaigner named Archie Mac organising a mainly amateur team at the end of the series to defeat them, they may have been the first ever team to go through England undefeated.
Mailey despite claiming a record 39 wickets in the previous Ashes series and claiming the best ever Australian Test figures of 9-121. He was left out of two Tests during the 1921 series. Perhaps the time on the sidelines gave him more of an opportunity to draw his humourous sketches. Mailey as in all of his work is the essence of self-deprecation. Often drawing himself as a poor bowler who is constantly barracked by the crowd and smashed by the batsman.
I am certainly not an art critic, but I know what I like, and even though Mailey's drawings at first look are rather basic, it is uncanny how he captures the personalities of his subjects. All of the players that I know by sight, are easily identified without having to read the captions beneath their image.
Arthur Mailey produced a number of these small sketch books over the years, through the 1920s, 30s and a couple in the 1950s, and it is a pity that no one has ever reprinted them, as the current prices especially those from the 20s and 30s, make their ownership limited to the serious cricket book collector. However if you can afford to collect these little books, I am certain you will enjoy them and will never lose money when it comes time to resell them.