Kevin Pietersen – The Biography
Martin Chandler |
Published: 2009
Pages: 191
Author: Veysey, Wayne
Publisher: Know The Score Books
Rating: 3.5 stars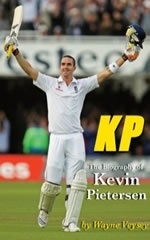 With assistance, no doubt extensive, from journalist Paul Newman, Kevin Pietersen, published a volume of autobiography in 2006, little more than one year after making his test match debut. In cricketing terms Pietersen is a superstar so it is hardly unusual for publishers to be bending over backwards to 'sign him up' and it is therefore, perhaps, surprising that it took more than two years for this, the first unofficial biography of Pietersen, to appear. The second such work is, apparently, pencilled in for an appearance in July and doubtless another book to which the man himself lends his name will be published in the not too distant future.
In this reviewer's experience the early autobiography of a cricketer is almost always a wholly unsatisfying read. Understandably the books are largely self serving and various contractual and practical considerations militate against the proper criticism of colleagues, opponents and administrators, and while such books presumably sell in volumes which keep publishers happy they tend to be of little assistance to anybody who has a genuine interest in their subject.
Unofficial biographies tend to be a better read. They are constrained only by the laws of libel, rather than the laws of contract and the natural reluctance of any young sporting celebrity to ruin his own prospects, but at the same time, they tend to suffer from the fact that the writer knows little more than the public persona of his subject and will seldom have had an opportunity to speak to the most important people in the subject's life in order to provide a real insight into the personality concerned.
In the circumstances it is fair to say that this reviewer did not open this book with high hopes, and indeed had it not been for the fact that it is published by Know the Score Books, who have an excellent track record in their brief history, it may not have been opened at all.
It is a hackneyed phrase but to say this book exceeded all expectations is entirely apposite. Author Wayne Veysey has done an excellent job. He has researched Pietersen?s career thoroughly and has clearly spoken to everybody who has played an important role in Pietersen?s story. He also, as far as this reviewer can see, has no agenda of his own and despite the question mark that appears in the title, Veysey confines himself to narrating the Pietersen story rather than passing judgment and the book is all the better for that.
Pietersen is not a man to shun publicity and many of his supporters, and indeed many who are not, believe they know all there is to know about him by virtue of what they have read in the press but such assumptions are always misplaced. It will doubtless come as a surprise to many to know that Pietersen was not, as a youngster, head and shoulders above his contemporises. Hard work and dedication appear to have played a significant role in his rise to prominence. The common perception of the quota system in South Africa, and exactly why Pietersen left are also misunderstood and while Pietersen's travails at Nottinghamshire were well documented in the press those stories, while on the whole accurate, failed, as such stories often do, to put matters in their proper context.
The greatest service this book does to the cricketing public, and indeed to Kevin Pietersen himself, is to tell his story objectively something which, by definition, his ghosted autobiography could never do. Pietersen emerges with considerable credit and anyone who reads this book, and anybody with an interest in the man should, will be grateful to Veysey for his efforts. The greatest compliment that I can pay is to say that I have little doubt that when, in a decade or so's time, Pietersen and his then ghost come to prepare his post retirement reflections on his career, that they will use this, and not the disappointing 'Crossing the Boundaries' as the basis for what they write of his early years.
In this Ashes summer, and indeed in many series to come, the CW Forums will no doubt contain a number of threads about Kevin Pietersen. If you have strong opinions on the man, and are inclined to post those, then it is recommended that you make sure you have read this book before doing so. If you do not then you will run the risk of being made to look rather foolish by those who have.