Joe Hardstaff: Supreme Stylist
Martin Chandler |
Published: 2010
Pages: 142
Author: Moulton, Roger
Publisher: ACS
Rating: 3.5 stars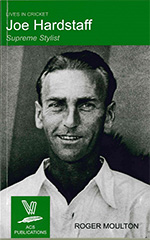 Joe Hardstaff, in fact all three of them, have always held a strong place in my affections. I have always thought of them as my allies, not that they have ever given me any real assistance in my valiant efforts to justify my actions, but at least by their existence they gave me some tacit support. What was it that I did? Well a quarter of a century ago I gave my name to my elder son, a nice touch so I thought at the time, and perhaps the start of a family tradition, as with the Hardstaffs. I think I can safely rule that one out though. The family always knew him by his middle name to avoid confusion, and the problems he has had with banks, educational establishments and, most embarrassingly for me, on one occasion when the Passport Office's reluctance to accept he was who he said he was almost ruined his first solo holiday, have convinced me that the idea was one of my worst ever, even if it was well-intentioned.
But back to the Hardstaffs. "Old Joe" played for Notts and England. He was a hard hitting batsman who the Australians christened "Hotstuff" when he topped the averages for the somewhat understrength England team that lost the 1907/08 Ashes series. He was a versatile man who bowled some useful quickish medium pace, was a brilliant fielder in the days when that was a rare talent, and would keep wicket on occasion. He went on to be a First Class umpire and stood in a number of Tests, the last in 1935, the series in which "Young Joe" made his international debut.
Turning to "Young Joe", despite losing what would probably have been his best years to the war he enjoyed a 23 Test career in which he averaged an impressive 46.74. His overall First Class figures include 83 centuries, and the war certainly robbed him of the immortality that membership of the "Hundred Hundreds" club would have given.
The career choice of "Young Joe's" son, inevitably Joe again, does not risk further confusion. Although "Young Joe Jnr" was offered terms by Notts in 1952 following a successful trial, he took his father's advice and pursued a career in the RAF instead. He rose to the rank of Air Commodore, so the decision must have been correct, but he clearly had a deeply ingrained love of cricket as in later life he was secretary of Middlesex. He played some good quality cricket and twice, for the famous wandering club the Free Foresters, he appeared in First Class fixtures."Old Joe" had also counselled "Young Joe" against a Notts offer, although that advice was rejected. Given that one of the real strengths of the book is that "Young Joe Jnr" gave Moulton his full co-operation it is surprising the reasons that under-pinned his father's advice are not made clear, particularly as the motivation for "Old Joe's" earlier disenchantment is explained.
Moulton's book follows the usual strictly chronological route that the biographies in this series generally take. The fact a good deal of material has come from people that Moulton has spoken to, rather than from the many books he has consulted are a great help to him in fleshing out "Young Joe's" story, although there a few areas where I would like to have known more. As mentioned one is the advice that "Young Joe Jnr" was given, and another is the story of the "mankading" which resulted in "Young Joe's" dismissal in a match in India in 1937/38. That may not seem all that important, but according to Gerald Brodribb's miscellany on the laws of the game, Next Man In, it was the first such incident in the 20th century. The fact that Brodribb's book is mentioned in Moulton's bibliography serves only to make the omission seem all the odder.
Also rather disappointing is that the reader does not learn whether "Young Joe" had a view on the famous "catch that never was" in the first Test of the 1946/47 series, when most on the ground were convinced that a struggling Bradman had been caught at slip by Jack Ikin. "Young Joe" seems, through no fault of his own, to have been treated pretty shabbily by the management on that tour, and generally Moulton does very well with that particular subject, but whilst it is one of the more interesting passages in the book it is another example of not quite getting to know what made Hardstaff tick.
There is a readily understandable reason for the character of "Young Joe" remaining somewhat elusive. In the war he served in the Burma campaign, and witnessed the horrors that, in my experience anyway, those who saw them were never prepared to discuss, despite being haunted by them for the rest of their days, and "Young Joe" was no different. There is a hint about some darker aspects to his character, but without the full co-operation of surviving relatives those can never be explored properly, and Moulton wisely chooses not to attempt to draw any inferences.
New and important information is always welcome and is provided in the chapter dealing with England's tour of West Indies in 1947/48, and the astonishing behaviour of skipper Gubby Allen towards "Young Joe", his senior professional on the trip. As previous publications about his letters home from Australia in 1932/33 and 1936/37 have shown there was a side to Allen that was nothing like that portrayed in the hagiography that EW 'Jim' Swanton published in 1985, and I will express again the hope that one day a book will be published from which a picture of the real Allen emerges.
That reappraisal of Allen is most certainly not within the scope of the Lives in Cricket series, but "Young Joe" Hardstaff was a very good choice, and retired teacher Roger Moulton has every reason to be proud of his first book.