Indian-Caribbean Test Cricketers and the Quest for Identity
Jon Gemmell |
Published: 2014
Pages: 250
Author: Birbalsingh, Frank
Publisher: Hansib
Rating: 3.5 stars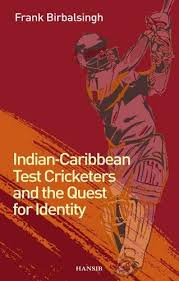 In May 2012, the West Indies selected six players of Indian-Caribbean origin, the first time a majority had come from this community. This volume considers this progress and looks at the role and impact of sons and grandsons of Indians who settled in the Caribbean and took up cricket at the highest level.
In order to compensate for the loss of slave labour, plantation owners imported indentured workers to do the work of freed slaves. Most of the 430,000 Indian migrants settled in British Guiana (now Guyana) and Trinidad. Their numbers proved large enough to rival the dominant African descendants there, introducing an inevitable conflict of interests. Many blacks considered that as they endured the prolonged agony of slavery then they were the natural inheritors of political power. Indentured workers might have been victims of colonialism, but they arrived following the horrors of bondage, as temporary workers. Indians felt further excluded as they did not fit into the black/white category and because their speech, religion, dress and diet made them different. They also brought with them traditional disparities by region, language and caste, and thereby a legacy of division.
Following on from this historical context, Birbalsingh's work uses chapters to consider the role of key cricketers from the Indian-Caribbean community. Sonny Ramadhin was the first to play Test cricket. In contrast to the elite upbringing of many white players, black and Asian cricketers endured a humbler experience. Ramadhin, for example, was raised by his grandmother and earned a living working as a storekeeper. When he toured England in 1950, not only was it the first time he had been on a ship, but it was also the first time he had left Trinidad. Len Hutton described him as the best bowler he had faced, and this helped change prejudices against spin bowling as well as making Ramadhin a role model within his community. His part in the first West Indies win on English soil also helped shift the image of Indian-Caribbeans from 'despised agricultural coolie' to participants in the struggle for a West Indian identity.
This social setting makes the chapter on Ramadhin the strongest in the collection. At times there is the tendency to reel off statistics on individual matches, which could easily have been lifted from Wisden. This is something that Rohan Kanhai no doubt would have considered as 'dull reading' claiming to have never paid any attention to the record books. He was renowned for a stylish approach which he insisted was natural rather than coached. The first West Indian to hit a century in both innings of a Test match in Australia, both Richie Benaud and Sunil Gavaskar considered Kanhai better than Garry Sobers. His brief sojourn as national captain came to an end when Clive Lloyd assumed the reigns, due, according to some, to the political intervention of Guyana's Prime Minister Forbes Burnham – a move, claims the author, of racial loyalty (considering Kanhai was also Guyanese).
Joe Solomon's chief moment of notoriety came with the run-out of Alan Davidson and Ian Meckiff in what Frank Keating described as 'probably the most dramatic international cricket match ever played.' Like Ramadhin and Kanhai before him, Solomon began life as a 'rustic coolie' and his fielding owed at least a little to his outdoor upbringing. If Solomon is most remembered for the tied Test, Alvin Kallicharran's path will forever be entwined with political controversy for playing in apartheid-South Africa. That he refused to apologise, deeming he did nothing wrong meant that his rehabilitation into the cricketing fraternity has taken longer than others who took the rand.
A study of this kind inevitably explores the issue of discrimination. Ivan Madray appeared in two Tests against Pakistan in 1958, but lost his place to (white) Willie Rodriguez, despite claims that he was 'the best leg-spinner in the West Indies.' Ranjie Nanan was selected for only one Test against Pakistan in 1980, yet between 1972 and 1990 took more wickets in the domestic cricket than any other bowler. As many Indian-Caribbean players were spin bowlers, the reliance on pace has been viewed in some quarters as a strategy of ethnic alienation. Between February 1982 and March 1994, no Indian-Caribbean cricketer was selected for the West Indies. This was a team, marked Viv Richards, of 'African descent.' Claims of institutional discrimination, though, are difficult to substantiate considering the success of the pace approach.
Yet, whilst Ramnaresh Sarwan accepted the co-existence of different views, cultures and religions, he felt that cricket bound the Caribbean together. This view is clearly taken by the author who concludes that cricket has made the 'greatest headway toward overcoming the historic insidiousness of disorder, discontinuity and divisiveness in the Anglophone Caribbean.' It is these concluding themes that I would like to have seen fleshed out a little more throughout the work, alongside evidence for claims of inequity. But this remains a valuable contribution to anyone interested in the social history of West indies cricket.