In Sunshine and in Shadow
Martin Chandler |
Published: 2017
Pages: 256
Author: Chalke, Stephen
Publisher: Fairfield Books
Rating: 5 stars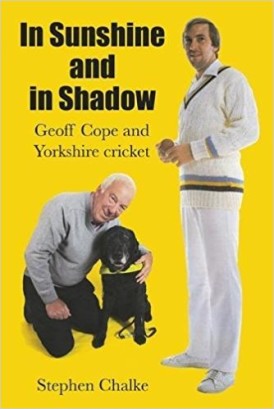 The thought did cross my mind that Stephen Chalke might have shot his bolt with Summer's Crown, the history of the County Championship that he published back in March 2015. Prior to that he had proved beyond any doubt that he could write beautifully, but his had not been the sort of writing that involved many hours of detailed research amongst dusty tomes. Indeed his greatest strength was in avoiding that approach altogether, and culling his material from the memories of those who were in the thick of the action.
When you have a talent you use it, and Stephen went about his work for Summer's Crown in much the same way as previously, but there was no getting away from the fact that he had to put in some hard yards on that one, and in doing so he demonstrated he is just as adept at marshalling historical information as he is at teasing stories out of former cricketers and their families. But he must have been tired when he finished, and I was not at all surprised that we heard little from him for two years.
For his next project Stephen has gone back to what he made his name doing, working with interesting cricketers to get their lives and thoughts into print. As a result Geoff Cope of Yorkshire and, briefly, England, joins Keith Andrew, Tom Cartwright, Ken Taylor, Mickey Stewart, Geoffrey Howard and Bob Appleyard in the Chalke oeuvre. If anyone shared my concern that the well of inspiration may have begun to run dry they need not have worried. The only slightly frustrating thing for a reviewer faced with In Sunshine and in Shadow is how to convey the message that not only has its author produced another five star book, but that in doing so he has produced his best work yet.
Cope was a decent cricketer who played for Yorkshire between 1966 and 1980, sufficient in itself to produce an interesting story. Beyond that however is the back story of the frequently repeated allegations of throwing, a remarkable Test debut and a life outside the game which, whilst not being packed full of drama, contained enough thought provoking features to add much to the story. Above all however Cope was a people watcher. He understood what he saw, kept an open mind and, importantly for these purposes, has an excellent memory. There must be a real art to marshalling the thoughts of others in the way that Stephen always does, although so skilfully is it done here that his reader gets the impression that all he had to do was point Cope in the right direction, push a button or two, and then sit back and make notes for a few hours.
I remember the controversy about Cope's action well, and in particular more than once sitting with my father in front of the television with both of us peering from a variety of angles at the, in relative terms, fairly poor quality pictures of the time. Neither of us were ever able to work out what the problem was. My brother was too young too fully understand what we were up to, and I suspect has been scarred for life as a result, as there have only been a handful of off spinners in the forty or so years since whose actions have escaped his criticism. It does not come as a shock that the constant interruptions to his career had a profound effect on Cope. Rather more surprising is that the powers that were that put Cope in the dock simply told him to fix the problem, without ever really explaining what they believed it was.
One of the rewarding aspects of the mining of Cope's memory banks is the new light it shines on corners of the lives of the game's best known figures about whom many thousands of words have been written already. Cope on Close, Boycott and Illingworth was always going to be worth a read. Cope on Trueman puts the great fast bowler in a new, rather warmer light, and Cope on Worrell is a delightful story.
Away from the more familiar subjects there is the hat trick on Test debut that wasn't, and the relationship with the man who became Cope's second father, Johnny Wardle, who spent many hours with Cope supervising the remodelling of his action and reassuring him. Outside the game the importance in Cope's life of his parents and the roles they played in his formative years and subsequently of his wife and children speak volumes for the man. Of much interest too is the story of Cope's career outside the game in the paper industry, and the losing battle with retinitis pigmentosa he has been fighting for many years, with the consequence that at 70 he is now nearly blind.
As with all of Stephen Chalke's books In Sunshine and in Shadow is exceptionally well produced. It has a good index, a concise set of career statistics and an impressive selection of photographs from, in the main, Cope's personal collection. It is both entertaining and compelling, and comfortably gains its author another maximum from CricketWeb*.
*For the record other books by Stephen Chalke that have been reviewed on CricketWeb, with links, are:-
Mickey Stewart and the Changing Face of Cricket
At the Heart of English Cricket
Tom Cartwright – The Flame Still Burns
Runs in the Memory – County Cricket in the 1950s
Gentlemen, Gypsies and Jesters (with Anthony Gibson)