Hunter of The Lost Ashes
Archie Mac |
Published: 1987
Pages: 178
Author: Synge, Allen
Publisher: Weidenfeld & Nicolson
Rating: 2.5 stars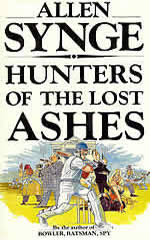 A retired ageing Secret Service agent (James Ball) has his dream holiday, of following the English cricket team on an Ashes tour of Australia ruined when the legendary Ashes are stolen from their home at Lords. What follows his a highly unbelievably fanciful, but none the less enjoyable mystery, which contains international espionage, deceit, and a decent dose of cricket.
The tour James Ball and his promiscuous wife (who only falls for cricketers) embark on is that of Mike Gattings successful defence of the Ashes in 1986/87. That the book was written before the Test series is apparent since in the book England lose the first Test. In fact the first Test is the only one we hear of. History tells us England won the first Test and ultimately the series by two matches to one.
During the book we meet some rather familiar characters, such as; Ernie Tyburn an Australian multi-millionaire who is buying the best cricketers in the world to play in is own 'Megatest' matches. Shades of Kerry Packer. Any number of spies from Russia, USA and even the Middle East. An up and coming struggling cricket writer, one Sebastian Gover, Who seems to piece together a large chuck of the story.
My favourite character was Walley Ficket an old retired Test cricketer who played one Test many years ago, and who is now running cricket tours, his endeavours to have his 'tourists' mingle with the English Test stars are quite amusing. I have never been on one of these tours, and I am not sure I want to, if Walley Ficket is a true representative of the tour guide I can expect!
The author Allen Synge has managed to weave a tale that includes a modern Test series, WWll and Bodyline. This is a follow up to his much acclaimed Bowler, Batsman, Spy. In both books he displays a great knowledge of cricket, and keeps his novels moving at a decent pace. If you like spy novels and/or cricket then I can highly recommend Hunters of The Lost Ashes.